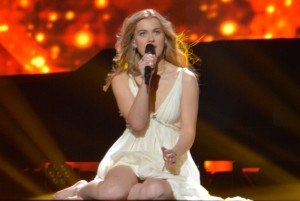 With one victory and three other songs in top 10, Denmark did achieve great results in the past decade. They however also did the opposite as they failed to reach the final twice in a row. Which of their entries this decade is the best?
EuroVisionary look back at the previous Eurovision decade, and our average relative position placed Denmark in top 10. Emmelie de Forest's victory from 2013 help a lot to that result, but also their fourth and fifth places from 2010 and 2011. Which of their 10 entries this decade is their best one? We have asked four of our writers to answer that question, and in the poll below, we'll ask you the same.
Charlotte, Denmark
2013: Emmelie De Forest – Only Teardrops
This is a difficult one for me as a Dane, and I am split between two songs. New Tomorrow was 95% perfect, but Only Teardrops is 100%, so that answer it for me. The song is great, the choeography really good. The camera work was spot on and the golden shower added to the perfomance just gives that extra which makes it 100%. I remember how I after the dress rehearsal at the Danish final told one from DR that if the Danes pick this to to win, they better be prepared to host Eurovision the following year. Only Teardrops had winner written all over it.
Wouter, The Netherlands
2013: Emmelie De Forest – Only Teardrops
This song is so catchy, not even I can resist. Void of any meaning deeper than that lives comes with ups and downs, Only Teardrop is pleasant on the ears and puts one in a good mood. It has to be pointed out though, that this is entirely based on how the songs came through on TV. Had not not been for the ban of live instruments, A Friend In London's New Tomorrow could have been a lot better.
Ashleigh, England
2013: Emmelie De Forest – Only Teardrops
Only Teardrops brought Denmark their only win at the contest this decade. While Denmark have always presented a pleasant song they have rarely released a song that wowed me. The use of the drums and the flute are definitely the best part of the song and Emmelie did a good job of portraying herself as the earth mother with her flowing dress and bare feet.
William, Northern Ireland
2010: Chanee and Tomas N'evergreen- In A Moment Like This
Well they didn't like each other, but you couldn't tell that from their performance in Oslo. This is late 90's country/pop ballad. It could be Garth Brooks and Shania Twain singing this, and some could think it was them if they only heard the audio version. It is a great rousing mid tempo ballad and deservedly gave Denmark one of their best ever results.
Poll – Vote for your favourite
Who is your favourite Danish entry this past decade? Tick your answer in the poll below: