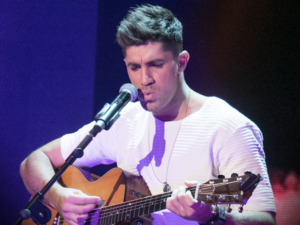 Panagiotis Koufogiannis has made it through to the final of The X Factor Greece. The runner up from the Cypriot national final in 2015 was one of the favourites to win from already from his first audition. Should he win, he's an obvious candidate for Eurovision 2018.
Multi talented Panagiotis Koufogiannis, who is apart from singer also, composer, producer and musician, convinced the four judges, who yesterday gave him the ticket for the big final of the show. If he wins he will be the first contestant from the "over 25 group" that wins the X Factor in Greece.
Panagiotis reveals to EuroVisionary that he hasn't yet taken a decision in regard to taking part in the upcoming Cypriot national final for the 2018 Eurovision Song Contest. He will think about it after the final of X Factor which will be held on Thursday night. However he added that with the appropriate song he is ready to do it again, just like two years ago.
Update: Mr. Koufogiannis won the Greek X-Factor final on the 20th of July.
Below you can watch the performance that gave him the ticket to the X Factor final. It's a song he composed himself with the tittle My Apocalypse.