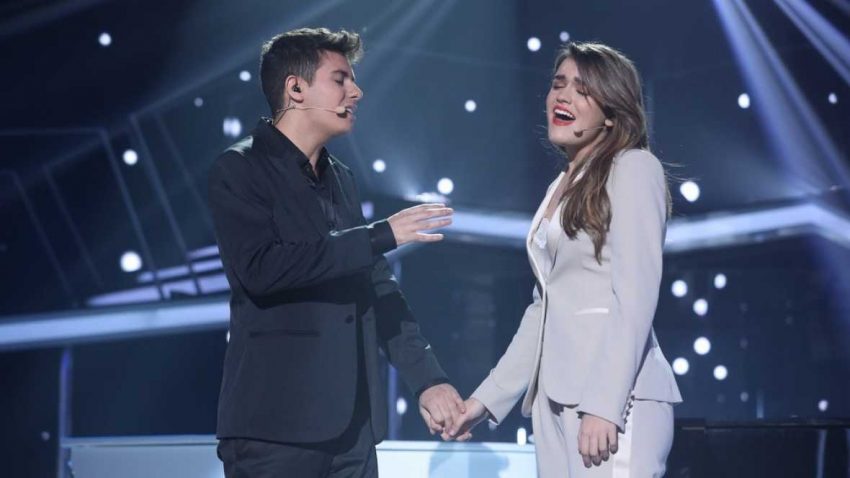 Solely up to the Spanish population, Alfred and Amaia won tonight the national final making them the rightful representative for Spain at the 2018 Eurovision Song Contest. With the song "Tu Cancion" we'll see them in Lisbon in May.
Last year, Spain picked Manel Navarro to represent them at the Eurovision Song Contest, but he was the choice of the jury, not the population, and as one jury member was closely connected to him, accusations of fraud was thrown at the broadcaster RTVE.
That will hopefully not happen tonight, as the broadcaster went back to the old formula with 100% televoting. A jury was present at the national final, but they were only there to give critics and advise. Their opinion didn't matter in the final result.
The songs
Five participants and nine songs were in the running tonight; five solo songs, three duets and finally one group song performed by all five participants. That was what the Spanish population has to chose from tonight. The winner is highlighted in bold.
Solo entries
Amaia – Al Cantar
Alfred – Que Nos Sigan Las Luces
Aitana – Arde
Miriam – Lejos De Tu Piel
Ana Guerra – El Remedio
Duet entries
Agoney and Miriam – Magia
Aitana and Ana Guerra – Chico Malo
Alfred and Amaia – Tu Cancion
Group entry
Amaia, Alfred, Aitana, Miriam, Ana Guerra – Camina
Note: Agoney, who sang duet with Miriam, finished 6th in the preliminary selection, and as just outside the top 5. Therefore she is not singing any solo song nor taking part in the group entry.
In the first voting window, three acts qualified to a second round. These were (Their percentage in the second round): Aitana – Arde (31%), Aitana & Ana Guerra – Chico Malo (26%) and Alfred and Amaia – Tu Cancion (43%).
As guests acts in this year's Spanish national we saw, among others, 2014 Austrian Eurovision winner Conchita Wurst, but also Luisa Sobral, sister of Salvador, and writer of his 2017 Eurovision winner. Luisa also functioned as stand-in for her brother at the first two rounds of rehearsals in Kyiv, Ukraine.
Spain at the Eurovision Song Contest
It was in 1961, Spain joined the Eurovision Song Contest, and never once had a break from it, thus is now up at 57 appearances. With only two victories, in 1968, and a joined one in 1969 with three other countries, and five last positions, the country has had quite mixed results. In the last ten years, the country has only twice made top10 – and that was even two 10th places. They haven't made a top5 result since Anabel Conde's second place in 1995.
The past three years have been particular bad. Edurne finished 21st in 2015, Barei did even worse with a 22nd place in 2016 – and last year, it went completely wrong as Manel Navarro's Do It For Your Lover finished last with only five points.
In the video below, check out this year's Spanish Eurovision entry: