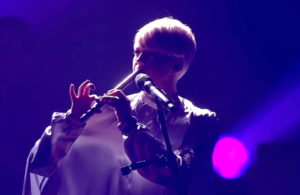 Frontwoman of the group ONUKA, Nata Zhyzhchenko commented on the incident that arose during the broadcast of her performance on the stage of the Eurovision Song Contest 2017. In her opinion, the advertisement break during their interval performance went in the band's favour.
Front woman of ONUKA, Nata Zhyzhchenko has spoken for the first time about her recent interval performance at the 62nd annual song contest in Kyiv, Ukraine. ONUKA performed alongside the NAONI orchestra with an interesting megamix song. The timing of the commercial break meant that viewers from 3 counties, missed out on watching the band perform.
In an interview with TSN, Nata said that she was only informed of the planned commercial break just 10 minutes before her performance where she as given only enough time to warn her family. However, it seems that rather than hinder the group's success, it actually made them even more popular.
"It seems to me that this situation was so annoyed by the audience that this performance was viewed by many more people than if it was shown in a broadcast. Therefore, it seems to me that this situation has come to our advantage and we become a hero of such a scandal, which is very beneficial to us"

Nata Zhyzhchenko, ONUKA.
It seems that Nata might be right as immediately after ONUKA's performance, the group surged to the top of the electronic charts all across Europe. Meanwhile their performance has rocked up 650 thousand views on Eurovision's official youtube channel. In addition, the band have been touring across Ukraine and are set to perform in festivals in Romania, Austria and Hungary amongst others over the summer. Tickets can be purchased on ONUKA's official website.
What is next for ONUKA?
ONUKA have just finished recording a new album Мозаїка which is set to be released this autumn. The first single entitled VSESVIT was announced on Friday. The band collaborated with Frenchman Éric Mouquet from the legendary Deep Forest.
You can remind yourself of ONUKA's performance by watching the video below.