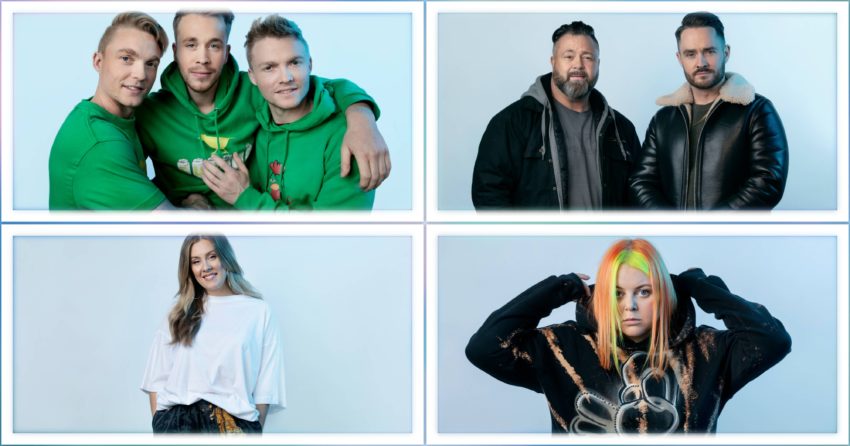 A former Junior participant, three rappers with a voice to the small farmer, a student from the famous Sir Paul McCartney school in Liverpool and a father and son-in-law country pop duo. Here's a closer look at the four acts competing in the fifth Norwegian Melodi Grand Prix heat this Saturday.
On Saturday the 15th, the last of the total of 26 artists for the Norwegian 2021 Melodi Grand Prix will appear on stage. Four acts will compete for one ticket for the final on the 20th of February.
Below, we take a closer look at these last four acts. Who are they? Which experience do they bring with them on the Melodi Grand Prix stage?
Melodi Grand Prix 2021 – Fifth heat
Ane.Fin – Walking In My Sleep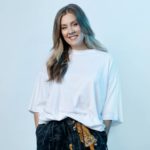 (Songwriters: Ane Caroline Finstad (Ane.Fin), Niklas Rosström, Espen Andreas Fjeld, Kim Rune Hagen and Vebjørn Jernberg)
Ane Caroline Finstad is 29 years old. In 2006, she took part in the Norwegian Junior show; MGPJr. She has been a student at the well respected LIMPI -Lillehammer Institute of Music Production and Industries. It was there, she got the courage to evolve as an artist and pursue a musical career. While still being rather unknown to many Norwegians, she did however release a few singles, the last one in Autumn 2020 titled Hurts.
Among the songwriters on this song, we find Kim Rune Hagen who won the fourth Norwegian heat.
TuVeia – Bli Med Meg På Gar'n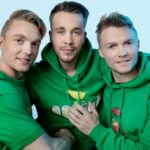 (Songwriters: Kristian Galaaen Bredalslien, Roar Galaaen Bredalslien, Bendik Johnsen, Torgeir Ryssevik, Carl-Henrik Wahl, Jonas Holteberg Jensen, Sindre Timberlid Jenssen and Sarah A. V. Johnston)
TuVeia is a rap group that consists of Roar Galaaen Bredalslien (28 years old), Kristian Galaaen Bredalslien (28 years old) and Bendik Johnsen (25 years old). The group released their first single, simply titled TuVeia in 2013. They come from the smaller town Dalsbygda, which has approximately 600 citizens and is located five hours drive north of Oslo. With this unusual Melodi Grand Prix entry, they say that they want to give the small farmer a voice, and make aware of how life actually is on a farm in Dalsbygda.
IMERIKA – I Can't Escape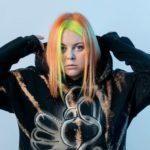 (Songwriters: Erika Dahlen (IMERIKA), Bjørn Olav Edvardsen, Morten Franck and Ben Adams)
24-year-old Erika Dahlen recently took on the stage name IMERIKA. She is trained at the famous Liverpool Institute for Performing Arts co-founded by Beatles' Sir Paul McCartney. It has strengthened her, in particular as a songwriter. And this year, she didn't just co-write her own entry, but also Kaja Rode's Feel Again, which is pre-qualified for the final. Her own song; I Can't Escape is co-written together with Benjamin Stevens Adams from the British-Norwegian boyband A1.
RIVER – Coming Home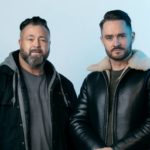 (Songwriters: Thomas Heiland, Lennart Karlsen, Magnus Claussen, Simen Meland Handeland and Tommy La Vardi)
This pop/country band consists of 29-year-old Thomas Heiland and 50-year-old Lennart Karlsen. They are related though marriage as Thomas is married to Lennart's daughter. Both have a solid experience with them. Though 10 years, Thomas has been one half of the Norwegian pop duo Cir.Cuz. Lennart comes with a solid long background within gospel, church and country music. He has released his material solo as well as written for others.
Video: Ketil Stokkan – A musical portrait
In a previous heat, we saw Ketil Stokkan perform his 2021 entry My Life Is OK. Unfortunately, he didn't win the spot to the final, but he is still in the run hoping for a wildcard.
With more than 40 years in the music business, this is a man with a lot of experience, and a lot on his mind. Lean back with a glass of wine or a cup of coffee, and enjoy this Ketil Stokkan – A musical portrait in the video below.