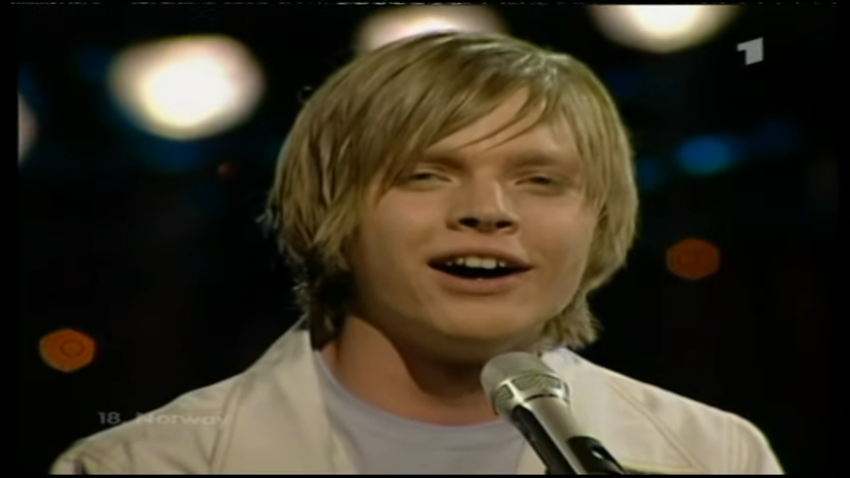 After some disappointing results, Norway once again finished in top 5 in 2003. Jostein Hasselgård's 'Im Not Afraid To Move On' scored a 4th place. When asked about this song, Eurovision fans are really split. Is it a well deserved result or is the song a boring lullaby?

Out of nearly 500 submissions, Norwegian broadcaster had chosen 12 songs for their national Melodi Grand Prix final. Among the participants we find Kikki, Bettan & Lotta. All of them had previous Eurovision experience and was well known in both Norway and Sweden. They finished in 3rd place. Instead, Norway went for the lesser known act in Jostein Hasselgård and his piano ballad I'm Not Afraid To Move On.
At the Eurovision Song Contest, Jostein Hasselgård finished in 4th place with a total of 123 points. This included the maximum 12 points from Iceland, Ireland and Sweden.
I'm Not Afraid To Move On – opinions from fans
In order to find out what Eurovision fans today think of this Norwegian entry from 2003, we asked our Eurovision Fan Panel. It includes team members as well as fans from all over the world.
🇨🇿 Josef Š. – I already know most of the Eurovision songs from 2000 and on, and Norway 2003 is no exception. It may sound a little bit outdated and boring, but not to me. I think that this minimalistic song and performance could get some attention even today. As we mentioned many times before already – less is sometimes more. And here it is valid for sure.
🇩🇰 Charlotte J. – This was my favourite in 2003, and it started a four year period where Norway was my favourite every single year. That stopped when they sent Guri Schanke in 2008. Since then, they have however gotten back on track again, and they are my favourite Eurovision country for that reason. I'm Not Afraid To Move On is great. I love the music, his vocals, the lyrics, the performance – everything! This song holds a special place in my heart as it was my favourite song in the very first Eurovision I covered on location as a journalist. Damn, has it been 17 years already?
🇹🇷 Güneç G. – Very nice touching song from Norway. Performed very nicely by Jostein on stage. However, I can't keep thinking whether it deserved the 4th place? 🤔
🇳🇴 Robert I. – This is a timeless classic from my home country. Although I usually don't often listen to piano-ballads, this is an exception. I think this one is beautiful and melodic, and Jostein Hasselgård performs it very well. It deserved to be among the top 5 in 2003, and it came 4th. Unfortunately we haven't heard much from him since then.
🇬🇧  Paul G. – A well deserved 4th place in 2003 for Norway. A beautiful ballad sung and performed nicely and shows that you don't need a gimmick to get a high placing!
🇨🇴 🇫🇮 Alvaro S. – I was not expecting to listen an introspective song from this contestant. He looks like a pop boy band member. Almost as surprising as Carl Espen's big contrast between his look and the song. Apart from that I like the intimate atmosphere in the performance.
🇬🇧 Ashleigh K. – This song is OK but unfortunately that it is. The lyrics are very cliché, like I know what the next line will be before he even sings it. When you think that this was the year t.A.T.u competed and though this one is better vocally this song is bland in comparison. Sorry, its not for me.
🇦🇺 Vivienne F. – Another sweet song from a cute young man, it could be a lullaby, but I expected more, something's missing, what could it be? Ah yes a violin with a broken string, some amazing dancers, and girl back up singers and a faster tempo. Norway only wins with violins 🎻
🇩🇪 Andrew G. – Eurovision 2003 was an excellent year. I listened to the songs on CD over and over back then. The Norwegian entry was and still is a beautiful ballad. A really catchy song. Performance is well executed and simple with all eyes on Jostein and the piano. Proving he not afraid to move on. Thumbs up.
🇩🇰 Liza P. – I have never been to keen on the Norwegian song I'm 'Not Afraid To Move On, which makes it even more fun, that the Danish commentator called it:'I'm not afraid to go home'.
I remember the rehearsals, how it looked like Jostein was very nervous and rather uncomfortable being on stage. However at the final he had pulled himself together – or somebody had given him a glas of schnapps before he went on stage. At the final he did a very convincing and charming performance. I still don't like the song; it's too boring for me. Like a lullaby.
🇬🇧 Michael O. – Terry Wogan loved this entry, well as good as he could any entry.
I found it a bit plodding, preferring Iceland and Netherlands that year. It's a good enough song and did well to come fourth.
Enjoy Jostein Hasselgård's performance from the 2003 Eurovision Song Contest in the embedded video. Below the video, you can read more about him.
Jostein Hasselgård – a mini biography
Born in March 1979, Jostein was 24 years old when he represented Norway at the 2003 Eurovision Song Contest. With the song I'm Not Afraid To Move On, he brought home a 4th place. At that time, it was the country's best result since a second place in 1996.
In 2006, him and his fellow band members in the band simply called Hasselgård released the album A Few Words. After that, things have been rather quiet about the Norwegian singer. Jostein is still active though. He is as a tenor a part of the vocal group Pust. The a cappella group sings own music as well as cover songs in new arrangements.