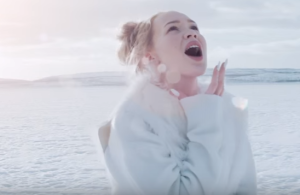 The official video following the Norwegian 2016 Eurovision entry has finally been released. The video, as is appropriate for the song, was filmed in Norway's icy far north and was delayed due to illness within the team.
Agnete was battling influenza while she filmed the chilly video, but quoted on her official Facebook page that it was worth fighting through it due to the final results. The video was supposed to be released April 2, but had been delayed due to illness within Agnete's team.
As expected the video features lots of snow and ice. The video opens to a wide mass of snow before Agnete appears to sing, trying to keep the goosebumps hidden. The video flashes between sheets of white ice to a dancer performing more in the warmth indoors. With skin like porcelain and white nails long enough to break the ice, all that's missing is a pack of huskies.
If you haven't taken the quiz already, try your luck and see how much you know about Norway's participant, Agnete. Norway will perform 15th in the second half of the second semi final on May 12th.
Do you know what Agnete's mother language is? Test if you are right in this quiz.