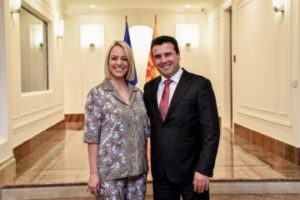 Tamara Todevska and the 7th place she achieved at this year's Eurovision Song Contest still create headlines in her native country. Today, the government of North Macedonia showed, how much they appreciate her great result by honoring her and her team with a special plaque.

North Macedonia's Prime Minister Zoran Zaev met today with Tamara Todevska and her team, who represented the country with the new name in Tel Aviv. Zaev thanked the whole team on behalf of himself and on behalf of the government as well as the citizens of North Macedonia for making them all feel proud because of the outstanding performance and the great achievement with the song Proud.
Furthermore, the Prime Minister honored Tamara and her team with a special plaque as an acknowledgment of "North Macedonia's historic win of the jury vote at the most viewed music event in the world". In Zaev's own words, North Macedonia's performance in Tel Aviv was the main topic of the contest, which was viewed by 200 million people world wide.
According to the press release from the government of North Macedonia, Tamara and her team thanked for the support received. They also talked about all the excitement and expressions from Tel Aviv, they brought with them. They added that the huge support they experienced both before and during the grand final were an additional motivation for delivering a flawless performance and achieving this great success.
Viewers of the 2019 Eurovision Song Contest first saw Tamara finish 8th. A few days later, EBU corrected the result which then placed North Macedonia 7th – and winner of the jury vote.
In the video below, you can see a clip from one of Tamara's rehearsals at the Eurovision Song Contest: