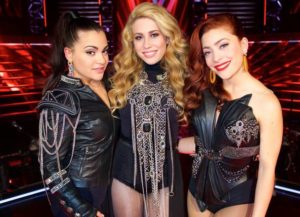 Today' Dutch sister trio OG3NE presented their Eurovision entry. With the song "Lights And Shadows", they aim to make sure the country once again make it to that final they have only been in three times within 12 years. 
Three sisters, two of them twins. Their father wrote their Eurovision entry Lights And Shadows which was presented today. That's what the Dutch are doing for the 2017 Eurovision Song Contest. The girl trio which represented the Netherlands at the Junior Eurovision Song Contest in ten years ago, in 2007, won The Voice of Holland in 2014, and was internally selected for this year's Eurovision in Kyiv.
OG3NE consist of Lisa Vol 22 years old and the twins Amy and Shelley, both 21.
Lights And Shadows is available to listen to in the video below:
Eurovision struggles
Within the past 12 years, the Netherlands only reached the final three times. After failing in 2005 to 2012, the country sent one of their biggest names, Anouk to change things. With the song Birds she not only made it to the final, but with a 9th place, the country reached top10 for the first time since 1999.
For the 2014 contest, the Netherlands repeated their succesful formular of choosing a well known name. Ilse DeLange was paired with Waylon for The Common Linnets project and the song Calm After The Storm. They ended second, but is by many considered the moral winner that year.
Just as the Dutch thought, they had the right Eurovision recipe, it went wrong. Trijntje Oosterhuis was chosen for the 2015 contest, and placing 14th in the semi-final she was not near the qualification for the final. Last year, the country however got back on track with Douwe Bob and his Slow Down which finished in 11th position and as such just outside top10.