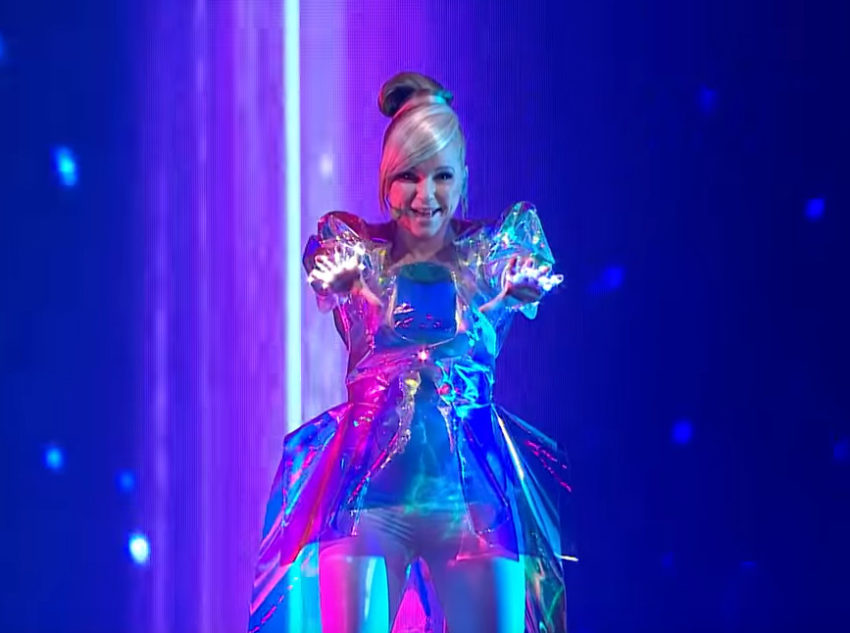 Teflon Brothers became one of the early favourites in the Finnish national final. The band was already popular in Finland before this participation, and the collaboration with well known Pandora seemed like the right formula for a victory. They came close, finishing second at UMK 2021.
Teflon Brothers and Pandora both were well known acts before they tried to represent Finland in 2021. Their song I Love You became an early favourite for the fans. So did rock band Blind Channel which ended up winning the national final.  Notwithstanding that the retro hip hop, disco song did not end up winning, it was close.
I Love You performed in first place on the night of the Finnish national final. For their performance, Teflon Brothers dressed up as aliens while Pandora sung on top of a U.F.O.
The song in second place among the televote. The vote of the jurors were not sympathetic with the group. They ended in 5th place among the jurors. Overall, the group and Pandora came in second place.
I Love You – opinions from fans
In order to find out what Eurovision fans today think of this entry from this year's Finnish national final, we asked our Eurovision Fan Panel. It includes team members as well as fans from all over the world.
🇫🇮 Martti I. – Teflon Brothers are known from a couple of hits and most likely this will become one too. Unfortunately I find their song very boring, simple and as usually by them, lyrics are slightly naive. 90's coming Back? Nope. Pandora is yesterday's news and perhaps only known by dance-genre fans. I must wonder what on earth made them accept the deal and only sing I Love You?. Victory went as expected to the energetic group from Oulu. The winning song is very melodic, powerful and three minutes full of young dynamite. Best one won which we can't say too often from here.
🇩🇰 Charlotte J. – As much as I want to like this, I just don't. It's colourful, and the performance is a bit off, but there's something else which disturbs me. If you want to go back to the 1980s and 1990s then one should go all in, like Denmark this year. I am pleased Finland picked Blind Channel over this one.
🇳🇴 Robert I. – Super catchy! It's addictive, I play it again and again. The sound here is wonderful 90s dance music, with great 80s vibes setting. Happiness, energy and fun. A perfect mix of Pandora's vocals in English and the guys' Finnish language part. Although I don't really think it could have won Eurovision, this is my personal favourite from other countries' national finals this year, and I wish Finland had chosen it. I love it! 12 points to Teflon Brothers x Pandora –  I Love You!
🇲🇹 Christopher D. – I was never a fan of I Love You from the day I heard the songs in the Finnish line up. It is repetitive and quite childish. And the live performance was more suitable for the Junior Eurovision. For me, they did not stand a chance with the winning song, and did not deserve their placing in the finals.
🇷🇸 Miljan T. – I prefer this one to the winner, since I love 80s synthpop, but I'm partly glad Finland didn't choose it, because Iceland will serve this sound far more superbly, I think. Also, we've never seen such an elaborated performance with holograms, camera tricks and such from Finland. All in all, Finland should continue delivering such performances.
🇨🇴 🇫🇮 Alvaro S: I had big expectations about this song after I saw the live performance. The idea of dressing the guys as aliens while Pandora sung on top of a UFO was cringe worthy plus Pandora did not look confident (was she nervous she may fall?!) Who knows but the studio version had more potential.
🇬🇧 Michael O. – I like the throwback to A-ha days in this one, and I particularly like the parts that Pandora sings. I'd much have preferred this to have been Finland's entry this year.
🇬🇷 Kostas C. – When the songs were announced, this one was my favourite. The sound of the 90s, the music the voice, the rhythm, I liked everything. But when I saw it at the national final I was sure they had no chance. They simply destroyed it with this awful stage performance. Even with a better stage presentation, I am not sure they have won, since the winning song was outstanding and full of energy.
🇦🇺 Michael R. – I was so excited when I saw Pandora's name amongst the participants. I used to love her music back in the day and I wasn't disappointed when the song was released. It's catchy and makes you feel good when you listen to it. I just wish the live performance hadn't been so bad and the staging so weird. But I still think the right song won
🇨🇿 Josef S.- I Love You is such a good retro track, I really love it. Because it is catchy and loveable. But maybe the live performance was already too much. But it fits current trends of those retro songs so why not. I think their 2nd place was well deserved.
Enjoy Teflon Brothers x Pandora's performance from the 2021 UMK in the embedded video. Below the video, you can read more about them.
Teflon Brothers – a mini biography
Teflon Brothers are a hip hop trio from Helsinki, Finland. They combine hip hop with other genres such as pop and disco.  They gained popularity in Finland for their singles which make fun of some over the top antics from modern pop acts.
In 2006, Teflon Brothers released their debut single. Three years later, the band published their first studio album. On that album they parodied mainstream hip hop acts. Among their antics, the band auctioned a spot in their band that was sold by poker professional Ilari Sahamies for 50000 euros. In 2016, they "changed" the name of the band to Mynthon Brothers as part of a promotional ad for the mints brand.
By now, Teflon Brothers have released five studio albums.
Pandora – a mini biography
Anneli Magnusson "Pandora" is a Swedish pop and eurodance singer born in Sweden. Pandora released her first single Trust Me in 1993 which was successful in Sweden and Finland. Moreover, her singles became popular in Asia, in particular in Japan. In 1998, she recorded the song Spirit To Win which was the soundtrack of the Winter Olympics held in Nagano, Japan.
Before trying to represent Finland in Eurovision, she participated in the Swedish Melodifestivalen in 2003 with the song You and again in 2004 with Runaway.  Pandora is based in Vantaa, Finland. In 2020, she took part in the Finnish version of Masked Singer.