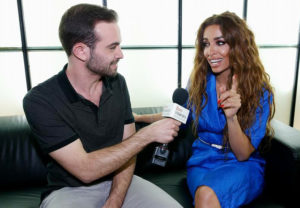 Being a journalist in Eurovision was one of the best experiences of my life, and the line between fun and work was so thin, it honestly never felt like the latter despite the lack of sleep and the ongoing activities. If you also wish to work at Eurovision one day, here's the impression of someone who debuted this year on homefield.
It has now been more than a week since the Eurovision Song Contest 2018 came to an end. This year's show was the very first one I could be present and live the dream so many of us wish to have. I am 24 years old and only now I got the chance of doing it, so it's safe to say there's still plenty of time for everyone. The secret recipe? Work hard, be ambitious and always humble.
My EuroVisionary journey started in June of last year and I honestly never thought I would be one of the chosen people to get an accreditation… After all, the "new kids" are always underestimated but I also soon understood that if I worked hard, showed ambition and passion for what I do, things could have a happy ending and they did.
Therefore, it was on the 28th of April that I queued in to get my accreditation along with my team and a friend. The Eurovision adventure had just started even though, I had no idea of what to expect.
The first week
It was at around 08:30h in the morning that I arrived at the press center's queue on the 29th of April, the first day of rehearsals. The line wasn't exactly long when I got there, but more and more journalists started to arrive hoping to get a good spot and some nice interviews. Nevertheless, because Lisbon wasn't sure of how to feel about welcoming Eurovision for the first time, the weather wasn't on our side and rain was falling…
Passed the security check and there I was trying to guide myself. Found the press center's main doors at last and while not exactly pretty, I was amazed to look at that room filled with tables, chairs, electrical extensions, wi-fi routers, projectors and so on: "So this is what it's like to work in a press center!" Those were my thoughts. I am graduated in journalism, but unfourtunately, due to Portugal's lack of opportunities for journalists, I never had the chance of working in the area.
While many warned me of how overwhelming the first day would be, I didn't feel it. It was a pretty relaxed day for me as I was mostly in charge of covering rehearsals. As days went by, things started to change: I got to interview so many acts, attend press conferences, meet new people and just enjoy myself at the maximum.
Now, we're obviously there to work, cover events and promote the contest, but it's inevitable to have fun, wanting to meet artists and, once in a while, show love and commitment to your favorite entries. While I tried to keep my favouritism under the table, Eleni Foureira was my undoing and had me fanboying for her since the second day, when her first set of rehearsals were aired on the screens.
It was also during this same week that I randomly decided to get up off my seat to go outside and catch some fresh air. When stepping outside, Eleni Foureira herself was out there. I got to interview her, laugh with her and overall had a blast. I kept the fanboying to myself at that point.
The blue carpet event
I was also given the chance of covering this year's welcoming ceremony and it was one of the most memorable experiences of the whole thing. Not only, I got to see all artists so close, but got to speak to the majority of them and aren't they all so nice?
What I enjoyed the most, though, was the adrenaline of trying to get them to come and talk to EuroVisionary and the pressure of wanting them all – it is safe to say we got over 30! The exciting thing about the blue carpet is how you need to improvise, be natural and manage your time properly.
I so hope I get to cover a welcoming ceremony once again.
The second week
The main Eurovision week had arrived and, honestly, the amount of work was way lower than the first despite the press center being way busier as local media was now in town.
During this week, the press was allowed to attend a few rehearsals and, if we had tickets, also attend the family/jury show or the main shows. I only attended a live show – the first semi-final. As for the second semi-final, I decided to stay at home and watch it with my family while eating pizza – perks of being on homefield.
And, because I wanted to try everything, I was at the press center for the show's grand finale – that wasn't the best experience as many times people would simply stand in front of you… Not to mention how badly I wanted Cyprus to win. I didn't mind Israel's victory though.
The Eurovision parties
If there was a motto for mysef during those two weeks, it was: relax, don't bother and enjoy your moment. I made sure I did, even if that meant sleeping for only a couple of hours.
Almost every night, during the second week, I got to go to the EuroClub where I even had the chance of singing Nova Deca with the beautiful ladies from Balkanika (Serbia), meet the lovely Catarina Pereira (who has tried to represent Portugal twice) and the beautiful Corinne, from ZiBBZ. I also got to dance to some great music such as national selection anthems Party Voice by Jessica Anderson or Lo Malo by Aitana War.
That wasn't all. Trumps – Lisbon's biggest gay club – threw major Eurovision parties all week long and it was way more crowded and popular than the EuroClub itself. As a local and regular visitor, never had I seen the club so packed. The fans surely enjoyed it and so did I.
Wow… Taking a look back, I truly lived a dream I so desire to repeat. The Eurovision Song Contest is truly a bubble where everyone, despite their backgrounds, tastes or nationalities can live in harmony and in peace. If the P.E.D. hits you hard when you simply live it through the internet or TV, imagine when you get to be there… Can the Eurovision 2019 arrive already?
This reflection article is based on the author's own personal experience. Views expressed belongs to him or her, and are to be seen as unrelated to EuroVisionary.com.