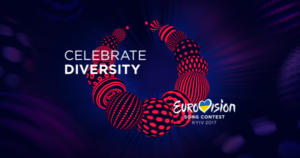 Celebrating Diversity is the slogan for this years Eurovision Song Contest. But how much does Ukraine celebrate diversity? Is this a good choice for a country who still struggles with these issues or is it a promising sign that they are making steps in the right direction? Eurovisionary takes a look. 
Eurovision.tv announced the slogan for the 62nd Eurovision Song Contest recently. The slogan is "Celebrating Diversity". As a country that is not known for it's inclusion, it seemed an odd choice for them to make. We have a closer look into diversity in Ukraine.
Ukraine, as we know it now has a rich culture which has been heavily influenced by other nations. Prior to their independence in 1991, Ukraine had been divided several times. The western regions of Ukraine were once ruled by Poland, Romania and Czechoslovakia among others, while the central and eastern regions were part of the U.S.S.R. Those who travel around Ukraine will see evidence of these stark influences in architecture, language and customs.
LGBT
LGBT issues are still a taboo subject in most areas of Ukraine. Despite the laws showing signs of promise, the social attitudes are not going away easily. A study conducted by the Kyiv International Institute of Sociology found that just 4.3% of Ukrainians hold "a positive view" of gay people. 45.2% believing there should be restrictions on gay people's rights, down from 49% in 2011.
The most recent Equality March that took place in Kyiv at the end of last year went by fairly peacefully. The current Eurovision winner Jamala signed an open letter to Amnesty International calling for the Kyiv government official to protect the parade marchers. This came as a result of Nationalists promising a 'bloodbath'. The government assigned 5,500 police officers to protect the 1,500 marchers. It was later reported that 57 people were detained but later released. However, earlier on in the year an LGBT march in the western city of L'viv was called off due to fear of violence from the far right.
In 2015, the government approved new anti-discrimination laws. This law meant that a person could not be discriminated at work for their sexual orientation or their gender identity. However, there are still laws blocking same-sex couples who are wanting to adopt a child. And while gender reassignment surgery is legal in Ukraine, Transsexuality is still classed as a psychiatric disorder and someone wanting reassignment surgery must spend 30 days in a psychiatric hospital amongst the mentally ill before this is considered.
There were some posts made on twitter last year of frustrated Eurovision fans who were finding difficulty in booking rooms on Airbnb due to questions about how many men would be staying in each room.
There are some gay clubs and bars in Kyiv, Pomada is one of the oldest in the city and is located on Zankovetska Vul.
Race and Ethnicity
While attitudes about race are changing in Ukraine, problems do still arise. It is estimated that 77.8% of the population are ethnic Ukrainians, with 17.3% of the population being Russian. 4.9% are classed as other. These include a mix of Crimean Tatars, Belarussians, Hungarians, Romanians, Roma Gypsies etc.
2012 representative Gaitana was the first singer of Afro-Carribean descent to represent Ukraine at the contest. She represented the nation with Be My Guest which finished in 15th place with 65 points. She won the award of Best Female Singer in the 2008 Ukrainian music awards, along with another award in the same year for the Best Album.
In the run up to the Euro 2012 football tournament which was held in Ukraine and Poland, there were huge concerns raised about the safety of Afro-Carribean and Asian fans. Prior to the tournament, England defender Sol Campbell said "Stay at home, watch it on TV. Don't even risk … because you could end up coming back in a coffin".
However, these concerns were largely overstated by the media. The majority of the tournament went by peacefully.
In my experience of travelling to Ukraine (I have been there 6 times now) and still have close ties with the country. You do not see as many ethnicities as you would in other European countries. I have never witnessed any violence. Many Ukrainians who live in the most rural parts of the country have never met a foreigner before, never mind someone of a different colour. However, most of the Ukrainians that I have encountered have been friendly, warm and very eager to get to know you.
Religion
The most common religion in Ukraine is the Ukrainian Orthodox church, this is followed by Catholicism (Greek Catholic Church). It is estimated that there are around 500,000 Muslims in Ukraine, 75% of these are believed to be Crimean Tatars. While Ukraine, at one time had large Jewish communities, this depleted during the tsarist era as many jews were prohibited from living in the Russian empire.
Ukrainian super-star Tina Karol, who represented the nation at the Eurovision Song Contest 2006 was born to a Jewish family. Born as Tetyana Liberman, in 2005 she took a less Jewish stage name after producers of the New Wave talent show had suggested that it would be better for her. In 2006 she commented on this "It was a part of my agreement with the producers, but, to be honest, I am glad I changed my name. I felt like it hindered me in my life"
Tina Karol was recently awarded the People's Artist of Ukraine Award from the current President, Petro Poroshenko. The award was given for outstanding contribution to the arts.
This reflection article is based on the author's own personal experience. Views expressed belongs to him or her, and are to be seen as unrelated to EuroVisionary.com.