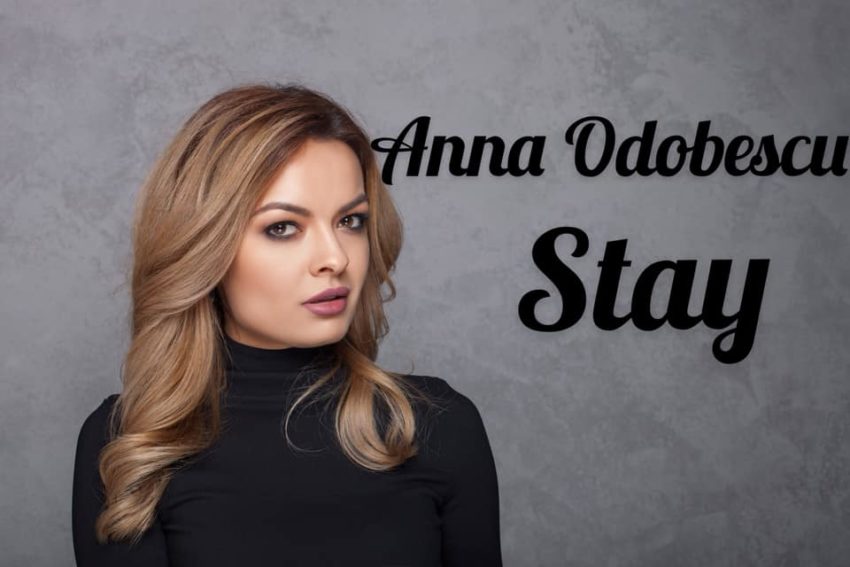 Beating nine other contestants, Anna Odobescu won tonight the national final in Moldova and thus will represent the country in Tel Aviv, Israel in May. Several well known names entertained in tonight's show.
The broadcaster TRM received 28 songs in their call out for potential Eurovision entries. Instead of having two semi-finals as initially planned, they held auditions in February. That way, the 28 songs were cut down to 10.
The songs
Aurel Chirtoacă – La Cinema
The first participant of the show is dressed in a fedora hat and beige checkered jacket and performs a modern blues inspired song. His backing vocals positioned in the background, and can be easily overlooked.
Vera Țurcanu – Cold
With her long white Daenerys Targaryen hair and white dress, Vera's pop song is something entirely different. Four male dancers perform to the sharp beats and lift her up on a platform, before their white dresses suddenly change to red ones.
Due to an issue with the audio, she got a second chance at her performance after the last song was performed.
Marcela Scripcaru – Meteor
The stage changed colour from the cold white to a warm red. Marcela's hair matches the colours of the background, while her black dress provides a suitable contrast. Her one male and two female backing vocals are equally dressed in black.
Once the song hits the chorus, the background darkens to space blue but progresses back to the explosive red along with the lyrics of the catchy pop power balled.
Siaj – Olimp
Fourth song, and fourth genre. We stay close to pop, this time more ethnic; the electric guitars give it a nice rock edge. She wears a metallic-look long overcoat and high red boots, matching the red pants worn by the two guitarists. Three backing vocals help giving the performance a bit more depth.
Maxim Zavidia – I Will Not Surrender
Maxim brings a powerful Rock ballad, not unlike the style of Meatloaf. The background displays a giant clock that spins backwards at a very fast pace. He's initially joined on stage by two dancers, performing a routine with sticks. I'm not sure what it means, but it resonates. Later in the song, a male and 2 female backing vocals join him.
Diana Brescan – Lies
A more classic ballad this time. We see a white bench and Diana wears a white pants suit. Her voice sounds dramatic, and rather than sit on the bench she eventually rolls around on the floor. I could't connect to the sense of drama though.
Tinna Gi – Virus
Mellow… four dancers with blue arabian. She's attached to one of the dancers by a ribbon when she tries to walk away from them, though later all dancers seem more stuck to her. This looks like what we remember from Sertab Erener's Eurovision perforamnce. Brown dress.
Lemonique – Gravity
We move over to a techno pop party, the kind only Moldova can get away with. And as usual, they do! Lemonique wears a short white tutu dress, is joined on stage by a cymbal player wearing a welding helmet decorated with bunny ears, a guitarists dressed in black leather and two female backing dancers in surprisingly normal black pant suits.
Anna Odobescu – Stay
That we had to wait until the 9th song of the evening before being treated to a more typical Eurovision pop ballad only underlines the variety in tonight's O Melodie Pentru Europa. But Stay is exactly that. Anna is dressed in a metallic right top, and a white long open dress. Three backing vocals back Anna up for the most powerful parts of the song.
Che-MD feat. Elizaveta Ivasiuk – Sub Pământ
The last song of the evening is another rock ballad, but that's the thing it has in common with I Will Not Surrender. The stage is filled with a drum player, both acoustic and bass guitar and a violinist. This song never quite reaches that level, but anybody familiar with the Dutch music scene might compare them to Within Temptation.
The show
In Moldova, the show kicked off at 21:15 (20:15 CET) and lasted three hours. Audience and viewers at home were treated to a classic dance performance worthy of the Eurovision Young Dancers competition, after which host Iurie Gologan entered the stage dressed in a black fedora hat decorated with fake peyat. Together with Daniela Crudu and Elena Băncilă, the other two hosts of the evening, and without the slightly offensive hat, he introduced the 10 hopefuls.
Half an hour into the programme, the hosts officially declared the competition open – immediately followed by a commercial break.
About fifteen minutes after we heard Sub Pământ, we see Vera Țurcanu again. Due to an issue with the audio, she gets to perform again.
After about an hour of perhaps the biggest variety I've ever seen in 10-song national final, the 20-minute voting window was opened. While the votes are being counted and verified, we're treated to a cavalcade of interval acts; including an orchestra and performances by, among others, Geta Burlacu (Moldova 2008), Nelly Ciobanu (Moldova 2009) and Cristina Scarlat (Moldova 2014).
This year's Romanian representative Ester Peony also took the stage performing her Eurovision entry On A Sunday, which won after a very controversial voting.
The voting
Seven jury members, each present in the studio, awarded their set of Eurovision-style 1-8, 10 and 12 points to tonight's participants. The combined jury votes was then converted to a single set of Eurovision-style points, and added to a similar set of points from the televote.
| | | | |
| --- | --- | --- | --- |
| Act | Jury points | Televote | Combined |
| Anna Odebescu | 12 (75) | 10 | 22 |
| Diana Brescan | 10 (52) | 5 | 15 |
| Vera Turcanu | 8 (44) | 7 | 15 |
| Lemonique | 7 (42) | 8 | 15 |
| Tinna Gi | 6 (41) | 6 | 12 |
| Maxin Zavidia | 5 (38) | 12 | 17 |
| Marcela Scripcaru | 4 (37) | 1 | 5 |
| Aurel Chirtoacă | 3 (35) | 2 | 5 |
| Siaj | 2 (34) | 3 | 5 |
| Che-MD feat. Elizaveta Ivasiuk | 1 (8) | 4 | 5 |
Moldova at the Eurovision Song Contest
In 2005, Moldova appeared at the contest for the first time when Zdob și Zdub gave us all a party with the song Bunica Bate Toba, which finished 6th. The country has taken part every year since that – and though they are yet to win, they sure have provided a party more than once.
Zdob și Zdub returned to the contest in 2011 with the song So Lucky, and SunStroke Project represented the country twice too; in 2010 performing Run Away where we first fell in love with their saxophone, and again in 2017 where we all enjoyed their Hey, Mamma! The latter came in as third, which is the best Moldovan result at the Eurovision Song Contest.
With their 14 appearances, the country reached the final 10 times. 4 of those finished in top 10, but they have two 11th places and one 12th as well.