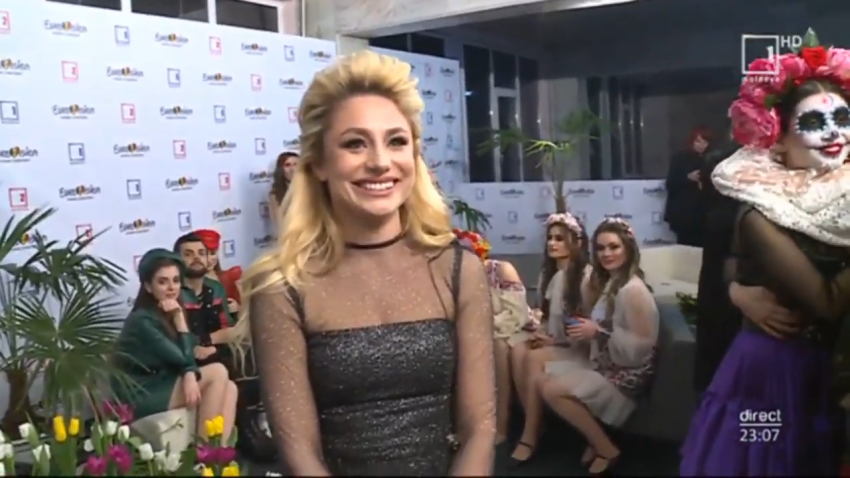 The Moldovan public has spoken and decided that Natalia Gordienco will represent the country at the 2020 Eurovision Song Contest. Earlier, a professional jury picked 20 songs out of 36, and tonight that field was reduced to just the winning song: Prison.

The show opened quite bit a differently from what one might expect at a Eurovision national final: All of tonight's contestants performed a Boney M medley!
The Songs
Lit up musical chairs, the happiest Moldovan folk music one can imagine and techno disco dance are just some of the things you missed if you were unable to catch O Melodie Pentru Europa 2020. And it's exactly that kind of happy music, with a very recognisable hook and often some folk influences that has given Moldova their best results.
For some of the artists, it wasn't their first attempt to represent Moldova at Eurovision. Pasha Parfeny, for example, was part the SunStroke Project when they entered the national final in 2009 but didn't win, and later left the band. The following year, SunStroke Project reached a 22nd place at the Eurovision Song Contest. In 2017 they came back, and came third; the country's best result to date. He himself represented the country in 2012 with Lăutar.
Sasha Letty has participated in O Melodie Pentru Europa twice, in 2017 and 2019.
Tonight's winner Natalia Gordienco previously represented Moldova in 2006 with the song Loca.
Followers of the Junior Eurovision Song Contest may recognize Midone Denis from 2012, when he took part and reached a 10th place. That year, the event was held in Amsterdam, The Netherlands.
Interval Act
While waiting for the votes to be counted, the audience was treated to a concert with Natalia Barbu, who represented Moldova at Eurovision in 2007. She was accompanied by the Moldovan National Symphony Orchestra, and performed several songs, including her entry Fight.
The Winner
Each member of the jury awarded the traditional 1 through 12 Eurovision-style points to their individual top 10. They were tallied up, and converted to a combined set of jury points. Their combined top marks of 12, 10 and 8 points went to Natalia Gordienco, Pasha Parfeni and Maxim Zavidia respectively.
Without too much fuzz, televote points were added and Natalia Gordienco won the whole thing.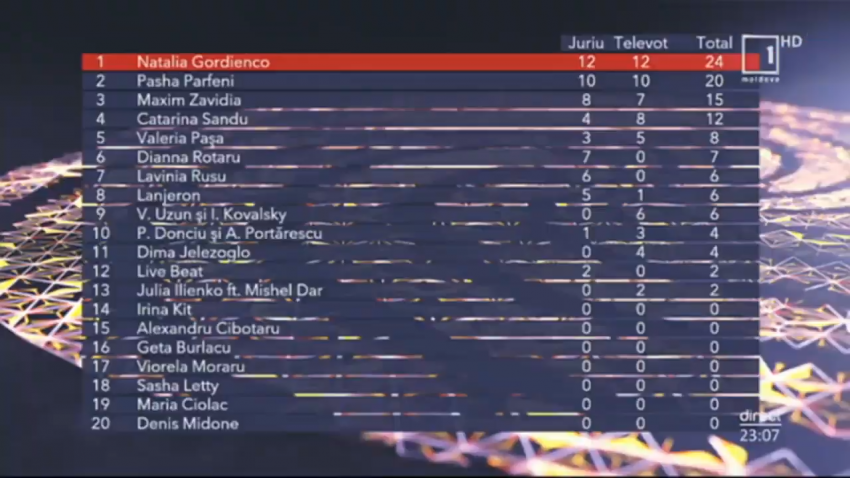 Prison
The winning song is written and composed by a Swedish/Russian/Greek team including Sharon Vaughn, Philipp Kikorov and Dimitris Kontopoulos.
Ups and downs in Moldova's Eurovision history
Joining the Eurovision Song Contest in 2005, Moldova is by now an established participant, yet still among the "newer" countries. Right from the beginning, we saw a country that isn't afraid to try the odd and unusual stuff. Sometimes, they are rewarded with a good result, like in 2005 where Zdob și Zdub debuted with the song Boonika bate doba. Love it or hate it, it's a Eurovision entry most do remember – and they finished 6th.
In 2017, SunStroke Project took part for the second time. They achieved a third place charming big parts of Europe with Hey, Mamma. That today, is Moldova's best Eurovision result. They were followed up, the year after, with DoReDoS and their My Lucky Day. Another entry that stood out, and secured Moldova a 10th place in the final.
Maybe it's just a coincidence, or could it be that Moldova's nieche is the unusual songs that stands out? Fact is that many of their more "serious" entries aren't doing that well.
Time will tell whether or not they will be succesful this year. Moldova will participate in the second semi-final where they have been drawn to start in the first half.