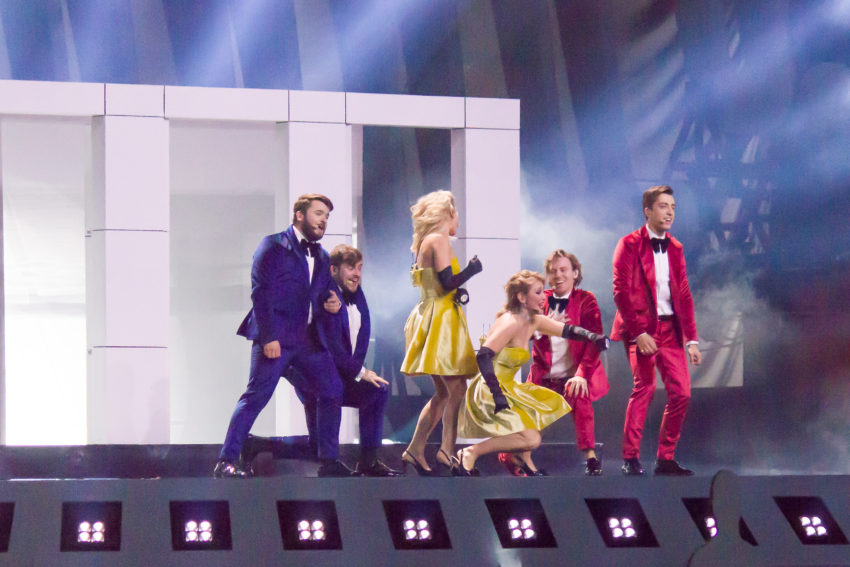 Moldova is bringing one of the most ambitious stages this year and they have completely changed everyone's minds about their song after the rehearsals. Will they pull a Moldova 2017 again?
My Lucky Day
, which is written by Philipp Kirkorov and John Ballard.
The Israeli party
Gallery
Second rehearsal
Opinions expressed during our second .rehearsal coverage are personal from the mentioned writers.
Pedro, Portugal (in the press conference) – What a fantastic TV performance. I always knew Moldova was going to deliver and finish strong and it looks like it might happen. The concept of the performance is one of a kind and really draws the viewer in due to its (mainly) exaggerations and drama. It looks like a Mexican telenovela but with great vocalists and, actually, dancers as they execute the choreography flawlessly!
Michael, United Kingdom (in the arena) – Wow! The stage effect of the wall does not look as good on stage unless you watch the video wall screen. The music is pumping, this is so upbeat after all the intense songs that come before. What a treat this is! Great fun and a certain qualifier.
Complete the Sentence interview
First Rehearsal
First things first – Philipp Kirkorov likes a wall, and this time what a wall, with many open and closed doors. So let's start with the singers all dressed in the colour of Moldova's flag. The men in red and blue, so that leaves yellow for the lady. A mix of comedy and fun, you need to guess who's coming out of the door next.
Sergiu comes through the door first in his dark blue suit, does his verse before the daffodil that is Marina appears. She sings  with her head in the top right box of the door, but her legs are on the bottom left, several feet away, boy is she made of elastic.
The two of them flirt a bit on stage but she's already been seen with Eugeniu, so is she playing with both of them, There follows some going in and out of doors, before Eugeniu tackles a verse. Unbeknown to him Marina is carrying on behind him with Sergiu – confused? you will be.
Upbeat, catchy, fun, appealing, this comes on at just the right moment. Everybody loved it
To end a doppelganger bunch of dancers joins DoReDos on the stage, dressed in the same colours. Bet on this one before the odds get too short.
How DoReDos was selected
Moldovan broadcaster TRM received 28 potential entries through their open call. One was disqualified, leaving 27 acts left. They were all invited to a special audition from where 16 entries was chosen.
On the 24th of February, the chosen 16 competed in a national final where public voting as well as a jury decided the winner. Both jury and the public, overwhelmingly voted for DoReDos who won a very clear national final.
The Song
It is a story of misunderstanding between a woman and two men. The doors symbolize the personal space of our main characters and the windows, their thoughts, like the clouds that we see in comics.
"When misunderstandings cause laughter and then laugh leads to forgiveness" says stage director Fokas Evaggelinos
Moldova at the Eurovision Song Contest
In 2006, Zdob și Zdub finished 6th with the catchy song Bunica Bate Toba. That was the country's debut at the Eurovision Song Contest, and in the years that followed, they would show several times that they managed te catchy songs very well. In 2008, Moldova failed to reach the final, but they got quickly back on track, and it wasn't until Cristina Scarlat's participation in 2014, they again missed the final.
2014, however changed things. They country had lost their ability to send catchy songs. Their entries sounded too much like what we heard from other countries, and for three years in a row, Moldova didn't manage make it to the final.
SunStroke Project returned to the contest in 2017, after they finished 22nd in 2010. Hey Mamma was yet again a very catchy song, and Europe fell in love. They came in third, and secured the country their best ever result.