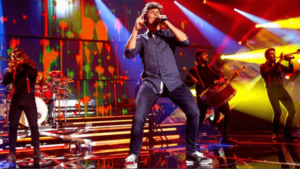 Tonight Spain became the second country to choose their Eurovision entry for 2019. Using the Operación Triunfo show, as they have so many years before, Miki was selected to sing the Spanish entry La Venda this year.
The show tonight was just like a big television party with the audience very involved as each act performed their song. Spain had a lot of good songs to choose from as they so desperately want to win Eurovision again, after a fifty year dry spell. Tonight's winner won with 34 percent of the votes.
The Host
Roberto Jose Leal was tonight's host. As well as introducing all the acts, he spent some time interviewing them all after they had sung their songs. Last years winner Alfred, also joined him for an interview at half time.
The Judges
The panel of experts this year were
Pastora Soler – Singer who represented Spain in the Eurovision Song Contest 2012
Manuel Martos – Music executive and artistic director at Universal Music Spain
Tony Aguilar – Commentator of the Eurovision Song Contest for Spain
Doron Medalie – Israeli songwriter of the Eurovision Song Contest 2018 winner Toy
The interval act was Eurovision favourite and second place act for Cyprus 2018, Eleni Fouriera, who sang Fuego and her latest song Tómame in an expensive trash bag.
The Songs
Marilia – Todo bien
A very Spanish welcome from Marilia opening the show. In her short skirt, accompanied by five dancing bankers, this was an instant crowd pleaser. The only thing is that this is the type of thing that you expect to do well at Eurovision but it usually falls flat. Nevertheless a very good performance.
Sabela – Hoy soñaré
For a second you could have been forgiven that you were watching the Irish entry. Indeed Sabela was even wearing a green skirt to keep with the image. This was a very simple yet pleasing performance with a bit of chanting as well as the singing. Probably not quite as instant as the others so it will likely win.
Famous – No puedo más
A very powerful and assured performance from Famous in his flashy black and white shirt and suit. Famous has famously
said that he would love to go to Eurovision and this performance was worthy of making his dream come true. Four backing singers accompanied Famous throughout his song.
Natalia – La clave
This catchy dance number repeated the words Solo Tu over and over again. Natalia was accompanied by four female dancers which brought the song to life. Very catchy, great to be blasting out of Spanish night clubs.
Julia – Qué quieres que haga
In her white dress surrounded by leaves and greenery, Julia sang this powerful ballad. This is the type of song that Spain has done well with in the past – could this be the one to bring the Eurovision crown back to them. Julia had one of the longest held notes in the contest. You could tell by her smile that Pastora was proud of her.
Miki – La venda
Another fast paced dance and sing a long number, a real crowd pleaser. Miki had all the audience clapping along with him and they all seemed to know the words to all the song already. Five females danced along in the background holding several traditional instruments.
Noelia – Hoy vuelvo a reír otra vez
After Julia, it was Noelia's turn to out-Pastora Pastora and she succeeded very well. This was yet another strong powerful ballad, cleverly designed to show off Noelia's excellent vocals. Another good potential entry – what a shame some other countries don't have as many good songs in their final.
Carlos Right – Se te nota
In his purple suit and flamenco guitar, Carlos continued with the crowd pleasing songs. So far there hasn't been a poor song in the contest. Four backing musicians helped this breezy song along. How Spain is going to pick just one winner this year seems impossible.
Miki & Natalia – Nadie se salva
This years token duo, with the return of Natalia and Amir look a like, Miki. This was yet another up-tempo dance number, thought not quite ad=s frenetic as Miki's previous song. However, yet again the audience were really into it, though they didn't quite have the lovey dovey feel of lasts years duetting couple.
María – Muérdeme
The most youthful performance of the night, Maria has two female dancers with her, while three male dancers stood by ready to make their move. It was becoming hard now to differentiate exactly which dance number was the best. Oh well, all that was left was for Spain to make up their mind. This seems like a favourite.
Spain In The Eurovision Song Contest
Despite ruling the late sixties and early seventies, with two first places and two second places, nowadays Spain finds itself, along with The United Kingdom, likely to be at the bottom of the scoreboard. It is no wonder that the Spanish fans often ask themselves what exactly does Spain need to do to win.
Massiel won the contest in 1968 with La La La, and Salome shared the win, the following year with Vivo Cantando. Tonight's judge, Pastora Soler, even up against Euphoria, was tipped to win in 2012, but finished a disappointing 10th place.
(Ex-) Love birds Alfred and Amaia finished 23rd last year in Lisbon with Tu Canción.