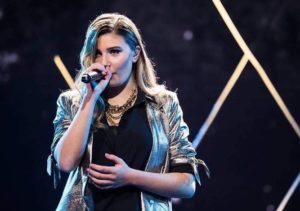 After winning X-Factor Malta back in January, Michela Pace is now ready for the Eurovision Song Contest. Today, this year's Maltese entry was released, and pressure is high on the 18 year old girl to improve recent bad results.
Malta dropped its traditional national final selection for this year. They instead took on the well known X-Factor format with the twist that the winner would represent the country at the Eurovision Song Contest. That honour went to Michela Pace who turned 18, the day before the final in Malta.
After Michela's victory, the broadcaster worked on finding the perfect song for her to compete with at the 2019 Eurovision Song Contest in Tel Aviv, Israel in May. And finally today, that song was released. Listen to it in the video below:
About Chameleon
In a press release after the release of the song, Maltese broadcaster writes that Chameleon was recorded in Vienna, Sweden and Malta, whilst the music video was shot all in Malta and produced by PBS.
They mention that the song is written and produced by Symphonics. In case that name sounds familar they wrote Equinox's Bones (Bulgaria 2018),  Beautiful Mess (Bulgaria 2017) as well as other Eurovision entries. 
Malta at the Eurovision Song Contest
31 apppearances, 24 final positions and no win yet. That's the basic facts about Malta's Eurovision history. The country debuted in 1971, and unfortunately the country finished last in their first two years. Until 1991, their participation was a bit on-off, but since then, they have been a steady country.
Their "new" debut in 1991, was with the song Could It Be by Paul Giordimaina and Georgina, which finished second. The following year, Mary Spiteri came third, and Malta had proven themselves as a country to watch out for. In fact, it wasn't until 1999 that they eventually finished outside top 10 again.
Ira Losco came 2nd in 2002 and the same great result was achieved by Chiara in 2005 singing the beautiful Angel.
The past two years, in 2017 and 2018, Malta has failed to reach the final putting a bit of pressure on this year's X-Factor winner.