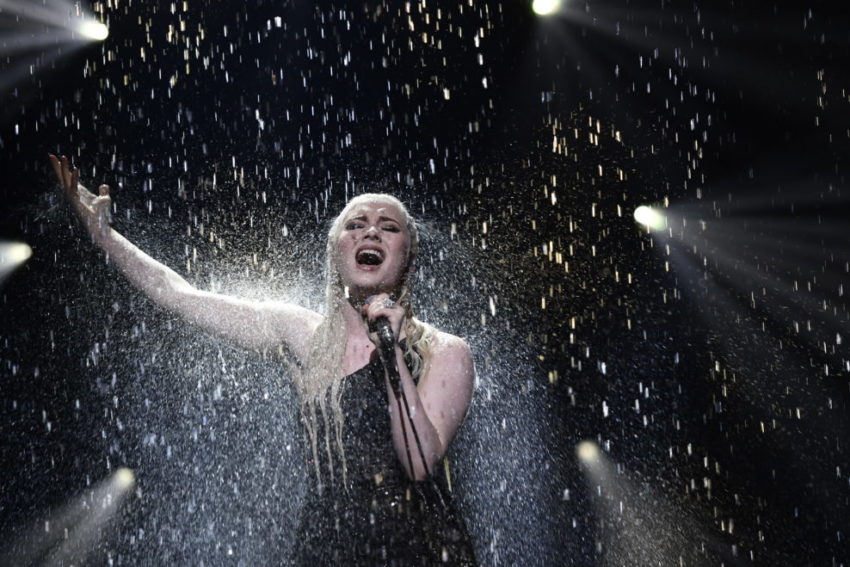 Quite a lot of well known names appeared on stage tonight. Seven acts competed for two spots in the final, or alternatively the two spots in the second chance. Three left the competition, and is out of the run to represent Sweden in Tel Aviv, Israel in May. 
While the artists performing could only participate with one song per year, things are different for songwriters like tonight's heat clearly shows. Veteran Eurovision song writer Thomas G:son is credited to none less than four of the seven songs, while Linnea and Joy Deb can add their names to three of them. Danish Lise Cabble (Denmark 1995, 2011 and Eurovision winner Only Teardrops from 2013) has started to spread her wings over more than just Denmark and is one of the songwriters behind the first song tonight Chasing Rivers.
The songs
Nano – Chasing Rivers (Written by Lise Cabble, Linnea Deb, Joy Deb, Thomas G:son, Nano Omar)
The 2017 runner up, Nano is back. He sees this song Chasing Rivers as a continuing of the song Hold On, which finished second two years ago. His son (who looks like his father a lot) appears in pre-recorded clips, looking like he is actually on stage, while the father is alone on stage. Near the end, Nano is joined by an adult choir, and his son by other children, of which most are children to the choir members on stage. The TV viewers saw some really nice cuts between father and son.
High15 – No Drama (Written by Joy Deb, Linnea Deb, Kate Tizzard)
The youngest contestants tonight were up second. The four girls are just 15 and 16 years old. Behind them on stage is four cages with lightning elements. "I just wanna drink up no drama just drink up" is sung in the chorus, but 'drink up' shouldn't be taken too literal here as it is suppose to be a metaphor for getting rid of the drama, and just live your life right now. No under age drinking here!
Wiktoria – Not With Me (Written by Joy Deb, Linnea Deb, Wiktoria Johansson)
Rain falls behind Wiktoria, who is back in Melodifestivalen for a third time. Near the end of the song, the rain falls on her too, and is to illustrate the sad love sorrow she sings about in the song. Experts were called in from Germany to build the podium she stands on. The podium will collect the water making sure the stage isn't too wet for the next act. Her sparkling black dress fits the water drops perfectly.
Zeana feat. Anis Don Demina – Mina Bränder (Written by Thomas G:son, Jimmy Jansson, Anis Don Demina, Pa Moudou Badjie, Robin Svensk)
'Mina Bränder' translates to 'my fires'. Welcome to the first song in Swedish tonight, and welcome to dancers on stage. None of the first three acts had dancers with them on stage. Zeana and Anis takes full advantage of the special stage this year with two parts; an lightning part and a LED wall part. Zeana starts in the lightning part, on a throne, whereas Anis when he enter the stage, appears in the LED part.
Arja Saijonmaa – Mina Fyra Årstider (Written by Ari Lehtonen, Göran Sparrdal, Arja Saijonmaa)
We continue with yet another song in Swedish. 'My four seasons' is about taking care of Mother Earth. 'Where should we go when Mother Earth gets sick and can't bear it anymore?'. To emphasise the theme, a big earth is seen on the LED background. Veteran participant Arja Saijonmaa is in the Swedish selection for the third time with her debut dating back to her runner up entry Högt över Havet. In 1971 as well as in 1990, she appeared in the Eurovision selection in her native Finland. This time, Greek bouzouki player Panagiotis Karnezis backs her up on stage.
Mohombi – Hello (Written by Alexandru Florin Cotoi, Thomas G:son, Mohombi Moupondo, Linnea Deb)
Do you remember Måns Zelmerlöw's performance of Heroes from 2015? Stage choreographer on that one, Fredrik "Benke" Rydman, is back again – and he brought some of the elements from the Heroes performance with him. A mirror to show Mohombi's reflection is used on stage together with drawn figures in the background – relatives of the stick man in Heroes? Mohombi sings about the woman of his life – one he is yet to meet. Near the end of the song, she become real as turns up in the shape of a female dancer.
Anna Bergendahl – Ashes To Ashes (Written by Thomas G:son, Bobby Ljunggren, Erik Bernholm, Anna Bergendahl)
2010 Eurovision participant Anna Bergendahl is last of the seven participating acts tonight. Will she make up for still being the only Swedish participant not reaching the final? Once again, she doesn't need a lot of action around her as she is all alone. The stage has been turned in to a forest with lots of trees and plants in a half circle behind her. We end this first heat in Sweden with beautiful vegetation and a message about enjoying life right now, as one day, you won't be here anymore.
The result
Is it best to come 5th or 7th? In Sweden that pretty much depends on your nerves. The sixth and seventh places leaves the competition after the first round of voting. After that, the remaining five are through to another round – of which just the fifth place is out of the competition. First and second are directly through to the final, while third and fourth will get another chance via the Second Chance heat.
Direct qualifiers: Wiktoria and Mohombi
Second Chance heat: Nano and Anna Bergendahl
Fifth place: Zeana feat. Anis Don Demina
6th place: High15
7th place: Arja Saijonmaa
"Netta" and "Dana International" interval act
As interval act for this first Melodifestivalen heat, broadcaster SVT gave us Israel's Eurovision history – with Sarah Dawn Finer as Netta, and Eric Saade (Sweden 2011) as Dana International. Clothes and stage design has been made to match the original in this mashup. Even the waving cats were included.
The songs for this were Netta's Toy (2018), A-Ba-Ni-Bi (1978), Hallelujah (1979) and Dana International's Diva (1998). If you missed it, try to find a video of it.
Sweden at the Eurovision Song Contest
It has been a joy being a Swedish fan lately. The country is one of the most successful countries in the contest with six wins of which two are within the past seven years.
When Anna Bergendahl missed the final in 2010 with the song This Is My Life, she was the first Swedish participant to do so – and so far still the only one. The past five entries from Sweden all reached top 10 – in fact just one of them, last year's 7th place didn't go top 5.
The amazing results of course puts extra pressure on whoever wins the 2019 Melodifestivalen. In Sweden they are well aware of that they are only one victory away from a tie with Ireland's seven wins, which today is still the Eurovision record. In the video below, enjoy Måns Zelmerlöw's Heroes from 2015: