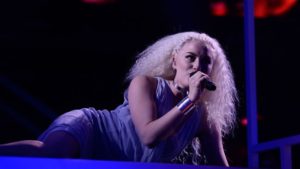 Tonight was the last of fourth heats of Swedish national selection Melodifestivalen where Wiktoria and Jon Henrik Fjällgren were selected to move to the final in two weeks. Loreen and Axel Schylström were given a second chance by moving forward to Andra Chansen, next week.
Seven acts competed tonight in the Northern Swedish city of Skellefteå, including the return of 2012 Eurovision Song Contest champion Loreen. As usual with prior heats, two acts were selected to go direct to the final and two were given a ticket to the second chance round, which will be held next week.
The Songs
First up is Jon Henrik Fjällgren who is back from two years ago this time with Aninia. Their song this year is haunting, mixing the emotional elements of indigenous Swede and modern pop. Aninia adds a nice element to the song, however, Jon Henrik's parts are the best of the song.
Second up is Alice with the song Running With Lions. Alice's style I must say is rather bad, the hair, the dress, it just doesn't work with the song at all. The staging is very simple, the lightings work well and the lion hologram during the middle eight is interesting, but doesn't take the performance where it needs to be.
Next up is Les Gordons, a fun pop-rock band singing their song Bound To Fall. The song is fun and energetic, and so is the band. This is rather typical for this genre sounding a bit like Vampire Weekend, but it works well in the middle of generic pop songs or ballads.
Wiktoria is up next, after finishing fourth place last year with her song Save Me. She brings her great vocals this year with As I Lay Me Down. Unfortunately, the song is rather generic and the staging, although trying something a bit different, just doesn't work that well. Overall it's a step down from last year.
Next up is Axel with his high energy När Ingen Ser. Axel seems to have an endearing story background in regards to his burn scars. When the song starts, however, the potential just flies away. This type of hip hop/dance/pop is already done very effectively by artists such as Danny Saucedo, Axel will need to work a bit harder to make something a little more interesting.
Song number six is a ballad duet between Sara Varga and Juha Mulari. This is as if they just got married and decided to steal the mic at the wedding to surprise all their guests with a song that nobody wants to listen to. A pretty ballad that just doesn't compete with everything else at the contest. The song by itself is nice, but as we saw what happened to Charlotte Perrelli during the first heat, these type of songs don't seem to do so well.
Here she is, the artist most people have been waiting for during this entire contest. Loreen is back with Statements after winning the contest back in 2012. She is not deceiving with this track. If your idea of Melodifestivalen 2017 is that it sounds too generic, this is anything but. The song has some very interesting experimental sounds and with a performance that will be talked about for years due to its political statements.
The Show
First round of votes came through and Les Gordons as well as Sara Varga and Juha Mulari were immediately eliminated from the competition as they received the least amount of votes from the first round.
Wiktoria was picked as the first finalist. She performed her song As I Lay Me Down one more time before the hosts revealed who would be going to second chance.
Loreen and Axel were picked as the second chance contestants, and finally Jon Hendrik as the second finalist.
The Results
Direct to the final:
Wiktoria
Jon Hendrik Fjällgren
To Second Chance:
Out:
5th: Alice
6th: Les Gordons
7th: Sara Varga and Juha Mulari
Below you can watch Jon Henrik's performance which qualified to the Melodifestivalen 2017 final.