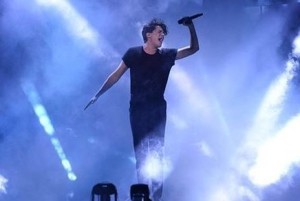 In tonight's third heat of the Swedish Melodifestivalen Oscar Zia and Lisa Ajax got voted directly through to the final. Two more acts will be in for a second chance of getting to represent Sweden on homefield at the Eurovision Song Contest in May.
7 acts were competing in tonight's third heat of Melodifestivalen. From the previous two heats we already had four artists directly qualified for the final while another four is waiting for their second chance heat.
From Heat 1: Ace Wilder and Robin Bengtsson to the final. Albin & Mattias and Samir & Viktor to second chance.
From Heat 2: David Lindgren and Wiktoria to the final. Molly Pettersson Hammar and Isa to second chance.
Among the 7 acts in this third heat we had four debutants, while Swingfly was in it for the second time and Oscar Zia and After Dark both are taking part in Melodifestivalen for the third time.
The songs
SaRaha – Kizunguzungu
If you are listening to this and start to think about Norway's 2011 entry Haba Haba, you aren't the only one. There is a clear similarity with this song, which has the African rhythm adding a bit of regular pop. It is fresh, and certainly gets the party started, but it does not appear strong enough to actually make it to the final. Sanna (SaRaha) is dressed in a very short outfit which is quite colourful – and even has small wings on the shoulders. She has four dancers with her, two male and two females, all of them equally colourful dressed.
Swingfly feat. Helena Gutarra – You Carved Your Name
We continue with a rap/pop song. The main part is entirely rap, but the chorus is pop sung by Helena Gutarra. It is a well known combination and certainly not to be ruled out just yet. Leadsinger is dressed in a white suit, and Helena in a white t-shirt, black mini shorts and black panty hoses! There are four dancers on stage through this energetic song which certainly got the audience up their chairs and cheering.
SMILO – Weight of the World
Those looking for an up-tempo sing which you can easily sing a long to, after all it is a Eurovision song we are searching for, but thought the previous ones were too complicated to remember, stop looking as here it is. Three young guys all dressed in black and white – and plenty of pyrotechnics used, that's what we get here and it even includes an effective Åh-åh-åh part to make it even more stuck in your head.
After Dark – Kom ut som en stjärna
We know what we can expect from After Dark as they are now in Melodifestivalen for the third time, and the recipe is the same each time; a happy pop song added dance beats, and a drag band that delivers a party on stage. It is so obvious, that it actually makes you wonder, when will it become too predictable for the audience? But what dresses! They are dressed in pink, the lead singer in a long one which is taken off and reveals a short white underneath. Confetti is used at the end of the performance. A solid performance, but you know exactly which party you get if you vote for this. It can both be an advantage, but also a disadvantage.
Lisa Ajax – My Heart Wants Me Dead
This one is interesting. She has a great voice and is the little girl next door who suddenly is ready to break out as a woman. Tonight she is dressed in a short glittery grey dress. She has six dancers around her, mainly two and two as couples. Plenty of smoke and light effects are used on this performance. Pretty good song, and she certainly delivers it well.
Boris René – Put Your Love on Me
An up-tempo pop song with a hint of motown, that is what we got here. It is catchy, though a bit too repetitive at the end where he also tries to engage the audience with the well known "put your hands in the air". He is dressed in dark purple suite, a white shirt and wears a black hat as well. He has five dancers with him and there is certainly a lot of dancing going on, maybe a bit too much as it is a little difficult to actually get focus on the song.
Oscar Zia – Human
We end with the song which is going to get the votes from the teenagers and probably also some from their parents as well, in order words, it appeals widely. Despite just being 19 years old, this is Oscar's third Melodifestivalen appearance. He is dressed in black and the backdrop with clouds displayed as well as the lighting is also kept in the dark colours. Near the end a lot of smoke and lights across the stage is added. No doubt a strong performance and this one should be sure in the final.
The show
Tonight's third heat of Melodifestivalen took place in Norrköping in the arena of Himmelstalundshallen which has a capacity of 4500 people. The show kicked off at 20:00 CET, and as in the other heats Gina Dirawi was the main host having a guest host for each show. Tonight's guest host was comedian Henrik Schyffert.
The show opened with a reprise of what happened in last week's second heat and afterwards a performance of Under Pressure by the two hosts. After a quick presentation of the artists competing tonight, a little 9 year old girl named Sigrid joined the stage. She gave the hosts a few advise on how to improve, and she made it very clear that with her experience they had a lot to learn from her!
As interval acts we had a dance act, a stand-up comedy show and yet another chapter in Gardell's Schlagerschool plus the actress Maria Göranzon in an interpretation of Anna Book's Samba Sambero from Melodifestivalen 2007. Some might remember that Anna this year was disqualified shortly before the first semi-final.
The result
As usual there were two rounds of voting. First one selected the five acts that went through to the second round of voting, and thus eliminated the first two.
Through to second round of voting were (in order of mentioned): Song nr 3, song nr 6, song nr 7, song nr 5 and song nr 1,
Swingfly ended 6th and After Dark 7th.
After that another voting round opened followed by a reprise with the five songs through to this phase. This time only one act would be eliminated while the remaining four could continue in the competition, but from different positions:
Directly through to the final are: Oscar Zia (His nerves got away with him in the second performance right after he was called through where he had problems hiding his feelings) and Lisa Ajax.
To second chance round are: SaRaha and Boris René.
Sweden at the Eurovision Song Contest
With six wins, Sweden is now pushing Ireland's position as most winning Eurovision country only being one behind. Sweden joined the contest in 1958 where Alice Babs finished fourth with the song Lilla Stjärna, which translates to Little Star, and that is what Sweden has been to many fans since, a star. With many up tempo song in the classic Nordic schlager style, they have established themselves as the fan favourite number one.
Sweden has only failed to make it to the final of the Eurovision Song Contest once, in 2010 with Anna Bergendahl's This Is My Life which ended just outside top10 on an 11th place. To many it came as a chock that Sweden could miss the final, but since then, they have certainly gotten back on track with two victories and two third places in just five years!
Please do take a look at our highlights of Sweden in the Eurovision Song Contest in recent years starting with Anna's loss to the past five years with one big success after the other.