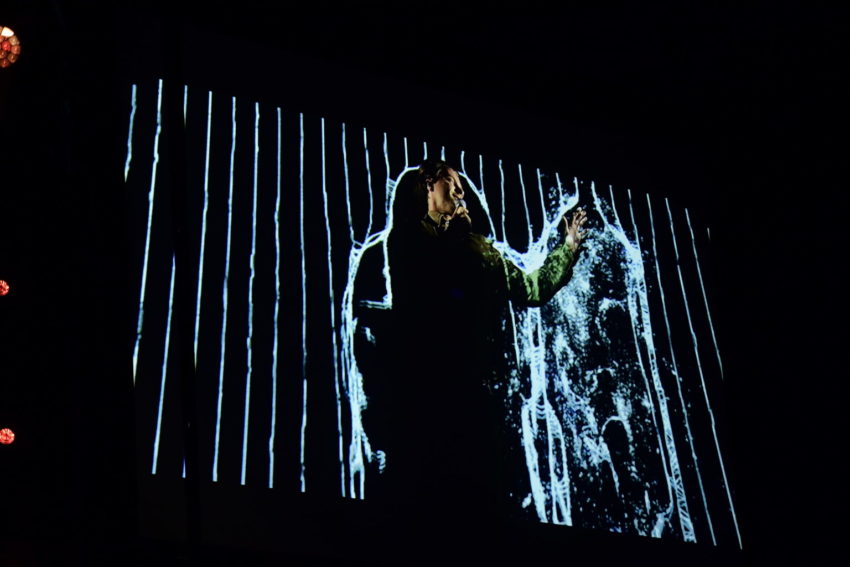 After tonight's fourth heat in Sweden, four more acts are still in the run to represent the country at this year's Eurovision Song Contest. Two went straight to the final while another two gets a second chance. Three acts are out.
Welcome back to Malmö, the host city of the 2013 Eurovision Song Contest. Tonight, seven acts competed for one of the four spots that secure them at least one more performance on live TV and in front of an enthusiatic audience that follows the Swedish national selection, Melodifestivalen.
The songs
Frida Öhrn – We Are One
This is Frida's fifth Melodifestivalen apperance, but she is yet to reach the final. She is alone on stage this time with two backing singers outside the stage. The colours are kept in orange, purple, red and gold. It's an up-tempo pop song with a bit of resemblence to glam-rock. Frida herself is dressed in purple and pink.
William Stridh – Molnljus
We continue with a debutant in Melodifestivalen. William is not new to the Swedish audience though as he took part in Idol a few years ago, and finished 5th. It's a rather quiet song, though it does provide a little up-key. The performance is mainly kept in blue, black and white with a neon ring appearing on stage and smoke used as well. Just like Frida, William is also alone on stage. William was dressed all in white, casually and formal at the same time. A rather pleasant song.
Nanne Grönvall – Carpool Karaoke
Welcome to a Melodifestivalen legend – and the first of two former Eurovision participants in tonight's heat. She was a part of the trio One More Time that finished third at the 1996 contest. This is a rock-pop song with full speed on. One really need to hold the breath to get a grab of this. It's song in Swedish, just like William's entry just before, but it goes so fast that many viewers probably won't even notice it. Nanna has six dancers with her on stage. Nanna was in pink and black in this performance were a glass table turned into a car! Did anyone say Grease Lightning btw?
Victor Crone – Troubled Waters
Last year, Victor Crone represented Estonia at the Eurovision Song Contest. He finished 20th with the song Storm. This is his second participation in Melodifestivalen after reaching Second Chance round in 2015. It's a laid back pop song with a guitar that gives it a bit of a country feeling – on the chorus though, we do hear a few really high notes. He manage, but it does sound like he is on the edge of his vocal range. He is alone on stage, but it doesn't look empty with the light show and the projector effect which makes one think of the 2015 Swedish winner Heroes. Victor was dressed all in black with silver chains hanging from the trousers. A good performance.
Ellen Benediktson & Simon Peyron – Surface
Both Ellen and Simon have previous Melodifestivalen experience, and they even both took part in 2014. Now they are together for the first time. It's a rather quiet duet, but the chorus is rather rememberable. There is just the two of them on stage in the performance kept mainly in turquoise and blue. Plenty of smoke was added to set the atmosphere. It was a very serious song with a just as serious performance, but it did seem like the couple had the chemistry, that is so important for such a duet.
Jakob Karlberg – Om Du Tror Att Jag Saknar Dig
On to the third song tonight in Swedish! He is Melodifestivalen debutant, but not unfamiliar with music competions on TV as he took part in Idol in 2011. Jakob has two musicians with him on stage; a drummer and a electric bas player who also provides backing. He himself has an electric guitar with him for this performance where the colours used are purple, yellow, blue, pink and red. It is a pop/rock song with a few hints of a Beatles inspiration. Both Jakob and the bas player has a little routine with a slight movement with one foot, otherwise they stay in the same place – on each their podium.
Hanna Ferm – Brave
We welcome a familiar face from last year's Swedish selection. Hanna came third in the final of Melodifestivalen 2019 in a duet with LIAMOO. This time she is all alone on stage in a performance with a lot of use of smoke and wind mashines. It's a contemportary pop song with a power chorus that includes high notes. Am I the only one who thinks it sounds like it's pushing Hanna's vocal abilities to the max? The song is strong though, and should continue in the selection. She is dressed in a tight short dress with a long tail at the back. The performance is mainly kept in blue and pink.
The show
We kicked off at 20:00 CET. The show took place in Malmö Arena, which some might recognise from the 2013 Eurovision Song Contest. Back then, Emmelie de Forest took home the trophy for neighbouring Denmark. Tonight, no trophy were handed out, but four acts are still in the competion with a chance to win it.
As its tradition in Sweden, we opened with the hosts singing surrounded by plenty of dancers. The show followed a little pre-recorded clip. The theme for all of this was Brandsta City Släckers' 2002 Melodifestivalen entry Kom Och Ta Mig.
After welcoming the audience and the TV viewers, first participating song started after just 11 minutes. This is very different from Ukraine, who started their national final two hours prior to this Melodifestivalen heat, and had first participant on stage after 48 minutes! Is that a new national final record? Anyway, back to Sweden. After 50 minutes, all songs had been performed and it was time for a reprise, and the Swedes to vote.
The result
Melodifestivalen might have a lot of heats, and the language might be a challenge to some foreigners, but still; it's easy to follow their national selection as the format has stayed the same for many years. We are talking about a country that likes to change the Eurovision Song Contest, but when it comes to their national selection; we aren't seeing many changes. They think it's pretty perfect as it is.
With that in mind, welcome to their usual format with two founds of voting. First round iliminated the two acts that finished 6th and 7th. Second round, selected two directly through to the final, another two for the Second Chance heat and the poor 5th place who leaves the competion as well.
| | | |
| --- | --- | --- |
| Placement | Act | Songtitle |
| Final | Hanna Ferm | Brave |
| Final | Victor Crone | Troubled Waters |
| Second Chance | Frida Öhrn | We Are One |
| Second Chance | Ellen Benediktson & Simon Peyron | Surface |
| 5th place | William Stridh | Molnljus |
| 6th – 7th place | Nanne Grönvall | Carpool Karaoke |
| 6th – 7th place | Jakob Karlberg | Om Du Tror Att Jag Saknar Dig |
Sweden's six Eurovision wins
Ireland holds the record with a total of seven wins, but Sweden is catching up. Since the last Irish victory in 1996, Sweden won three times placing them with six wins.
1974: ABBA – Waterloo
1984: Herreys – Diggi-Loo Diggi-Ley
1991: Carola – Fångad Av En Stormvind
1999: Charlotte Nilsson – Take Me To Your Heaven
2012: Loreen – Euphoria
2015: Måns Zelmerlöw – Heroes
Last year, Sweden was represented by John Lundvik and the song Too Late For Love. He finished 5th. In the video below, we'll take you back to the country's last victory in 2015: