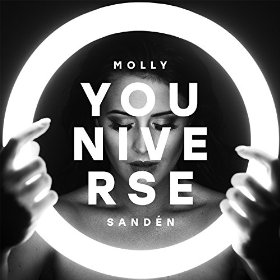 It emerged late last night, that, contrary to Melodifestivalen rules, a thirty-second clip of Molly Sandén's entry Youniverse had been leaked online. With a press release, Swedish public broadcaster SVT has just dispeled fears that the song might get disqualified from the Swedish national selection for this year's Eurovision Song Contest.
As reported earlier, there was concern that Molly Sandén, tipped as a favourite in this year's Melodifestivalen, might have to be disqualified from Sweden's national selection. This was because, strictly speaking, it is in violation of the rules for a song to become publicly available before the show itself without prior expressed consent from the country's public broadcaster. However, SVT, which will also host the 2016 Eurovision Song Contest itself, has know made clear that it does not intend to disqualify Molly, stating that the leak has not in fact been her fault. A press release from Christer Björkman, executive producer of Melodifestivalen 2016, translates as follows:
There have not been found any mistakes made by the artist of the record company who, throughout all their communication, have made it very clear that the release date (i.e. of the song) is 28th February. The mistake occured further down the chain, which means that there is no ground for diqualification.
A follow-up SVT press release expresses the intention to alleviate any sense of foul play:
In order to neutralise the possible advantage of Molly Sandén, it will now be possible to listen to short parts of all songs from Heat 4.
On the official Melodifestivalen website, it indeed appears that thirty-second sound clips of all songs from the fourth heat are now available to listen.
In any case, one would think that, if anything, the whole incident might have generated extra publicity for Molly. The fourth heat of Melodifestivalen is set to take place on 27th February.