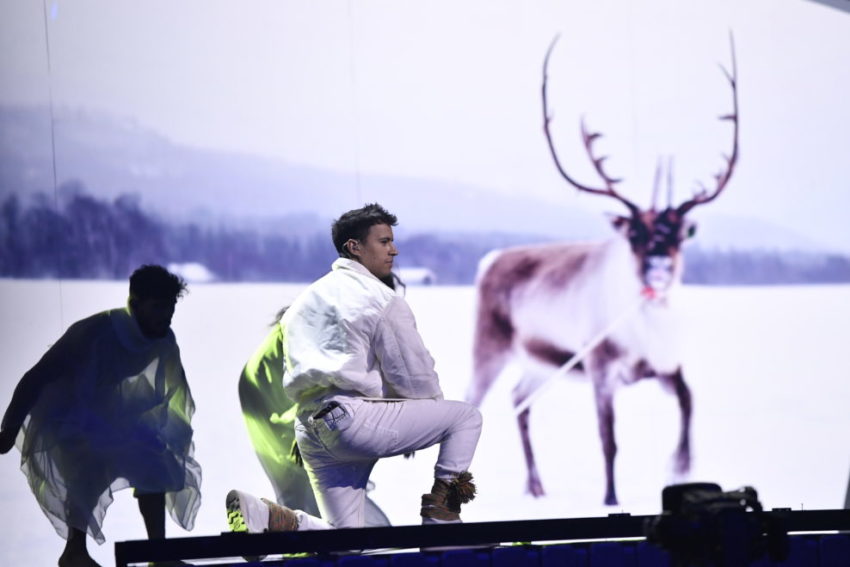 Melodifestivalen has been unpredictable so far this season, but tonight it was a little easier to predict. Four of the seven acts are, as always, still in the run to represent Sweden this year, while three left the competition at this stage.

The songs
1. The Lovers Of Valdaro – Somebody Wants (Written by: Peter Boström, Thomas G:son, Erik Høiby)
This group consists of Erik and Adam (with Erik being the front man). They have four dancers with them on stage in this song clearly inspired by the 1980's. A special platform on the stage has been created for this performance where they all stand on. All the way in the background of it, you find Adam with a synthesizer. The dancers are around him – and Erik in the front as lead singer. Erik and two of the dancers step off this platform for a short while, but ends the song on it as they started. Erik and Adam are both wearing dark pink laces, while the dancers are all in white.
2. Dolly Style – Habibi (Written by: Jimmy Jansson, Palle Hammarlund, Robert Norberg)
Back with yet a colourful performance, Dolly Style is hard to miss. The three girls in pink, purple and blue – with matching wigs – are all dressed in short tops, short skirts and long boots. They move around switching between two microphone positions and imitate the three alter ego's cartoon figures of the girls shown in the background. Pyrotechnics are used in the end of the song. They dedicated the song to the ones who feel left out, from school or similar, and in the introduction they also told that they have all felt like that.
3. Martin Stenmarck – Låt Skiten Brinna (Written by: Uno Svenningsson, Tim Larsson, Tobias Lundgren)
2005 Eurovision participant is this time taking part with a song in Swedish. The title translates to 'let the shit burn' and the shit that needs to burn are the depressing and damaging thoughts that are you keeping you down. The lightning has been described as it should visualize a box where he is trapped and breaks free from. In the introduction, he told that in 2005, he was there to entertain, now, he is there to tell the message that we need to slow down, society is going too fast now. The audience in the arena all holds up small lights. A very strong performance where the song is in focus, nothing has been added which can distract from it.
4. Lina Hedlund – Victorious (Written by: Melanie Wehbe, Richard Edwards, Dino Medanhodzic, Johanna Jansson)
Former Alcazar member Lina stands on the longest stair case ever used in Melodifestivalen – according to broadcaster SVT. In the beginning, she stands all the way at the top and sings from a platform. Later, she gets down, stops half way and then continue to the floor where she is joined by four dancers. It's a true pop anthem which will attract many fans. Lina is dressed in a sparkling outfit with a deep cleavage. Pyrotechnics are used at the end of the song. Afterwards, it was noticed by fans that the chorus sounds very similar to David Lindgren's Skyline from 2013.
5. Omar Rudberg – Om Om Och Om Igen (Written by: Omar Rudberg, Johan Lindbrandt, Robin Stjernberg, Jens Hult)
We continue with a song in Swedish and Spanish – that's quite an unusual combination. Born in Venzuela, Omar is fluent in Spanish. For this song, Omar himself is casually dressed. He is joined on stage by four female dancers. He walks in on stage with a blue light following him with the dancers next to him – two on each side. The stage gives a club enviroment feeling with lights in various colours. Omar is quite charming, and is likely to get a few more teenage girls following him after tonight.
6. Rebecka Karlsson – Who I Am (Written by: Rebecka Karlsson, Anderz Wrethov, Henric Pierroff)
The dancers are very much in focus on this song. There are four of them, dressed to match each their profession: A boxer, a ballet dancer, a gymnast and finally a company manager. The song is about being strong, don't give up on your ambitions, and take control over your life. Rebecka herself is dressed in a short black lace dress. She stands on a little podium and the dancers are around it. In the introduction, Rebecka told about how she was in this to win it – just taking part isn't enough for her.
Is it just because I am Danish, I end up thinking about Anja Nissen's Where I Am from 2017?
7. Jon Henrik Fjällgren – Norrsken (Written by: Fredrik Kempe, David Kreuger, Niklas Carson Mattsson, Jon Henrik Fjällgren)
In Melodifestivalen you can be eight on stage, and Jon Henrik takes full use of that with three backing singers and four dancers. He also takes advantage of pre-recorded video clips among others including a reindeer in order to bring the audience out in the snow in the mountains. The performance uses smoke on stage along with a line of fire at the front of the stage. The Sami inspired sound and the visually strong act, ends tonight's line-up. This has got to be a strong contender to win Melodifestivalen this year!
The result
Is it best to come 5th or 7th? In Sweden that pretty much depends on your nerves. The sixth and seventh places leaves the competition after the first round of voting. After that, the remaining five are through to another round – of which just the fifth place is out of the competition. First and second are directly through to the final, while third and fourth will get another chance via the Second Chance heat.
Direct qualifiers: Jon Henrik Fjällgren and Lina Hedlund
Second Chance heat: Martin Stenmarck and Rebecka Karlsson.
Fifth place: Dolly Style
Contrary to the previous two weeks, it wasn't shown who finished 6th and who finished 7th. But out after first round of voting were The Lovers Of Valdaro and Omar Rudberg.
Sweden at the Eurovision Song Contest
It has been a joy being a Swedish fan lately. The country is one of the most successful countries in the contest with six wins of which two are within the past seven years.
When Anna Bergendahl missed the final in 2010 with the song This Is My Life, she was the first Swedish participant to do so – and so far still the only one. The past five entries from Sweden all reached top 10 – in fact just one of them, last year's 7th place didn't go top 5.
The amazing results of course puts extra pressure on whoever wins the 2019 Melodifestivalen. In Sweden they are well aware of that they are only one victory away from a tie with Ireland's seven wins, which today is still the Eurovision record. In the video below, enjoy Måns Zelmerlöw's Heroes from 2015: