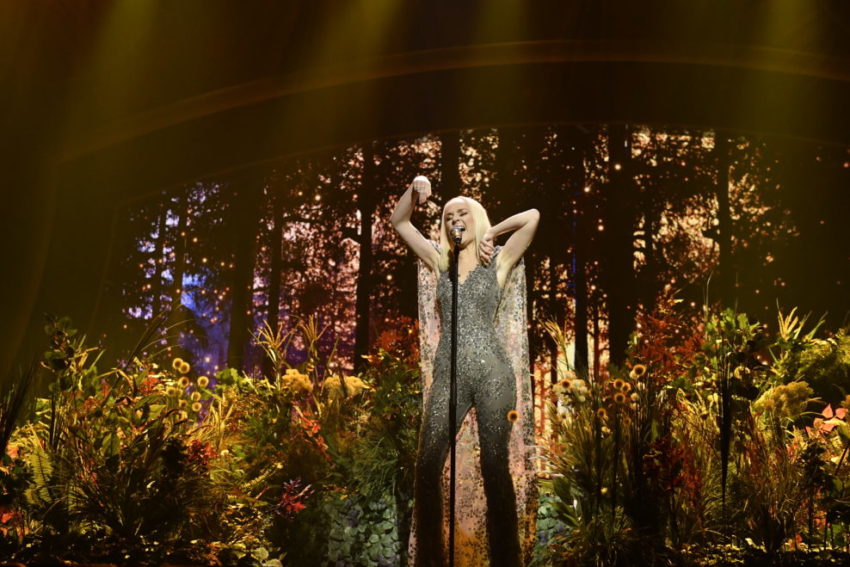 The line-up for next Saturday's Melodifestivalen final is now complete. The last four acts qualified from tonight's second chance heat, which featured triple Eurovision winner Johnny Logan and 2015 winner Måns Zelmerlöw as interval acts.
After four regular heats, eight acts had already qualified for this year's Swedish final. Another eight acts had been given a second chance to make it. They fought in duels tonight for the last four spots in the final, which takes place next Saturday the 9th of March.
It takes time to prepare a whole new performance and therefore we only saw small changes that had been made from the first regular four heats. You can read more about those in our coverage of them:
First heat – Second heat – Third heat – Fourth heat 
Andreas Johnson vs Anna Bergendahl
Andreas Johnson came from second heat. With the song Army Of Us, he steps a bit away from the usual 60's inspired sound and more into the 1990's. This is his 7th Melodifestivalen appearance.
In first duel, he was up against 2010 Swedish Eurovision participant Anna Bergendahl. She qualified from the first heat with Ashes To Ashes turning the stage into a forest.
Verdict: This first duel is hard to predict. It's two well established names who are both strong vocally. It's two uptempo songs, though they don't remind of each other. Johnson's is quite British in the sound while Begendahl's is more typical Scandinavian, and in particular Swedish. Personally, I would go for Army Of Us, but if it would be Ashes To Ashes I would understand it too.
Vlad Reiser vs Nano
Despite not being naked nor including rain on stage, Belarussian born Vlad Raiser qualified with the Swedish languaged song Nakna I Regnet (Naked in the rain) from the second heat. Just as in the regular heat he was wearing plastic on the arms, but there was still no rain in sight.
For his duel, he was up against Nano and Chasing Rivers, which is co-written by the legendary songwriters Swedish Thomas G:son and Danish Lise Cabble. The pre-recorded clips with Nano's son is worth remembering this song for, although it was changed for this second chance heat.
Verdict: The younger generation will probably vote for Vlad, the older one for Nano. As we are, after all, talking about a potential song for Eurovision, best bet here will be on Nano. It's the absolute strongest of the two… though we shouldn't rule out that the young people will be able to relate to YouTube prankster Vlad.
Martin Stenmarck vs Lisa Ajax
2005 Eurovision participant Martin Stenmarck qualified from third heat. The title, Låt Skiten Brinna, translates to 'let the shit burn'. All focus was on the song, which is about getting rid of the damaging and depressing thoughts holding you down.
Back for a third time in Melodifestivalen is Lisa Ajax. She qualified from fourth heat where her experience, despite her young age, and a great vocal took her to this Second Chance Heat.
Verdict: This is once again a really difficult one to guess. It's two very strong songs where the songs are in focus. Nothing else on stage which can distract. Martin's performance tonight did come out stronger, but don't rule out the beautiful Torn, which near the end really kicks off.
Rebecka Karlsson vs Arvingarna
With the dancers in focus, Rebecka Karlsson qualified from third heat. The dancers; a boxer, a ballet dancer, a gymnast and finally a company manager gave a lot of attention to this song which tells you to be strong and don't give up on your ambitions. Her songs reminds a bit of Anja Nissen's Where I Am (Denmark 2017).
In 1993, Sweden was represented by Arvingarna and their Eloise. In their hope for a Eurovision comeback they took part in the fourth semi-final, where they received a really big applause from the arena for this song, which just brings you in a good mood.
Verdict: Just like the second duel between Vlad and Nano this is once again between two songs which appeal to each their audience. Arvingarna's I Do is the typical Swedish sounding song. It's catchy and easy to sing a long to, and I wouldn't be surprised if the Swedes vote for this, but my bet would be on Rebecka, who revealed that her middle name is "Eloise" as her parents named her after Arvingarna's 1993 Eurovision entry.
The show
Nyköping, located one hour from Stockholm, was hosting tonight's second chance heat. It's the third time the city is used for Melodifestivalen – all three times for the second chance heat.
Aside from the hosts singing, 2015 Eurovision winner Måns Zelmerlöw entertained as interval act. He performed his new single Walk With Me in duet with Dotter (Johanna Jansson). Dotter took part in last year's Melodifestivalen – and this year, she is already qualified for the final as songwriter for former Alcazar member Lina Hedlund, who went straight to the final from third heat.
Walk With Me, which was released yesterday is written by Måns together with Andrew Jackson, Rachel Clare Furner, Ash Molton and Dan Goudie.
Sweden furthermore pulled on a big surprise when Johnny Logan suddenly entered the stage to perform his 1987 Eurovision winner Hold Me Now. That had not been announced at all. A well kept secret! In SVT's schedule of the show minute for minute this was defined as a bit of music by one of the hosts.
The show ended with the result of the four duels. This has been used before in Sweden, but is different from last year where we got the result after each duel.
Final running order
In tonight's show the running order for the final was also revealed.
Jon Henrik Fjällgren – Norrsken
Lisa Ajax – Torn
Mohombi – Hello
Lina Hedlund – Victorious
Bishara – On My Own
Anna Bergendahl – Ashes To Ashes
Nano – Chasing Rivers
Hanna Ferm & Liamoo – Hold You
Malou Prytz – I Do Me
John Lundvik – Too Late For Love
Wiktoria – Not With Me
Arvingarna – I Do
Sweden at the Eurovision Song Contest
It has been a joy being a Swedish fan lately. The country is one of the most successful countries in the contest with six wins of which two are within the past seven years.
When Anna Bergendahl missed the final in 2010 with the song This Is My Life, she was the first Swedish participant to do so – and so far still the only one. The past five entries from Sweden all reached top 10 – in fact just one of them, last year's 7th place didn't go top 5.
The amazing results of course puts extra pressure on whoever wins the 2019 Melodifestivalen. In Sweden they are well aware of that they are only one victory away from a tie with Ireland's seven wins, which today is still the Eurovision record.