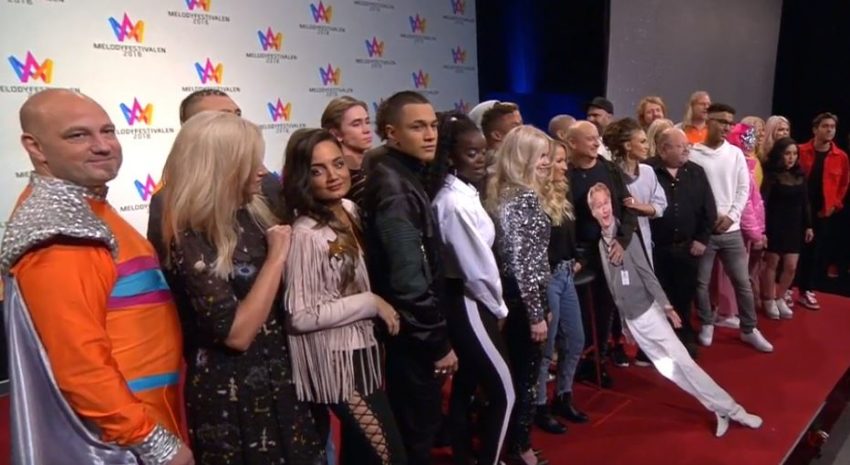 Welcome back to former Eurovision artists Kikki Danielsson and Jessica Andersson. Months of speculations finally came to an end today as the participants for the 2018 Swedish national selection were presented today. 
Melodifestivalen have fans all around the world. The Swedish national selection is for many Eurovision fans bigger than Christmas and New Years Eve. No matter if you share this obsession or not, it is hard to deny that its existence is a big part of Eurovision.
Today, the participants who take part in the 2018 edition were presented at a press conference. As often seen before, the line-up includes new talents as well as experienced artists. Some of them are very familiar faces to Eurovision followers, and others are hoping to become just that.
Over four regular heats, and one second chance heat, starting in Karlstad on the 3rd of February 2018, the participants will fight for spots in the final, which takes place in Friends Arena on the 10th of March.
2018 Melodifestivalen participants
(Not in performing order)
Heat 1 – Karlstad, Löfbergs Arena
Renaida – All The Feels
Benjamin Ingrosso – Dance You Off
Edward Bloom – Livet Pa En Pinne
John Lundvik – My Turn
Kikky Danielson – Osby Tennesse
Sigrid Bernson – Patrick Swayze
Kamferdrops – Solen Levar Var Hos Dig
Heat 2 – Gothenburg, Scandinavium
Ida Redig – Allting Som Vi Sa
Jonas Gardell – Det Finns En Vag
Margaret – In My Cabana
Liamoo – Last Breath
Samir & Viktor – Stuffla
Mimi Werner – Songburning
Stiko Par Larsson – Titta Vi Flyger
Heat 3 – Malmö, Malmö Arena
Martin Almgren – A bitter Lullaby
Dotter – Cry
Moncho – Cuba Libre
Mendez – Everyday
Kalle Mordeus & Orsa – Min Drom
Jessica Anderson – Party voice
Barbi Escobar – Stark
Heat 4 – Örnsköldsvik, Fjällräven Center
Felica Olson – Break That Chain
Felix Sandman – Every Single Day
Mariette – For you
Rolandz – Fuldans
Emmi Christennson – Icarus
Elias Abbas – Mitt Paradis
Olivia – Never Learn
Sweden at the Eurovision Song Contest
With six wins, Sweden is one of the most succesful Eurovision countries – they are only one victory away from matching Ireland's seven wins. Since Ireland's last victory in 1996, Sweden have won three times, in 1999, 2012 and 2015. And where Ireland have missed the final seven times including the last four years, Sweden have only been left out once, in 2010.
In 2017, Sweden was represented by Robin Bengtsson. With 344 points he came fifth with the song I Can't Go On. In the video below you can enjoy that entry in a special multi cam edition.