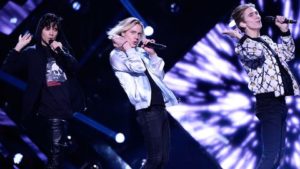 After four semi-finals, the city of Linköping hosted the Andra Chansen duels, tonight. Here the viewers picked the last four songs that will compete in next week's big final in the Friends Arena in Stockholm. Also tonight, the running order for next's week show was revealed.
Tonight's finalists will join the eight acts already qualified from the last four weeks.
The finalist picked so far:
Ace Wilder and Nano qualified from the first heat in Gothenburg.
Mariette and Benjamin Ingrosso qualified from the second heat in Malmö.
Robin Bengtsson and Owe Thörnqvist qualified from the third heat in Växjö.
Wiktoria and Jon Henrik Fjällgren feat. Aninia qualified from fourth heat in Skellefteå.
The Songs
Duel 1:
FO&O:"Gotta Thing About You" VS De Vet Du: "Road Trip"
The first duel is definitely about the better boy band. Both competing for the first time in Melodifestivalen. FO&O perform their energetic song that is perfectly accompanied by a great dance routine that suits the style of the song. However, they've changed the last part of their choreography, trying to make it simpler.
De Vet Du are set for another "Road Trip". Their entry maintains entertainment and joy. The first part of their performance is in a car and then along with some dancers and a half-naked DJ, they all seem to have fun on the stage, but will this be enough to beat FO&O and go to the final?
Duel 2:
Axel Schylström: "När ingen ser" VS Lisa Ajax: "I Don't Give A"
In this duel we see two strong pop songs competing. Axel sings his song in Swedish and this is definitely an advantage for him. He wears a different outfit from what he wore in the semi-final and his performance is very uptempo and energetic.
Lisa is one the artists who took part in the 2016 edition of the contest. She came back with a pop song that suits her voice and a stage presentation definitely different from what she did last year.  For most of the fans, she is a favourite to win this duel, but is her performance good enough to pass to the final?
Duel 3:
Boris René: "Her Kiss" VS Dismissed: "Hearts Align"
Last year Boris found himself again in the Andra Chansen and he made it to the final. This year he came back with another catchy and funky song and he hopes that with "Her Kiss" he will have the viewers on his side in this duel.
On the other side, Dismissed is a completely different choice. Their song is extremely unique and also their style. This is definitely a duel with an outcome that will be tricky to figure out.
Duel 4:
Anton Hagman: "Kiss You Goodbye" VS Loreen: "Statements"
This was the duel that everyone was waiting for.  Anton takes the stage to perform his entry, first, with his guitar and also his charming eyes, that will definitely help him get to next week's final.
After surprisingly not making it to the final, Loreen comes back to the stage to perform her entry and fight for a place in the final. She performs with passion and her staging is slightly changed in order to impress the audience and get that golden ticket. Will the Swedish people give her a second chance or will her statements be out of the big final?
The Show
The show was held in Saab Arena in Linköping in order to pick the last four songs that will compete in the next's week big Final of Melodifestivalen 2017. The show opened with the three hosts singing a song about the duels and after the second duel, one of the three hosts David Lindgren sang a funny song, the lyrics of which were made by viewers comments. After all the duels, Daniel Norberg, known for his Melodifestivalen parodies, took the stage to perform this year final entries in a funny way.
The Results
Duel 1: FO&O with "Gotta Thing About You"
Duel 2: Lisa Ajax with"I Don't Give A"
Duel 3: Boris René with "Her Kiss"
Duel 4: Anton Hagman with "Kiss You Goodbye"
The running order in the final will be:
1. Ace Wilder – Wild Child
2. Boris Rene – Her Kiss
3. Lisa Ajax – I Don't Give A
4. Robin Bengtsson – I Can't Go On
5. Jon Henrik Fjällgren feat. Aninia – En värld full av strider (Eatneme gusnie jeenh dåaroeh)
6. Anton Hagman – Kiss You Goodbye
7. Mariette – A Million Years
8. FO&O – Gotta Think About You
9. Nano – Hold On
10. Wiktoria – As I Lay Me Down
11. Benjamin Ingrosso – Good Lovin'
12.Owe Thörnqvist – Boogieman Blue
Sweden in Eurovision Song Contest
Sweden joined the contest in 1958 and missed only three contests in 1964, 1970 and 1976. With six wins, Sweden is only behind Ireland, as the most successful country in the contest. Their first win was Abba with Waterloo back in 1974 and thanks to this win, Abba became one of the world's most successful bands of all time.
Sweden's second win came in 1984 with Herrey's and Diggi-Loo Diggi-Ley. Their next three wins were Carola in 1991 with Fångad Av En Stormvind, Charlotte Nilsson in 1999 with Take Me To Your Heaven and then, Loreen in 2012 with Euphoria.
Since the introduction of the semi-finals in 2004, Sweden has missed the final only one time in 2010, when Anna Bergendahl failed to make it to the final, finishing 11th in her semi-final, with This Is My Life. Last year, Sweden hosted the 61st edition of the contest in Stockholm after the victory of Måns Zelmerlöw in 2015 with Heroes.