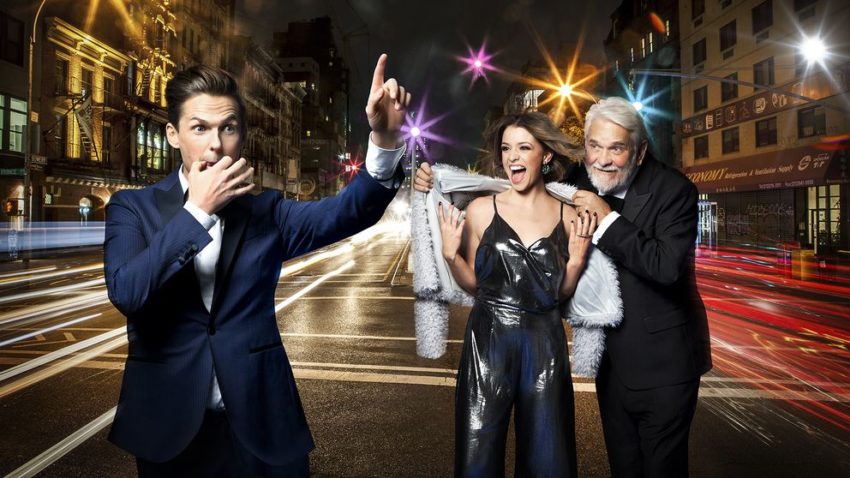 The second heat of prestigious Swedish Eurovision selection Melodifestivalen has just taken place at the Malmö Arena. Last week, Eurovision winner Charlotte Perrelli failed to qualify for the event's final. Did former Swedish participant Roger Pontare have better luck tonight?
Former Eurovision participants, indeed former Eurovision winners like Loreen (2012), are taking part in this year's Melodifestivalen. Tonight's was the second of five heats. Two more contestants won the ticket to the event's final of 11th March whilst two more acts have won the opportunity to compete in the fifth, second chance, heat of the selection.
The songs
Mariette – A Million Years
Having finished third in Melodifestivalen's 2015 final, 34-year-old Mariette was one of tonight's veterans. A Million Years is a rhythmic song with an atmospheric feel to it.
Mariette was dressed in a white trousered one-piece in a sublit stage. Four white ropes hang from the ceiling and onto the stage. It soon transpired that these had four dancers 'tied' to their ends and the said dancers soon broke into an inventive choreography around the singer.
The singer's vocal performance was strong and consistent, despite a hint of tension being evident on her face. The visual presentation of the song worked well and A Million Years left a good aftertaste. Its finale was a bit abrupt though and it took a split second for the audience to express their warmth for the song.
Roger Pontare – Himmel Och Hav (Sky and Sea)
At 65, Roger Pontare has represented Sweden in the Eurovision Song Contest twice, in 1994 and on home ground in 2000, finishing in thirteenth and seventh place respectively. The singer is also the father of Vincent Pontare, an internationally successful singer-songwriter, whose dual career highlights include collaborations with Avicii, David Guetta, Katy Perry and Madonna.
A children's choir intro sets the tone for the song, which has a distinctively lyrical, epic sound element to it. In this respect, Himmel Och Hav is perhaps a mellower, toned-down version of When Spirits Are Calling My Name, Pontare's 2000 Eurovision entry.
True to the style of his 2000 entry, Roger Pontare entered the stage holding a torch. Indeed, flaming torches are scattered around the stage and walkway. Roger, in his traditional – Sami one would assume – dress and spectacles, got the audience animated with his characterstic imposing voice and stage style.
Again, an effective staging!
Etzia – Up
Etzia provides a light-hearted change from Roger Pontare's offering. Up is a fun rhythmic song with African traditional undertones.
Etzia was dressed in a tight fitting white catsuit with geometrical patterns. She is joined by four dancers on roller skates on stage. Etzia has a characteristic husky voice but, presentation-wise the entry could have been a bit stronger.
Up is meant to become a dancefloor Melodifestivalen favourite for Eurovision fans.
Allyawan – Vart Har Du Vart (Where Have You Been)
Allyawan appeared in a sublit stage lit by weak flickering light. What appear to be mannequins can be made out as the artist walks across the stage. Some of these prove to be real dancers later on. A female dancer, in particular, has a leading role in the presentation, appearing prominently in the background.
Allyawan carries the tune satisfactorily – some of it in rap – even though there was the occasional off-key note. Vart Har Du Vart is a hip-hop number with some good musical production going for it but I doubt as to its Eurovision chances.
Dismissed – Hearts Align
Dissmised are a four-piece group with a characteristic androgynous look. Both in this respect, as well as in regards to their sound, the group is reminiscent of British alternative rock group Placebo.
Indeed the group enters the stage accompanied by sharply dressed female dancers in what appears like a catwalk show. All members are in full makeup, and some of them dressed in frocks. There are also large red flags being waved in the background towards the end of the presentation. Hearts Align is a solidly built pop-rock song that actually proves quite memorable in the end.
The vocal performance of the lead singer as well as the number's sound and overall atmosphere were exceptional.
Lisa Ajax – I Don't Give A
18-year-old Lisa also participated in last year's Melodifestivalen, finishing in seventh place having qualfied for the final.
The young singer has an expressive voice that colours beautifully the song's musical phrases. Starting sounding a bit like a ballad, I Don't Give A soon turns rhythmic for the choruses, a pattern that repeats throughout the song.
The singer appeared alone on stage dressed in a hooded see-through jacket over a sequined cropped top. A huge video projection of the singer in the background – finishing with a smiley Lisa – works very effectively.
Some of the more conservative English speakers might be taken aback by the chorus lyrics as a key 'rude' word is used to complete the I Don't Give A line of the song's title – evidently an intentional shock value feature for the entry.
Benjamin Ingrosso – Good Lovin
Like Lisa Ajax above, Benjamin Ingrosso has participated in the junior version of the event, Lilla Melodifestivalen, though Ingrosso actually won it in 2006. Like Ajax's entry, Good Lovin starts conventionally enough. The surprise awaiting is more intense here however. What sounds like a middle of the road pop song soon breaks into sharp electronic musical arrangements. Even some discreet disco elements are thrown into the mix here and there.
Benjamin meant business presentation-wise. The song started with a shot of the singer against an effective impression of crumpled silver metal. This backdrop prop soon split in two to reveal four backing singers that, along with Benjamin himself, danced energetically to the rhythm of the song. His vocal performance was competent and the song closed this first round of the night in a very pleasant way. Warmly received by the audience.
The results
| | | | | | |
| --- | --- | --- | --- | --- | --- |
| draw | artist | song | round 1 | round 2 | place |
| 1 | Mariette | A Million Years | progressed to Round 2 |  final qualifier | 1st-2nd |
| 2 | Roger Pontare | Himmel Och Hav (Sea and Sky) | progressed to Round 2 |  eliminated |  5th |
| 3 | Etzia | Up |  eliminated | – |  6th |
| 4 | Allyawan | Vart Har Du Vart (Where Have You Been) |  eliminated | – | 7th |
| 5 | Dismissed | Hearts Align | progressed to Round 2 | second chance ticket | 3rd-4th |
| 6 | Lisa Ajax | I Don't Give A | progressed to Round 2 | second chance ticket | 3rd-4th |
| 7 | Benjamin Ingrosso | Good Lovin | progressed to Round 2 | final qualifier | 1st-2nd |
The show
Tonight's second heat of Melodifestivalen came from Malmö Arena, the Eurovision 2013 venue. This year's event is hosted by comedian-presenter Clara Henry and former Melodifestivalen contestants David Lindgren and Hasse Andersson.
The show opened with a musical number by the presenters that, in the case of Clara Henry and David Lindgren, included a full dancing routine with professional dancers on stage. The number was fun and comedic in style, containing what appeared to be references to current world affairs such recently elected USA president Donald Trump.
The songs were preceded by introductory videos showing short interview clips of the contestants as well as footage of their everyday lives.
After all the competing songs had been performed, Lindgren provided an interval act containing energetic renditions of what appeared like the whole history of Melodifestivalen in three minutes or so. It turns out that this was in fact a medley of all his favourite entries which, sung in the right sequence, provided his all-time favourite Melodifestivalen entry. Starting with past Swedish Eurovision entries Las Vegas and En Dag, Lindgren went on to Fångad Av En Stormvind and – to cut a long story short – ended up in his underwear (after convinvingly doing a Samir and Viktor while singing Bad Nakna – their entry from last year's Melodifestivalen) his legs on either style of the microphone stand and in true Hero-era Charlotte Perrelli-style. Other highlights included Lingdren as singing Eurovision winner Heroes with fellow presenter Hasse Andersson acting as the cartoon character of the by now legendary 2015 winning performance of the original entry.
The five entries making it to the second round were subsequently announced.
Mariette was the first to be called back on stage to perform A Million Years once more and this time her performance was considerably more relaxed and much stronger as a result. She received a warm round of applause. There followed the announcement of Benjamin Ingrosso and Good Lovin.
Mariette and Benjamin Ingrosso are therefore the two direct qualifiers to the final from tonight, with Lisa Ajax and Dismissed receiving the second chance ticket for the fifth heat.