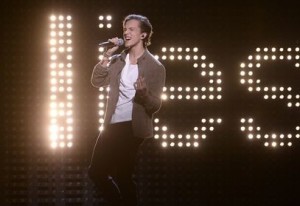 After five pre qualification heats, this year's Eurovision host country now made it to the final. Out of 12 acts, Frans won tonight's final in Stockholm, Sweden. The final featured a welcome to Sweden video by the the lovely EBU spokesperson Lynda Woodruff, a fantastic Melodifestivalen medley and a different Måns Zelmerlöw performance.
Four regular heats and a second chance round, that's what we have been through so far in Sweden in order to get to the final held tonight. They started out being 28 acts, a disqualification narrowed them down to 27 before the first heat even kicked off and tonight 12 were left for the big final.
The songs
Panetoz – Håll Om Mig Hårt
First up tonight was Panetoz who came to the final via heat 4, plus the second chance round where they knocked out Molly Pettersson Hammar. Pantoz is taking part in Melodifestivalen for the second time after they with the song Efter Solsken made it to the final and finished 9th in 2014.
Lisa Ajax – My Heat Wants Me Dead
Lisa won her spot for the final, back in heat 3. No second chance round needed for her. It is her first Melodifestivalen experience if you only count in "adult" edition, as in 2012 she took part in "Lilla Melodifestivalen" the Swedish final for Junior Eurovision. She knows what it's like to win in tonight's Globen arena as in 2014 she won the final of the talent show Idol here.
David Lindgren – We Are Your Tomorrow
Is third time a charm? That's what David Lindgren is hoping for as he took part twice before in Melodifestivalen, in 2012 and 2013, and on both occasions made it to the final. His best result is a 4th place with the song Shout It Out in 2012. David went straight to tonight's final in heat 2 and as such didn't need a second chance to convince the Swedish population that his song was strong enough.
SaRaha – Kizunguzungu
One of the songwriters behind this entry is Arash Labaf who is a well known name in the Eurovision community as he took part for Azerbaijan in 2009 and finished third with the song Always in a duet with Aysel. SaRaha has no Eurovision or Melodifestivalen experience, but she is a well known artist in Tanzania where she grew up. She went through heat 3 and after that the second chance round where she beat Isa in their direct duel.
Oscar Zia – Human
He needed no second chance as he took the final spot already in first appearance in heat 3. Oscar Zia is taking part in Melodifestivalen for the third time as a singer after Jalla Dansa Sawa in 2013 (Reached second chance heat) and Yes We Can from 2014 (Finished 8th in the final). Last year though, he was songwriter on Samir & Viktor's Groupie who he is now in competition with.
Ace Wilder – Don't Worry
In 2014, Ace Wilder came second in the final of Melodifestivalen and as such was close to making it to the Eurovision stage with the song Busy Doin' Nothin. This year she went straight to the final from the very first heat and as such needed no second chance either.
Robin Bengtsson – Constellation Prize
It might be Robin's Melodifestivalen debut, but that certainly isn't the case with his songwriters. Two of them have together a total of 77! songs in the contest behind them. Robin made it through to tonight's final from heat 1 together with Ace Wilder who we saw just before.
Molly Sandén – Youniverse
She was one of the hot favourites beforehand, and also the reason we got to hear all songs from her 4th heat, for 24 hours, weeks before as her song accidentally leaked. Nevertheless, she could continue in the competition and go straight to tonight's final from heat 4. It's Molly's third time in Melodifestivalen, but she also represented Sweden at the Junior Eurovision Song Contest in 2006, where she came third.
Boris René – Put Your Love On Me
Boris René is taking part in Melodifestivalen for the first time, but he also has his hands full as he is trying to combine a football and a music career. He was born in Kongo-Kinshasa, but grew up in Sweden. In order to get to tonight's final he went through first heat 3 and later the second chance round where he knocked out Albin & Mattias in a direct duel.
Frans – If I Were Sorry
Since the 4th heat, this guy has been on everyone's lips in Sweden, and also among Eurovision fans abroad. Last night, an exit poll (asking people who saw the dress rehearsal), he was predicted a landslide victory, and really, tonight's final was only about if he would win or not. He is only 17 years old, and this is his first Melodifestivalen appearance.
Wiktoria – Save Me
She went straight to the final from the second heat, and back then was mentioned as one of the stronger candidates to win the whole thing and represent Sweden on homefield at Eurovision this year. Wiktoria is taking part in Melodifestivalen for the first time, but she is also only 19 years old.
Samir & Viktor – Bada Nakna
This duo took part in the first heat of Melodifestivalen where it ended 3rd/4th and as such was given another chance in the second chance round. Here they were then up against Dolly Style in a direct duel, which they won. It's their second time in Melodifestivalen where they first took part in 2015, and finished 8th in the final with the song Groupie.
The show
Tonight's final kicked off at 20.00 CET live from Friends Arena, Stockholm. The host was Gina Dirawi who also hosted in 2012 and 2013. For the final tonight she was joined by the young comedian and actor William Spetz.
The show tonight featured the well known to Eurovision fans, EBU spokesperson Lynda Woodruff welcoming people to Sweden by telling a bit about their traditions. This was a funny moment and we can only look forward to what she might have waiting for us in May.
As interval acts for tonight, SVT delivered a big medley including none less than 15 previous participants: Dj Mendez, Mariette, Timoteij, Brandsta City Släckers, Linus Svenning, Sarah Dawn Finer, Magnus Carlsson, Caroline af Ugglas, Andreas Johnson, Nanne Grönvall, Anton Ewald, Kikki & Bettan, BWO, Charlotte Perrelli and After Dark. For fans in particular, this was a highlight to remember.
If that wasn't enough great entertainment, last year's winner Måns Zelmerlöw also took the stage, this time for a different version of his entry Hero, as the little cartoon figure had been replaced by an actual boy, and was performed in a very different arrangement which ended in a big children choir on stage.
We also saw Jonas Gardell back with another chapter of the Schlager school, where he tonight liked at this year's Melodifestivalen selection, ending with declaring that he might just take part next year in order to make up for all the young artists.
International jury points
An international jury was in place for tonight's Swedish final. It consisted of Bosnia (Dejan Kukrić), Cyprus (Klitos Klitou)
Belarus (Olga Salamakha), The Netherlands (Daniel Dekker), Estonia (Mart Normet), Israel (Tali Eshkoli), Italy (Nicola Caligiore), Slovenia (Maja Keuc), France (Bruno Berberes), Norway (Stig Karlsen) and Australia (Stephanie Werrett).
The combined points from the International jury can be seen below:
The public voting:
The votes from the international jury was presented before the audience finished voting. The public could vote via phone or APP.
They gave highest point to Frans who won combined and thus became the youngest Melodifestivalen winner since 1983 and Carola.
Sweden at the Eurovision Song Contest
With six Eurovision victories, Sweden is catching up on Ireland who is front with seven wins. Sweden joined the contest in 1958, didn't participate in 1964 and 1976, and as such have 55 appearances on their Eurovision card. Since the introduction of semi-finals in 2004, Sweden failed to qualify only once which was Anna Bergendahl's This Is My Life, which finished just outside the 10 qualifiers in 2010.
Sweden's first victory came in 1974 where ABBA's Waterloo took Europe, and later the rest of the world, by storm. After that another 10 year passed before three brothers in golden shoes captivated in particular the hearts of teenage girls when Herreys won with the catchy song Diggi-Loo Diggi-Ley. In 1991 fan favourite Carola won with the Swedish languaged Fångad Av En Stormvind, and in 1999 the Eurovision trophy once again headed to Sweden when Charlotte Nilsson (Now Perrelli) secured it with Take Me To Your Heaven. In 2012 it was then Loreen's smash hitEuphoriawhich most of Europe listened to – and voted for, and finally, just three years later Måns Zelmerlöw and his songHeroes brought the contest back to Sweden.
Below you can watch a video with Swedish highlights from the Eurovision Song Contest 2010 – 2015. The video include clips from more than just their actual Eurovision performance, and as such, most likely something you haven't seen before.