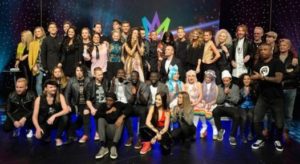 Today, Swedish broadcaster SVT, revealed the names of the acts who will compete to represent the country at home field at the 2016 Eurovision Song Contest. The broadcaster presented a lists of well known acts with big experience, some young talents and also former Eurovision participants.
The Swedish selection for Eurovision, Melodifestivalen, kicks off on the 6th of February from Gothenburg. Through a total of four heats preliminary heats and a second chance round, the acts will fight to qualify to the final which will be held in Stockholm on the 12th of March.
Heat 1 – Gothenburg the 6th of February
Ain't No Good – Mimi Werner (Mimi Werner, Göran Werner, Marcus Svedin, Jason Saenz)
Bada nakna – Samir & Viktor (Fredrik Kempe, David Kreuger, Anderz Wrethov)
Constellation Price – Robin Bengtsson (Bobby Ljunggren, Henrik Wikström, Mark Hole, Martin Eriksson)
Don't Worry – Ace Wilder (Joy Deb, Linnea Deb, Anton Hård af Segerstad, Ace Wilder)
Himmel för två – Anna Book (Sven-Inge Sjöberg, Lennart Wastesson, Larry Forsberg, Camilla Läckberg)
Mitt guld – Pernilla Andersson (Pernilla Andersson, Fredrik Rönnqvist)
Rik – Albin & Mattias Andréasson (Albin Johnsén, Mattias Andréasson)
Heat 2 – Malmö the 13th of February
100% – Victor och Natten (Dag Lundberg, Melker, Jesper Lundh)
Faller – Krista Siegfrids (Krista Siegfrids, Gabriel Alares, Magnus Wallin, Gustaf Svenungsson)
Hunger – Molly Pettersson Hammar (Joy Deb, Linnea Deb, Anton Hård af Segerstad, Molly Pettersson Hammar)
Håll mitt hjärta hårt – Patrik Isaksson, Tommy Nilsson & Uno Svenningsson (Patrik Isaksson, Tommy Nilsson, Uno Svenningsson)
I Will Wait – Isa (Anton Hård af Segerstad, Joy Deb, Linnea Deb, Nikki Flores)
Save Me – Wiktoria (Jens Siverstedt, Lauren Dyson, Jonas Wallin)
We are Your Tomorrow – David Lindgren (Anderz Wrethov, Sharon Vaughn, Gustav Efraimsson)
Heat 3 – Norrköping the 20th of February
Human – Oscar Zia (Oscar Zia, Victor Thell, Maria Smith)
Kizunguzungu – SaRaha (Anderz Wrethov, Sara "SaRaha" Larsson, Arash Labaf)
Kom ut som en stjärna – After Dark (Sven-Inge Sjöberg, Lennart Wastesson, Larry Forsberg, Lina Eriksson, Kent Olsson, Calle Kindbom)
My Heart Wants Me Dead – Lisa Ajax (Linnea Deb, Joy Deb, Anton Hård af Segerstad)
Put Your Love on Me – Boris René (Boris René, Tobias Lundgren, Tim Larsson)
Weight of the World – SMILO (Arvid Ångström, Dennis Babic, Oscar Berglund Juhola, Anton Göransson, Robin Danielsson)
You Carved Your Name – Swingfly feat. Helena Gutarra (Jocke Åhlund, Andreas Kleerup)
Heat 4 – Gävle the 27th of February
Du tar mig tillbaks – Martin Stenmarck (David Stenmarck)
Håll om mig hårt – Panetoz (Jimmy Jansson, Karl-Ola Kjellholm, Jakke Erixson, Pa Modou Badjie, Njol Badjie, Nebeyu Baheru)
If I Were Sorry – Frans (Oscar Fogelström, Michael Saxell, Fredrik Andersson, Frans Jeppsson Wall)
Killer Girl – Linda Bengtzing (Mattias Kallenberger, Andreas Berlin, Linda Bengtzing, Dag Öhrlund)
Rollercoaster – Dolly Style (Thomas G:son, Peter Boström, Alexandra Salomonsson)
Runaways – Eclipse (Erik Mårtensson)
Youniverse – Molly Sandén (Molly Sandén, Danny Saucedo, John Alexis)
Please note that these are not the exact running order in the heats as that isn't yet revealed.