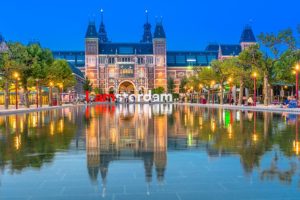 Amsterdam will be a logic choice to host the 2020 Eurovision Song Contest, Mayor Femke Halsema said. She made it clear that the city is interested in hosting the contest, but that they don't want to stand in the way of other cities that can do the job.
"We will handle it with respect". With those words, Mayor of Amsterdam Femke Halsema spoke about their thought's on hosting next year's Eurovision Song Contest. She was asked by the party D66, who at a city council meeting said that Amsterdam is the best choice. The Mayor said that she acknowledged that the capital naturally will be a logic option, but also they don't want to overshadow other cities that might also be able to offer what is needed to be a great Eurovision host city.
Cities interested in hosting the Eurovision Song Contest can now officially work on their bids for the 2020 Eurovision Song Contest. Based on the words from Femke Halsema we can expect Amsterdam to put in a bid, though she doesn't want to make it all about prestige.
We will deal with it respectfully.
The GroenLinks Mayer also mentioned that Amsterdam next year will have Sail – and European Championships taking place, so there is no need for the city to get into a tough battle.
If you want to read more about what is required to host the Eurovision Song Contest, we have put together an article with the requirements a previous host country received from the EBU.