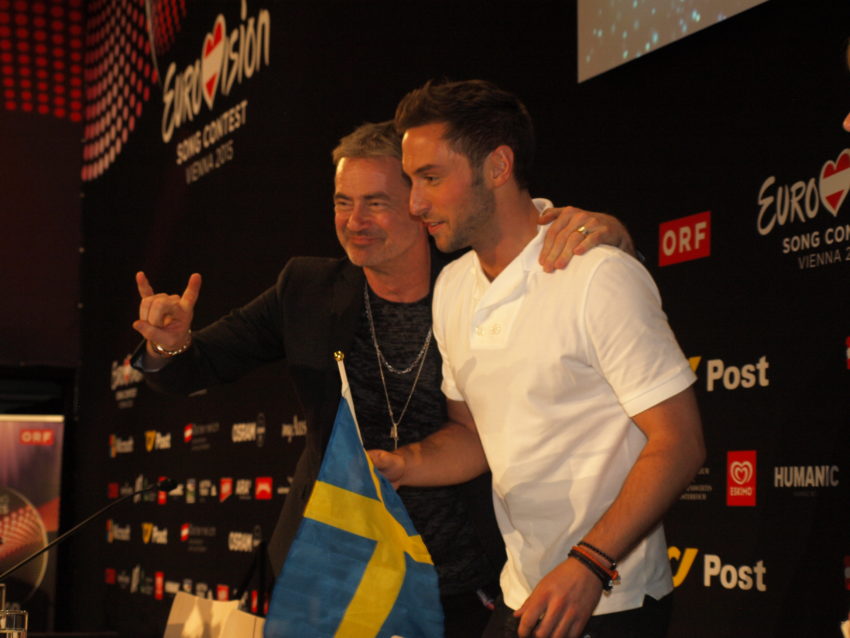 Måns Zelmerlöws victory in the Eurovision Song Contest 2015 has been all over the news in in Sweden. Here we write about his Sunday, what swedish media wrote, chart success on Itunes and some early rumours about next years hosting of the contest.
Sunday morning, after his triumph in Vienna, Måns Zelmerlöw found 500 SMS' in his mobile, telling him that indeed he did not dream that he won the Eurovision Song Contest 2015 last night. On the bus out to the airport Stefan Löfven, the Prime Minister of Sweden, called to congratulate Måns and told him that he already posted his congratulations on his page on Facebook and that he got a record number of likes for that post.
In the afternoon Måns and the Swedish delegation set foot on Swedish ground again and was welcomed by a horde of journalists and fans waiting at Arlanda Airport. There he held a speech, sang his winning song and people got a chance to take some photos together with him.
Måns' victory has been well covered in Media, the day after the contest it was the first news in all news papers and on the TV news. And as Heroes climbs the international charts, Måns dreams about a career outside Scandinavia. At the moment Heroes tops Itunes in 21 countries ranging from Azerbaijan to Spain.
Swedish media also mentions that Italy won the televoting and that the votes from the juries of FYR Macedonia and Montenegro was disqualified.
There is also articles mentioning a picture that Måns uploaded to Instagram during Eurovision where he is resting
in a sofa with his feets on something that looks like a folded Albanian flag. The reactions were
strong from Instagram users who felt insulted by seeing this. Later on the photo was removed.
Rumours about where next year's Eurovision Song Contest should be held has already started. According to sources
of newspaper Expressen, the city of Malmö, who hosted the contest in 2013, has already declined
hosting the contest again. According to Expressen the winning delegations wishes to see the contest
in the Tele 2 Arena in Stockholm. Other possible venues are Friends Arena, Globen and Stockholmsmässan.
Måns Zelmerlöw (Sweden 2015)
Måns Zelmerlöw will represent Sweden at the 2015 Eurovision Song Contest. How well do you know him? Take this short quiz to find out!