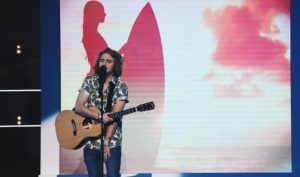 Six acts competed tonight to get the chance to represent Spain at the Eurovision Song Contest 2017 in May. With five internally selected candidates and one wild card. Let's find out how this incredible and dramatic national selection ended!
Spanish broadcaster TVE held a competition called Eurocasting to select a wild card entry for their national selection. On January 12th, LeKlein was selected as the wildcard with her song Ouch!!
She joined five internally selected artists for tonight's show: Objetivo Eurovisión 2017, the Spanish national selection final.
The Songs
Written by: Manel Navarro
The show starts off with Manel Navarro and his song Do It For Your Lover. This is a very contemporary song from a young artist. In terms of staging, Manel kept things very simple, possibly even too simple. The song itself is quite simple too with some elements reminding of Bruno Mars' The Lazy Song.
Written by: David Ascanio, Vanesa Cortés, Albert Neve & Abel Ramos
Next up is the wildcard entry who won the Eurocasting competition. LeKlein uses a lot of the floor LED which makes the electronic sounds of her song work well. Her vocals are quite good, but somehow there is something not quite working fully. Maybe some adjustments can be made to fully improve it.
Written by: Paula Rojo & Álvaro Bárcena
Paula is up next and bringing the country music realness to her performance. A cute folksy song as she strings her banjo in her pretty pink dress. Paula sings her song very well and has a good catchy melody. Probably not a Eurovision winning song.
Written by: Chris Wahle
Song number four is Mario Jefferson with the song Spin my Head. Mario could probably be the Spanish Justin Bieber. His sound is very contemporary, the staging for his performance is working well with the dancers and it's nice to hear a bilingual song.
Written by: Rafael Artesero & José Juan Santana
Next up is Maika and her rock anthem Momento Crítico. The song has a retro pop-rock feel to it that doesn't sound bad at all and Maika delivers some great vocals with her low voice.
Written by: Tony Sánchez-Ohlsson, Isaac Luke & Ander Pérez
Mirela was the runner up during the 2007 Eurovision national selection in Spain with her song La Reina De La Noche, as well as taking part in the 2009 selection with the song Nada Es Comparable A Ti.
Contigo is a fun upbeat pop song with latin influences. The song is fun, Mirela's vocals could be slightly better but overall it brings a fun energy to the show. The staging I have to say was incredibly on point, with the floor projections as a beach.
After her performance Mirela probably had one of the strongest reaction from the crowd in the audience.
The Show
Held at the VAV Studio in Leganés, the show was hosted by tv personality Jaime Cantizano.
The winning entry was selected by a 50/50 split between televoters and a jury panel of tv and radio representatives.
The interval acts and guest performers included Barei who represented Spain last year with her song Say Yay! as well as Karina who competed for Spain in 1971 with the song En Un Mundo Nuevo as well as David Civera from the 2001 contest with his song Dile Que La Quiero.We were also treated to some Spanish personalities doing a Eurovision songs medley.
The Results
The judges voted first and gave an overall most points to Manel Navarro. However, after the public votes, Mirela received the most amount of votes and tied in first place with him.
Based on the official rules, the judges had the final say as to who should be sent to Eurovision. The crowd were very loud with their support of Mirela, but the in the end it was up to the judges to decide.
The judges selected Manel Navarro as the Spanish representative. Watch his performance below.