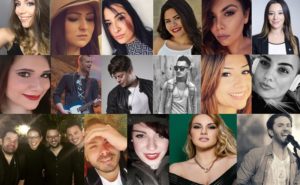 PBS Malta announced earlier today, the songs and singers which will compete to represent them in the Eurovision Song Contest 2017. Many familiar names are returning.
The Maltese final this year will contain sixteen songs and will be held on February 18 2017.
Amongst the finalists is last years runner up, Brooke Borg, who returns with a song from the same team as her second placed Golden from the 2016 competition.
Claudio Faniello will make her eighth appearance in the Maltese final, her last was in 2012 where she finished second with the song Pure.
In 2014, Franklin Calleja placed fifth in the Malta Song Contest with the Alexander Rybak penned Still Here.
The list also contains many other familiar figures who are making a return appearance.
Here is the full list of the contestants.
Brooke Borg – Unstoppable  
Cherton Caruana – Fighting To Survive  
Claudia Faniello – Breathlessly 
Crosswalk – So Simple 
Deborah C & Josef Tabone – Tonight  
Franklin Calleja – Follow Me 
Jade Vella  –Seconds Away  
Janice Mangion – Kewkba
Kevin Borg – Follow
Klinsmann Coleiro – Laserlight 
Maxine Pace  – Bombshell
Miriana Conte – Don't Look Down  
Raquela Dalli Gonzi – Ray of Light
Rhiannon Micallef – Fearless  
Richard Edwards – You
Shauna Vassallo – Crazy Games
All the songs can be listened to at the PBS official website. The winner will be chosen by a Maltese public televote.
Last year Ira Losco won the Malta Song contest with the song Chameleon, which was later replaced by Walk On Water, which finished in 12th place in Stockholm, Sweden. Enjoy the performance in the video below.