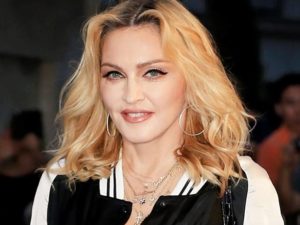 Earlier today, the European Broadcasting Union confirmed that Madonna will perform at the final of Eurovision 2019. The confirmation comes after weeks of allegedly trying to come to an agreement with the ultimate global superstar.
It is expected that Madonna will perform two songs during the interval of the Grand Final. One of them will be a well-known hit and another a new track – one would assume from her eagerly anticipated 2019 album. This comes after deliberations on the choice of songs between the artist and the show's producers, the latter trying to stay away from political controversy.
The American singer is expected to be accompanied by a personal team of 160 people and her performance is expected to cost around $1 million. The champion of Madonna appearing at Eurovision has been Tel Aviv-based billionaire businessman Sylvan Adams, who will also be footing the bill.
This will be Madonna's fourth performance in Israel, having previously performed in the country in 1993, 2009 and 2012. The connections between the artist and Israel appear to go further than that however – not only has Madonna visited Israel on other occasions due to her interest in the ancient Jewish tradition of Kabbalah, her manager, Guy Oseary, is also of Israeli descent.
Madonna will be following in the footsteps of fellow American megastar Justin Timberlake, who provided the interval show for Eurovision 2016 in Stockholm. Indeed, the Eurovision Song Contest sounds like an apt event for the Material Girl to perform – one would intuitively expect that her European fan base overlaps to a considerable extent with the Eurovision fan demographic.
In any case, Eurovision 2019 has just officially acquired an extra element of excitement and memorability due to Madonna's confirmation.