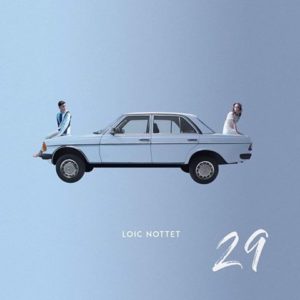 Loïc Nottet, who represented Belgium at the 2015 Eurovision Song Contest, is back with a new track titled "29", which was released just a couple of days ago. "29" is a very personal song about heartbreak and the desire for the lost love.
With 29, Belgian pop Star Loïc Nottet released his first single of this year. Back in 2015, he took part in the Eurovision Song Contest in Vienna, where he finished fourth performing the song Rhythm Inside. In 2017 followed his debut album Selfocracy and since then he launched the singles Doctor (2017), Go To Sleep (2017), On Fire (2018) and now his latest release 29.
29 is a piano based ballad, that starts pretty quiet, but builds up to a strong and explosive chorus in which Loïc shows off his characteristic vocal. One thing is certain about Loïc's singing: he is not holding back on the high notes.
The mood on 29 is characterized by feelings of hopelessness, loneliness and struggle. You can actually feel the pain, both musically and lyrically, as Loïc is singing about having one last moment with a lover before they say goodbye to each other.
The song is written by Loïc himself, and there is no doubt about that the 23 year-old Belgian is a very talented songwriter. Adding his vocal skills to this, Loïc deserves much more international success and recognition.
You can listen to Loïc Nottet's latest single in the video below:
Lyrics to Loïc Nottet – 29
She said I never want to
Hurt you again
I said I never want this
To come to an end
She said "look at me baby"
Just tears will run out
I said I took you for granted
But I can't be without
You …
Please can we just say
Pretty lies, pretty lies ?
Lies to each other again
One last time
Slowly let me down
Every way goes me apart
Gently tell me how
To forgive me now
Cause all I need is all your lips
Tell my enemy, they're my remedy
So slowly let me down
Give me a kiss just one last time
Give me a kiss just one last time
As we both start in you car
Talking about the past
As we were facing each other
We were falling appart
Please can we just say
Pretty lies, pretty lies ?
Lies to each other again
One last time
Slowly let me down
Every way goes me apart
Gently tell me how
To forgive me now
Cause all I need is all your lips
Tell my enemy, they're my remedy
So slowly let me down
Give me a kiss just one last time
Nights are long
Days longer
There seems no end side
I lost it all the 29
An october night
Slowly let me down
Gently tell me how
Slowly let me down
Every way goes me apart
Gently tell me how
To forgive me now
Cause all I need is all your lips
Tell my enemy, they're my remedy
So slowly let me down
Give me a kiss just one last time
Give me a kiss just one last time …
Last kiss on the 29 …
October night