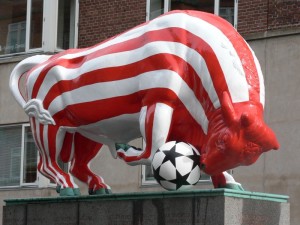 When the Danish team, AaB tonight plays a champions league match against Manchester United Johnny Logan's band "The Irish Connection will not be agreeing on who to cheer for – and Johnny himself will be split between the two teams hoping for a draw.
Morten Randrup and Peter Dencker from "The Irish Connection" are AaB fans and hoping for a miracle to happen so that the team from the North Jutland city, Aalborg, will stand a chance against one of the biggest football teams in Europe.
Mike Sherrard, Johnny Logan's brother is also a part of the band, but he is a dedicated Manchester United fan and lives only 15 minutes drive from their home field, Old Trafford. Should there be time for it he has invited the band to come and see the return match the 10th of December. (The band is playing in Denmark the 9th of December, but there is not yet anything planned for the 10th).
But tonight the two brothers will be watching the match from Copenhagen and a draw will help on the mood in the band – and for Johnny Logan himself it would also be a good result as he concider himself as "stuck between a rock and a hard place" as his promotion manager, Pernille, is married to assisting coach from AaB, Allan Kuhn!
Aalborg is the third largest city in Denmark and located in the north of Jutland. It is a city which engages itself in a lot of activitities. When they hosted the Danish final, the Dansk Melodi Grand Prix, in 2006 most of the city was decorated for the occation, busdrivers wearing caps with the Danish final logo and restaurants serving special Eurovision menues. The match between AaB and Manchester United is no different.