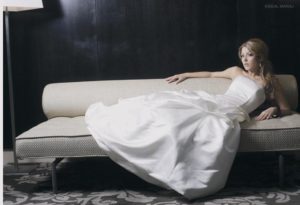 In the second week of April, Romanians were surprised to see in print several photos of Elena, their representative in ESC 2009, dressed as a bride.
She appeared on the cover of the "Ideal Marriage" magazine, wearing a white wedding dress and having an attitude reminiscent of the one in the videoclip of her ESC song, The Balkan Girls. Actually, this attitude made the editing team name Elena as 'The Worrior Bride'. Despite this, Elena confesses to the readers that she would like it very much if she were more indifferent.
This is the second time that Elena has posed as a bride in this specialised magazine. It is probably the first time for a Eurovision contestant to appear twice in public dressed as a bride without ever being married!
(Press release from Mariana Rusen, PR Manager)