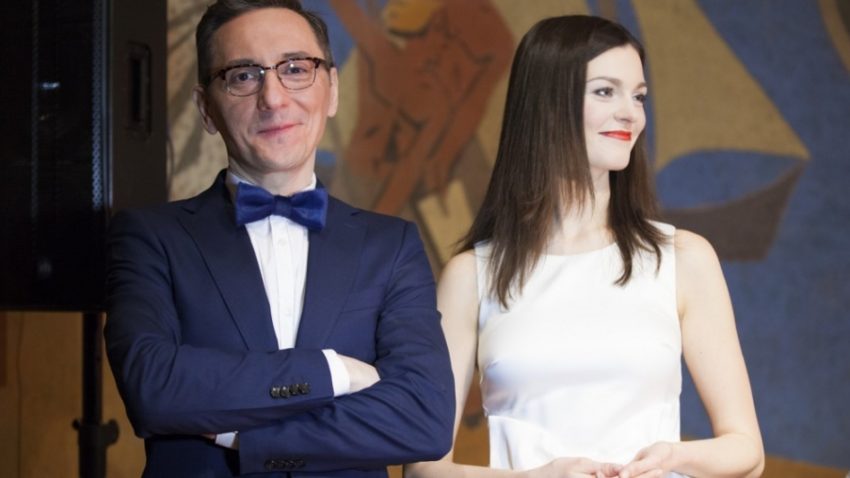 Lithuanian state broadcaster LRT has announced the 28 participants shortlisted for its national selection for Eurovision 2016. The list is a mix of better and less well known artists within Lithuania. What is more, some of the artists already have a song and some do not.
The Lithuanian national final for 2016 is called "Eurovizijos" Dainų Konkurso Nacionalinė Atranka ('Eurovision' Song Contest National Selection) and will be presented by Geruta Griniūtė and Andrew Rožickas. Starting on 9th January, it will consist of 9 shows, 8 of which will be broadcast in successive weeks and see participants competing for the chance to represent the country in Eurovision and a last ninth show which will be the winning artist's support concert (a chance for televiewers to donate money towards the promotional campaign and organization of the Lithuanian participation in Stockholm).
What is interesting about the selection process is that there will be two 'sub groups' of candidates. Sub Group A will consist of  artists competing with songs submitted to the competition by various songwriters whereas Sub Group B will consist of artists competing with an original song of their own team. Ranked by a 50/50 televoting and jury vote, qualifiers from both sub groups will compete together for the first time during the 7th, semi final show of the selection and the Lithuanian representative for Stockholm will be decided in the Final 8th show.
As announced a few hours ago, the list of all participant artists is as follows:
4 Roses,

Alice Way,

Baiba Skurstenė-Serdiukė,

Berta Timinskaitė,

Deividas Žygas,

Gabrielė Grigolaitytė-Vasha,

E.G.O.,

HIT,

Ieva Zasimauskaitė,

Milda Martinkėnaitė,

Neringa Šiaudikytė,

Saulenė Chlevickaitė,

Donatas Montvydas,

Ištvan Kvik,

Lawreigna,

Ruslanas Kirilkinas,

Vlad Kalugin,

Behind the Moon,

Catrinah,

Eglė Jakštytė,

Elena Jurgaitytė,

Erica Jennings,

Jurgis Brūzga,

Petunija,

Rūta Ščiogolevaitė,

Ugnė Smile,

Valdas Lacko,

Aistė Pilvelytė.
Donny Montell (real name Donatas Montvydas) previously represented Lithuania in 2012 when, singing Love Is Blind, he finished in 14th place out of the 26 countries competing in that year's Eurovision Grand Final. Erica Jennings on the other hand is a singer of Irish descent who, as part of group SKAMP, achieved a 13th place for the country (out of a total of 23 competing)  in Eurovision 2001 with the entry You Got Style.
Lithuania in the Eurovision Song Contest
Lithuania's 1994 debut in Eurovision was not quite an auspicious one – the country finished last after failing to attract any points at all that year and subsequently withrew from the four following contests. So far, Lithuania has competed 16 times in the Eurovision Song Contest, having qualified from a semi final to the Grand Final seven out of the eleven times it had to do so. The country's best Eurovision result to date remains a 6th place in 2006 with LT United and We Are The Winners.
This year, Lithuania was represented by Monika Linkytė & Vaidas Baumila who, singing This Time, ranked 18th out of the 27 countries competing in the 2015 Eurovision Grand Final. You can watch Monika and Vaidas performing on the stage of Austria's Wiener Stadthalle in our video below.