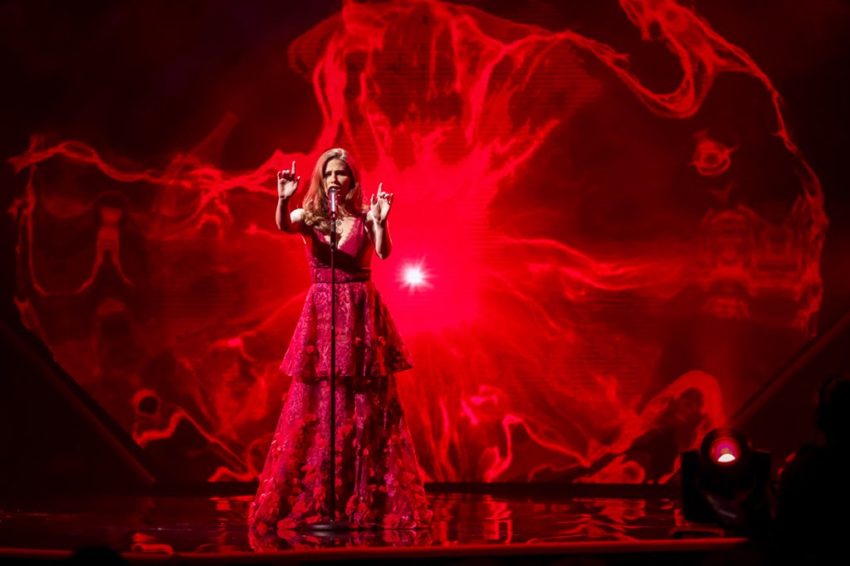 Latvia has chosen Laura Rizzotto to represent them at the Eurovision Song Contest 2018. Latvia will perform in the second half of the second semi-final on May 10.
The search for Latvia's 2018 entry started out last year, with Latvijas Televīzija (LTV) announcing that the public thought most of their submitted songs were below par. In the end, though Latvia has ended up with eight songs in their Supernova, all worthy of being Eurovision entries.
From these eight finalists, the Latvian public chose Laura Rizzotto and the song Funny Girl.
The Show
Justs opened the show with a medley of Latvia's greatest Eurovision Songs, so that didn't last long. Just kidding it was great to hear these songs from the past, with a modern twist. Co-host Latvian TV star, Dagmara Legante, in her red dress, decided not to join in the sing a long. Talk talk talk talk talk to fill in the hours, but happily no Riga beaver.
Instrumenti performed as we awaited the results. Brainstorm also sang their latest release.
The Songs
Sudden Lights – Just Fine
The wildcard, the favourite with the public in Heat One, this is a modern pop song which could be an international hit with more promotion. The group has done very well to make it to the final. The band was very well dressed in smart suits. The song starts slowly but bursts into a big indie-pop number with screeching guitars.
Ritvars – Who's Counting?
The heartbreaking song about a father's rights after a divorce, the song was the favourite with the jury in Heat 2. A simply sung song where the artist's words are completely sincere. The gentle beginning bursts into life when the female backing singers come in. A very underrated entry, this song will live on with Ritvars Vulis's son forever.
MADARA – Esamība
The winner of Heat 2, this cello based mysterious number has MADARA wrapped in her own world as she sings and plays. Has always been tipped as a potential winner. That cello took a pounding tonight. This would be a different type of entry for Latvia, but is it good enough for the bigger competition?
Liene Greifane – Walk the Talk
The juries favourite in Heat 1, this take no prisoners song, is so well sung by Liene. This is another song that would not be out of place in international pop charts. Liene performed with a feather boa around her neck. Three female singers helped Liene during the chorus.
Lauris Valters – Lovers Bliss
A love song to his wife, but not a slow romantic one, instead it is a happy song about the joys of being in love. This was the juries second favourite in Heat 3. The song stands out in a field full of anguished ballads. The band in their colourful shirts in the background seemed to be having a blast.
Edgars Kreilis – Younger Days
Placing second in Heat 1, Edgars song is about trying to not let an abusive childhood define you as an adult. Younger Days spent playing with his sister is about the only happy times he remembers as a child. A very energetic performance tonight which proved to be very popular with the audience.
Laura Rizzotto – Funny Girl
The jury and the public favourite in Heat 3. This song about being tired of getting ignored by a man, has a classy, global feel about the whole song. Very well constructed it is impossible not to like this one. Laura again looked firey in her red dress and the vocals and performance were perfect.
Markus Riva – This Time
Back with a complex lyric about enough is enough with an old girlfriend. Markus made the final due to some accounting error in Heat 2, and the final was all the better to have him. Another terrific pop song in which Markus gave his all tonight. If Eurovision is as good as tonight's show, it will be one of the best ever.
The Results
Laura Rizzotto won. Second place went to Sudden Lights and third was MADARA. Markus Riva was fourth followed by Ritvars and Edgars Kreillis. Seventh was Liene with Lauris eighth.
Latvia At The Eurovision Song Contest
This will be Latvia's 19th year at Eurovision, having debuted in 2000 with the third place Brainstorm and My Star.
Walters and Kazha finished 5th in 2005 with The War Is Not Over.
Two 16th places followed with Cosmos, I Hear Your Heart and Bonaparti.lv with Questa Notte.
The Pirates of The Sea and Wolves of the Sea finished 12th in 2008.
For the next six years. Latvia failed to make the final, a feat Trinia Park replicated in 2017.
In 2015 Aminta finished 6th with Love Injected, followed by Justs in 2016 with Heartbeat which finished 15th.
The only win so far for Latvia was Marie N in 2002 with I Wanna.
Below you can watch the video of this year's Latvian entry.