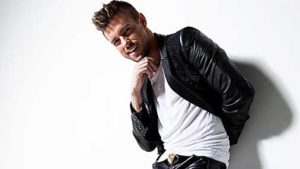 The second heat of Latvia's Supernova 2019 took place tonight. As a result four more acts joined the winners from last week in the final. The final of this years Supernova will be held on February 16. Do you have a favourite?
After sending four songs into the final last week, it was time for the second batch to join them. Eight songs were performed tonight, with half of them reaching the end of the road, whilst the other half make the Supernova 2019 final.
The Hosts
Like last week, our hosts were the lovely Dagmara Legante and Ketija Senberga. Tonight both ladies were dressed in black.
The Songs
Dziļi Violets feat. Kozmens – Tautasdziesma
This has the right amount of weird to get itself picked as a winner. Moments of the song are OK but do they need to be so stern. The a capella parts were very strong and its originality should be enough to make an impact. Nice to see a Latvian kilt being worn.
Peress – Smaragdi un pelni
This is a bit of a dreary sounding thing. A shout out for singing in the home language, but the appeal is very limited. Peress looked like a Greek goddess in a lime green robe type dress. Four female and one male backing singer tried to help it along, but really this was quite a sombre piece.
Laika Upe – Listen to the Way that I Breathe
More indie music that's too clever for its own good, even down to the title. There were five members on stage. This song would be good enough as part of a set in a full blown concert, but maybe isn't quite for Eurovision. Still the band worked well together.
Carousel – That Night
Carousel are a jazz like group. This stuff just passes people by. It can never possibly have mass appeal to win Eurovision. This type of music is made for the smoky bar downstairs, where it blends in with the chatter. Not awful by any means but too low key for this competition. To add to the bleakness it was performed using a black and white effect.
Kristiāna – Remedy
This is a bit more like it. A dark horse to come between the boys when they all have the votes split amongst them. The song can't decide if it's a dance number or not and never seems to quite break out. Kristiana was quite stagnant on the stage in her purple dress and pale pink top.
Double Faced Eels – Fire
This is an above average pop and rock sound. The four member group sound as if they have the potential to bring some sounds, perhaps in the future, This one starts out a little ordinary but it does pick up towards the end. This was more like the type of song played on the radio these days.
Adriana Miglāne – Scared of Love
This is a standard dance song which sometimes does OK and other times just falls flat. It's hard to see this winning Eurovision when the likes of Cascada can't do it, The Up Up Up lyrics form Euphoria make another showing. Nice enough but unlikely to become an everlasting Eurovision classic.
Markus Riva – You Make Me So Crazy
Beating Samanta Tina's fifth attempt, last week, this is Markus's sixth attempt to represent Latvia and each time he has produced something different. This is a club song that builds as it goes along and is as good as any of the entries this year, By the same token some of the finalists are also as good as this one. Markus was all in black tonight and had two dancers to help him along.
The Results
The four acts announced to proceed to the final were
Dziļi Violets feat. Kozmens – Tautas dziesma
Double Faced Eels – Fire
Markus Riva – You Make Me So Crazy
Carousel – That Night
Latvia In The Eurovision Song Contest
This will be Latvia's 20th appearance at the Eurovision Song Contest. They won the contest in 2002 with I Wanna by Marie N, but they have not shone so bright since then. On nine occasions they have failed to qualify to the finals.
Aside from Marie N, their best positions have been 3rd with their debut entry, My Star by Brainstorm, The only other time they came in the Top 5 was with The War Is Not Over by Walters and Kazha in 2005.
The last time they made the final was in 2016 when Justs took Heartbeat to 15th place.