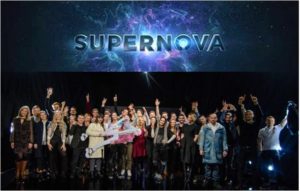 Tonight in Latvia, the first eleven acts performed their potential Eurovision 2017 entries. Of these, only four have proceeded to the semi final.
This is the third year in a row that Latvian Television (LTV) has presented its Supernova competition. Both of the previous editions was won by Aminata. This year seems to be Aminata free unless she has written a song under an assumed name. The Latvian final will be held on 26 February.
The Songs
Katrīna Cīrule – Blood Runs Quicker 
In a shimmery black dress, this was a great way to open the show. The song is a real good modern sounding song, which Katrina sang without any frills. The background music was similar to what's so popular today in Justin Bieber songs. Despite being on first this must stand a good chance to get to the next round.
Miks Dukurs – Spiritual Priest
Mike strummed his guitar backed with a little more music, so that it didn't just have an acoustic sound. Due to some transmission problem at this time, it was hard to get a good feel for the performance, but the audience appeared to love it.
Anna Zankovska – Rage Love
Anna with her golden curly locks, performed the song with a three piece backing band. Dressed all in black, Anna offered some light rapping in the middle of the song, which really wasn't necessary. This is an above average song, which improves, like so many others, with repeated listening. Whether one round will impress the judges remains to be seen.
Edgars Kreilis – We Are Angels
Young Edward is single handily bringing back the gold lame jacket. He accessorized this with a dark red sweater. Three dancers added to the visual appeal. This is an anthem type pop song which needs a lot of visual effects to bring it alive. The singing was perfect, and again a potentially good entry for Latvia. When the judges gave the review of his performance, the tune played in the background really helping its anthem like feel.
Crime Sea – Escape
Some bands seem to think alternative means original and good. The pink headed lead singer, led a three piece band in an exercise in minimalism. To add to the visual, a large nose ring was featured around the pink make up. The band shared the make up that the lead singer didn't want, with each other. The constant pounding beat resembled something from the electronic sound of the early eighties. It wasn't totally unappealing but not something you'd want to listen to, too often.
Rock'n'Berries – Feel the Love
On the short clip this sounds very much like an eighties dance record, However on hearing the full song, this has a very Maroon 5 feel. This is a serious band making strong pop music. Dressed as any pop group would be, this is another song that wouldn't be out of place in the charts today. However Sinplus and Lovebugs come to mind as well. The sound just needs to be pumped up a little, but generally not bad at all.
Lauris Valters – Magic Years
Lauris had his backing singers dressed in a tribute to Lithuania, with their red, green and yellow dresses. He himself was dressed like ByeAlex from Hungary. This has a more relaxing sound than the other entries.The breezy whimsical feel of the song gives it a feel of summer. Lauris strummed his guitar on this gentle upbeat song, which the judges compared to Frans If I Were Sorry.
First Question – Naked
The first question is, is the singer ashamed of the song as he's got his face hidden with a white bag. However the lyrics indicate that he's not ashamed, so we'll have to assume its a misguided idea to be relevant. The electronic repetitive number featuring two female vocalist, has a bit of an annoying appeal. Towards the end, our lead singer, removes the bag, presumably to avoid suffocating. They seemed pleased with themselves.
Franco Franco –  Up
The double Franco appear to be a favourite judging by the audience reaction. This may also have been because the beaver had ended. The female lead singer and keyboard player were dressed in frilly black dresses. The two males were in white. Playing drums and trumpet, the song plods along but never really takes off. However the studio audience seem to think otherwise as they whooped and hollered at any convenient moment.
Pikaso – U (Can Keep Your Cools)
Ten out of ten for trying something a little different here. Pikaso obviously owns a lot of Eminem records, as we can hear on this socially aware song. The tuneful backing band, dressed in Mexican sombrero hats, gave the song, more of a tune. Pikaso rapped all the way through. To have more of an impact, he needs to sound angrier.
Linda Leen – Who Is In Charge
This is a very modern gritty sound, similar to some of Paloma Faith's records. This would make a different type of entry from some of the songs that have been already picked. Dressed in a crimson suit, Linda was surrounded by four goddess like females all dressed in white. This is another social commentary type song. It may benefit from being performed last.
The Show
The show was hosted by Tom Gervens and Ketija Senberga. As mentioned above their were some transmission problems at the start of the show. Unfotunately they did not happen when the Riga Beaver returned. On the first run through the beaver showed the audience how to draw a human face with duct tape. How they resisted not tying it round the beaver is beyond belief.
Beavers second appearance after Crime Sea, brought to mind, is the audience having to pay to watch this. The cameras had their backs to the judges, but it looked as if they had put ear plugs in their ears. The beaver must have thought his first drawing experience went so well, that he returned back to that. This time he drew a tree. Our lovely hostess looked on sheepishly.
On the beavers third visit, there appeared to be a mad rush to get to the toilet. As it progressed though the audience seemed to get into it a little bit more, dancing around in the studio. Latvian TV couldn't have everyone seeing that, so they cut to their logo.
The fourth break saw the beaver giving advise on how to dance. The stage hands worked all around him, desperately resisting the chance to push him over. To spite them, the beaver got down on the floor himself for some break dancing. Check twitter tonight, the audience were posting videos like crazy.
Maybe it is Aminata hiding in that beaver costume.
The Results
The public were able to vote, either by phone or on-line. They voted for Franco Franco and Miks Dukurs who went on to the semi final.
The jury were allowed to make a selection and chose Lauris Valters and Linda Leen.
Latvia In The Eurovision Song Contest
This year will see Latvia compete at Eurovision for the eighteenth time. Their debut came in 2000 with the third placed My Star by Brainstorm. With Marie N winning only two years later with I Wanna, it seemed as if Latvia were going to be one of the top performing countries of all time.
However it wasn't to be, and, in the next twelve years, Latvia only made the Top 10 one more time. This was in 2005 with Walters and Kazha with The War Is Not Over. In fact they did not qualify to the final for seven years, between 2009 and 2014.
Their fortune changed in 2015 when Aminata took Love Injected to sixth place. She then wrote the highly fancied Justs entry  last year, Heartbeat (see below). The song placed 15th. It remains to be seen if Latvia's luck will continue this year without Aminata.