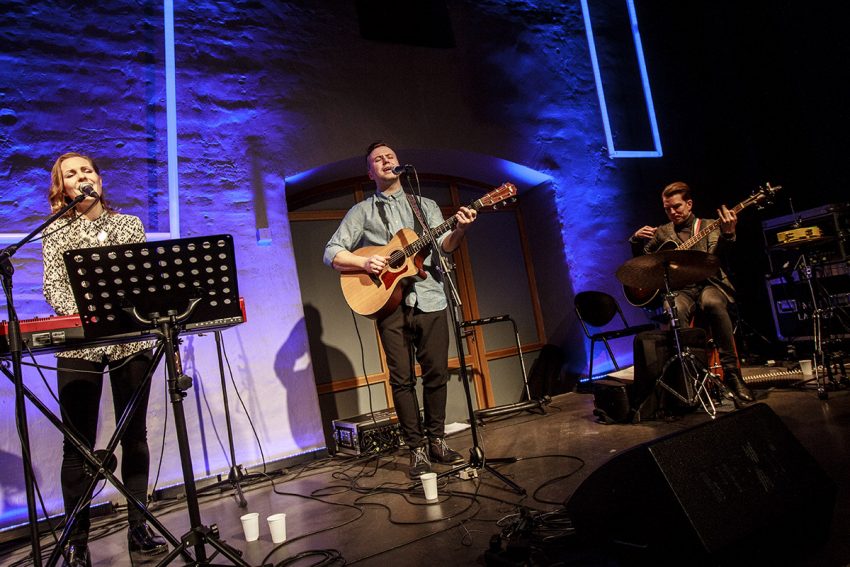 Tonight in Latvia, the second eleven acts performed their potential Eurovision 2017 entries. Of these, only four have proceeded to the semi final.
This is the third year in a row that Latvian Television (LTV) has presented its Supernova competition. Both of the previous editions were won by Aminata. This second heat contained some pretty strong entries, of which not all will get through to the semi final.
The Songs
Katrine Lukins – Silhouette
This is a nice show opener. A mellow little song, a love song from the long haired blonde. While nothing wrong with the song. it doesn't really stay in your head when it's over. With such a strong selection to come, it looks as if it will stay in this heat. Pleasant.
Markus Riva – Dynamite 
Markus has the horrible second slot in his tan jacket and trousers. This may not be the best song he has had in the final, but it's a lot better than a lot of songs. He deserves the chance to go to Eurovision. This is a straight sung pop sung. The judges seemed to be impressed. The music box introduction leads into the song well and it builds towards the end. Drums give added impact.
Toms Kalderauskis – We Won't Back Down  
Toms wore a grey blazer which made a nice change from the leather jackets so many acts are wearing this year. A thumping introduction draws you into the song immediately. In fact by the time the chorus kicks in, the song is quite a sing a long. A good performance, this could be a dark horse.
UP – One by One 
This song was made to be on the soundtrack to a black and white indie film. The ginger haired singer, dressed in a green flowing dress, sang the song with enough anger. Two dancers floated around behind her. This song is a murder ballad. Good for them for trying something a little different.
Miks Galvanovskis – Runaway
This song wasn't quite so instant as the previous songs. In a white T-Shirt and old fashioned looking coat, the backing dancers seemed to be able to find some rhythm in the song. The problem for Miks was that there were two better male acts before him. A brave effort, but not likely to qualify.
The HiQ – Taju ot lyubvi
Playing his guitar, this song was performed very well. Not singing in English made the song stand out a little bit more. A cellist and electric drums added to the impact. The song was slow paced but very listenable. Probably not a stand out song, but gets extra points for being a little different.
Santa Daņeļeviča –Your Breath 
This breathy little song is all whimsical, another essential in a Eurovision final. All dressed in white and rose, this is good back ground music for a dinner party. No one notices that its playing. Reasonable effort but unlikely to shine.
Laura & Chris – Little Weird 
This has a great little tune to it. Laura looked as if she had a bird's nest on her head. The duo sang simply to each other. If Latvia want to go with melody, this is the one to go with. Dressed in black the judges didn't seem to be al that pleased but perhaps they were hiding their feelings.
My Radiant You – All I Know  
This is what Dancing In The Dark by Bruce Springsteen and Sex On Fire by Kings Of Leon sounds like when they're merged together and turned a bit acoustic. A bouncy little number, it's the first song in a while with a bit of life to it. The band had the audience clapping along, which could be a good sign.
The Ludvig – I'm In Love With You 
Sitting on the piano, all red lasers, this is a nice mellow song. There has been some internet discussion that this song cheated itself into the show, but even if true, it makes a good finalist. The Ludwig, for he is one person, got up of the piano mid song to finish standing at the microphone. Huge applause.
Triana Park – Line  
This act seemed to be most like a current pop band, but after they appeared they were quite creepy. This was a very trance type song. It looked as if the lead singer has just come on stage, after a workout at the gym. This has the potential to do well but tonight the staging was a bit disappointing.
  
The Show
The show was hosted by Tom Gervens and Ketija Senberga. That beaver was back. First of he drew a strawberry. Then he realized it was a raspberry. You can't beat television like that. The remaining acts wished they'd entered a different countries finals. The Maltese bank commercials seem less irritating now and we're only two songs in.
The beaver brought out a box during one of the breaks. The idea was to make an elephant mask. Had the audience had any sense they'd have rushed the stage and put the beaver into the box. Too late. Several members of the audience looked bored to death, but when the cameras caught them they grimaced a smile. Of course the end result looked nothing like an elephant, and in 2017 this isn't even good enough for children's television.
Before the final act, the back stage hands must have been busy. The beaver actually appeared with a reasonable looking elephant mask. Buoyed by his success, the beaver felt it was time for a breakdance. This show could last half the time that it does, if it weren't for that rodent.
The Results
The public were able to vote, either by phone or on-line. They voted for Santa Daņeļeviča and The Ludvig who went on to the semi final.
The jury were allowed to make a selection and chose My Radiant You and Triana Park.
Latvia In The Eurovision Song Contest
This year will see Latvia compete at Eurovision for the eighteenth time. Their debut came in 2000 with the third placed My Star by Brainstorm. With Marie N winning only two years later with I Wanna, it seemed as if Latvia were going to be one of the top performing countries of all time.
However it wasn't to be, and, in the next twelve years, Latvia only made the Top 10 one more time. This was in 2005 with Walters and Kazha with The War Is Not Over. In fact they did not qualify to the final for seven years, between 2009 and 2014.
Their fortune changed in 2015 when Aminata took Love Injected to sixth place. She then wrote the highly fancied Justs entry last year, Heartbeat. The song placed 15th.
Below enjoy the video of qualifier My Radiant You.