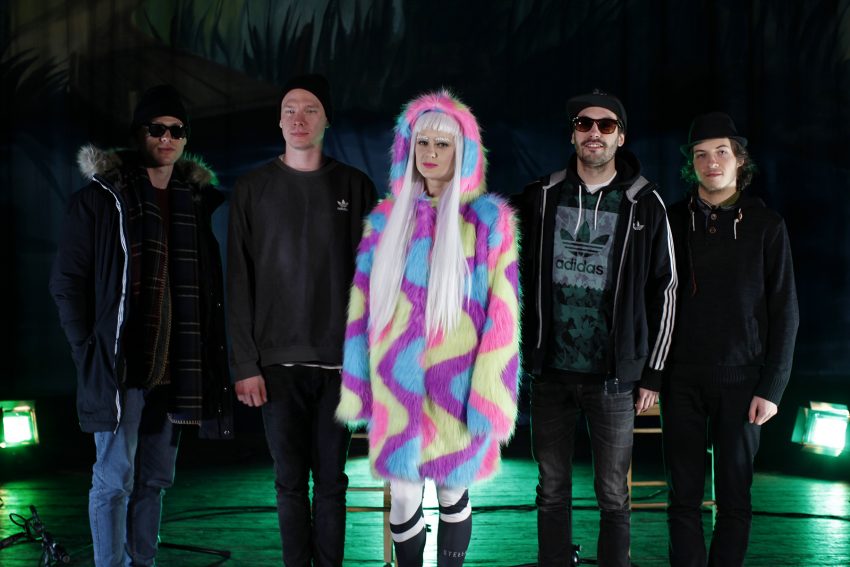 Tonight in Latvia, the final four acts were chosen to go on to next week's Supernova final. Two preliminary heats, of eleven acts each were held in prior weeks, while eight acts competed in tonight's semi final.
Next week, the four acts will perform to decide who will be Latvia's Eurovision entry 2017. Latvia will appear in the second half of the first semi final on May 9th.
The Songs
Miks Dukurs – Spiritual Priest
Singing alone with his guitar, this is another of those popular type of songs going around at the moment. A backing choir burst in on occasion at the chorus. The tune is not so instant as say Me And My Guitar, but the chorus lifts the song enough. Some plucking from an instrument in the distance, lifts the song towards the end.
Lauris Valters – Magic Years
This is the song where the singer has the wrong country with the Lithuanian flag girls. Also Lauris has been shopping at the Byealex clothes sale. However these points aside, this is a gentle catchy breezy little song, a nice change from all that screaming in other places. Another comparison could be Sasha Song, the song has that same jaunty feel. Nothing here to criticize. Move on.
Franco Franco – Up
A male female quarter, yet Abba were never like this. An exercise in how little music they can get away with playing on drums and a keyboard. However our Latvian audience love this one. Flashes of fire explode in the background while a female Franco drones on in a mono like tone. Not unpleasant but hardly a classic yet either.
Linda Leen – Who Is In Charge
Who is in charge asks Linda, knowing fine well that she is. This is a banger of a tune, if Linda just gets the vocal right, it could be a real joy. This is more of an industrial type sound but definitely of this age. The song could do with a bit more raucous in it, as the backing females seem a little frail. Maybe they're afraid of Linda. Different.
Santa Daņeļeviča – Your Breath
A quiet haunting little number, someone was paying attention last week to send it unexpectedly to the semi final. After we're through the first verse, a gentle drum dub beat kicks in, while Santa wails through the song. In places its sounds like Emmelie De Forest. It takes a noisier turn towards the end when Santa tries to hold a note for as long as possible. After gaining her breath the song gently comes to an end.
My Radiant You – All I Know
The duo play guitar and piano while joined by four backing singers. This is a stadium style gentle rocker, and this week no reference will be made to any songs it sounds like. The hand clapping at the end could give Belarus and Naviband , a run for their money.
The Ludvig – I'm In Love With You
If you like your male solo stars to have a first name of The, this is the guy for you. Starting at his piano, this saucy little number wouldn't be out of place in Fifty Shades of whatever. Getting up on the stage as the song kicks in, but doesn't get any faster, it's not hard to see its appeal. Another gentle song and possible Latvian winner.
Triana Park – Line
Led by singer, Agnese Rakovska, there is an Aminata connection to this somehow. Don't say she wrote the song after all. This is a trancey type pop song, different enough to stand on its own, yet commercial enough for vast appeal. The staging could do with being a little bit lighter. Still a possible finalist and maybe even the winner in the end.
The Show
The show was hosted by Tom Gervens and Ketija Senberga, who had also hosted the previous two weeks qualifying rounds. The judges,  Guntars Racs Kaspars Roga, Dons and DJ Rudd will pick two songs that the public fail to recognize as Latvian classics.
The beaver was up to his usual antics, but since you know he draws pictures, sings along to the latest hits and dances, well like a human dressed up in a beaver suit, this week we'll let you just enjoy the four finalists.
The Results
The four lucky finalists are
from televoting:
Triana Park – Line
My Radiant You – All I Know
from the jury:
The Ludvig – I'm In Love With You
Santa Daņeļeviča – Your Breath
Latvia In The Eurovision Song Contest
Latvia has participated in Eurovision, 17 times. Latvia's first entry came at the turn of the new millennium in 2000. Performing in twenty first position, the band Brainstorm gave the country a fantastic debut by finishing in third place, with My Star, behind Denmark and Russia.
Arnis Mednis had a lot to live up to with his entry Too Much in 2001. He managed to achieve 18th place with his song and Latvia were out for the following year. However Portugal did not want to compete in 2002, so Latvia were offered the vacant slot. Marie N breezed in with the song I Wanna and won the competition.
In Riga, home band F.LY, finished 24th with Hello From Mars in 2003. In 2004, with semis introduced, Latvia failed to qualify to the final with Fomins and Kleins – do you remember that one? Walters and Kazha gave the country their third top 5 placing in 2005 with The War Is Not Over.
In the following two years, the country came 16th with Cosmos and Bonaparti.lv and a slight improvement came in 2007 with Wolves Of The Sea, which finished 12th for Pirates Of The Sea.
Next week we will recap Latvia's more recent history. For now enjoy one of tonight's qualifiers I'm In Love With You by The Ludwig.