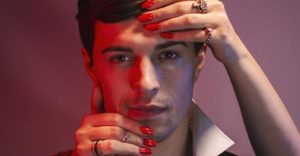 Tonight Latvian Television (LTV) held the first semi final of the Supernova 2019. Eight acts performed their potential Latvian Eurovision entry, with the top four, chosen by jury and the public, proceeding to the February 16 final.
When the Latvian songs were first presented in preview format, the general opinion was that Latvia were not in it to win it this year, but now live and polished the songs all sound much better.
The Hosts
This year the hosts are Dagmara Legante and Ketija Senberga, tonight in red and grey dresses. Dagmara also hosted the show last year. Ketija is back after missing last year, having previously hosted the first three Supernovas. This is the fifth running of this selection method.
The Songs
Kris And Oz – Midnight Streets
This duo , or trio, are obviously very well into jazz music, as shown by last year's entry Morning Flight and tonight's effort. Again there is no fault in the singing or performance but in an international competition this is unlikely to be remembered. If it does get to the Latvian final, it needs to be a lot more dynamic to win.
Alekss Silvērs  – Fireworks
Latvia have never been in the final, since 2008 unless Aminata is involved. So this year Alekss is left with the challenge. This isn't as instant as Love Injected or Heartbeat, but it does have an indy and dark feel about it. Alekss sings it well but it is more a grower than a sure-fire winner. Clever use of a black and white background helped Alekss's red costume shine.
Līga Rīdere – Būšu tepat
The only song in tonight's competition, not sung in English, and for that reason alone it stands out. This is very eighties Eurovision similar to Barbara Dex's entry. A nice voice for the type of song it is, it certainly sounds as if Liga means every word. Probably through to the final.
Laime Pilnīga  – Awe
A slightly more raucous number than the other entries, but not way out there. This is a bit like Brainstorm in sound and may get to the finals by being just a little different from the other seven. However having said that it can hardly be described as ground breaking, but listenable enough while it's being performed.
Edgars Kreilis – Cherry Absinthe
Originally called Fire, but presumably changed to the more eye popping Cherry Absinthe, to avoid confusion with next weeks title of the same name from Double Faced Eels. This is a pretty good effort from Edgars and must be in with a chance of winning. It is an insanely catchy song strong enough to be performed in Tel Aviv. Edgars was joined by four female backing singers and dancers to give the performance extra visual appeal.
Elza Rozentāle  – You Came On Tip Toe
This is bar lounge music, not Eurovision stage material. Not that there is anything that wrong with it, but its very down beat and over before you know it. Elza does have a very appealing voice though and with a bit more punch could have been better.
Alvo Oskis – Somebody's Got My Lover
Slightly under the radar due to Edgars Kreilis and Markus Riva's involvement this year, but this song and performance is actually just as good as them. This mid temp, almost Shawn Mendes like sound has nice verses leading into an easy to remember chorus. Could be a dark horse.
Samanta Tina – Cutting The Wire
Serial Eurovision finalist, Samanta never fails to come up with something original and throw in a naughty word or two while she's at it.  This is  one of these strong women songs where Samanta isn't taking any more crap from her man. Verging towards Paloma Faith style in places, this is an assured performance, so we await to see how she does this year. Oh and the ending comes very unexpectedly.
The Results
Four acts went through to the final
Samanta Tina – Cutting The Wire
Edgars Kreilis – Cherry Absinthe
Alvo Oskis – Somebody's Got My Lover
Laime Pilnīga – Awe
Latvia In The Eurovision Song Contest
Latvia did very well in the early years of their participation by winning the contest, on its third attempt in 2002 with I Wanna by Marie N. However to date they have only finished in the Top 5 on three occasions out of what will be their twentieth entry this year.
Latvia have failed to qualify nine times since the introduction of the semi finals, including last year with Laura Rizzotto and Funny Girl.
The last time they were in the final was in 2016 when Justs took Heartbeat to 15th position.