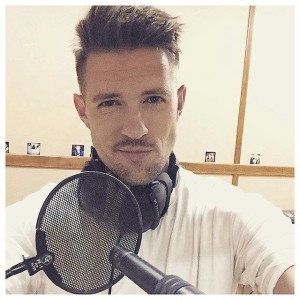 Latvia's Supernova continued tonight sending another four contestants to next week's semi final. SuperNova is how Latvia hopes to find a song, which will represent them at the Eurovision Song Contest 2016 in Stockholm, Sweden and repeat the success of Aminata last year with Love Injected.
With Latvia still reeling from the highs of last year, the second heat from Latvian broadcaster LTV's Supernova took place tonight to find who will represent the country in the first half of the second semi final on May 12th.
The songs
Madara Grēgere – You and I
This song started out exactly like Rhythm Inside but then became more of a standard pop song. Latvia seems to think that less instrumentation is more these days, though a nice trumpet came in half way through. Good opening number and might qualify, if the judges can look past the image of the mud face pack she forgot to remove from her eyes. Two guys exercising with her on stage while the backing females were relegated to spots by the side.

Crow Mother – Demons
Very modern sound in the 1975 or Five Seconds Of Summer style. Leaning towards hard rock, all thrashing guitar also had a bit of a Rush feel. Certainly a song you can't snooze through. Lots of long hair bopping in the air and a band who clearly knew their craft.

Samanta Tīna – The Love is Forever
Poor Samanta has to qualify, she can't have two songs fail. This is a much better song than last week, very well sung, a bright and breezy summery pop song, although the chorus doesn't really say much, just the title repeated over and over. Good for bopping your head along to, but Samanta better not shake too violently or the fez she chose to wear might come tumbling. She was joined by a man in striped pajamas who fell to the ground at the end. Strange.

Markus Riva – I Can 
A fan favourite for many years, Markus just never seems to make it all the way to Eurovision. This is just another male singer singing a pop song. Not bad but doesn't have the originality of Justs from last week, although it has a very sing-a-long refrain. Dressed all in white the song really picked up when the invisible backing singers came in on the chorus.

MyRadiantU – We Will Be Stars
This starts off with a few doo-de-doos then becomes a song about breaking and flying away. Very good duet, well constructed song, very listenable. However the vocals were a tad dodgy and the choice of dowdy smocks as stage wear was not good. Would be a shame if that was the song's downfall.

Mārtiņš Ruskis – Still Holding Stars 
Described as a folk song this shines like a beacon amongst all the electronics going on. Dressed entirely in navy blue, Mārtiņš just stood at the microphone and sang his heart out, accompanied again by these invisible backing singers. The song had a big build up before ending on a quieter note, but surprisingly as soon as he finished the audience were applauding loudly. Maybe a good sign.

Dvines – Set It on Fire
Absolutely inspired by Aminita, this is another of the less is more style, but wouldn't be out of place on the dance floor with a few good remixes. The girls may be twins and this is not an easy song to sing. They did really well. Two cheer leading types danced around in the background.
Marta Ritova – Not From This World 
More cool down, another folky type song. Marta sat at the piano to sing her song with four backing singers chiming in now and again. A nice wind pipe added dimension. Certainly sung from the heart but doesn't stand out enough from the other entries. Watch it qualify.

Miks Dukurs – Paradise  
If you had just come in at this moment you would think that a Johnny Logan imposter was on stage, all dressed in Hold Me Now white. This is the token Ed Sheeran/James Bay number in places but it does throw in a throbbing synthesizer beat now and again. It's a bit all over the place but another pretty good attempt. However the song ended abruptly, the snoozy audience waited a while, started to clap and Miks started up again. This behaviour does not go down well at Eurovision as Evridiki found out in 1992.

Iluta Alsberga – On Hold
Finishing on the dance floor, a nice closing number to the show. It was really generous of David Lindgren to let Iluta borrow his green laser lights from last night's Melodifestivalen. That'll save money if they share, should they both get to Stockholm. Latvia has a difficult decision to make this year.
The show
The show took place in LTV Studio 6 in Riga and was hosted by Ketija Šēnberga and Toms Grēviņš who flew in again by spaceship to the stage. They introduced the jury, Kaspars Roga, Ieva Kerēvica, Intars Busulis and Guntars Račs who sat by their desk, ready to drop heavy hammer blows.
The traditional postcards introduced each song, where the singers said a bit about themselves and the song they were going to sing. After each song, each jury member painstakingly gave an in depth critique of each song. As per last week, the audience wait a while before offering applause. Perhaps it's a Latvian tradition to do that.
The Riga beaver was back again during the commercial breaks. First time round he was drawing some classic art. The audience were asked if they could identify what looked liked a potato, but since they struggle to applaud they had great difficulty. A drawing of a leaf was more successful, though it got contentious when an argument broke out over whether a mug or a tea-cup were the same. Huge relief when they returned to the songs.
At the second break, the beaver wisely put the drawing materials away. It was time for some exercise so the audience were told to stand up and wave their arms and head in circling motions. Exhausting. Again problems arose when audience were told to shake their tails. Huge relief when the music stopped.
Third break, the beaver spoke and this time he was doing mimes, so the audience could guess movie titles. Snow White and the Seven Dwarves, Terminator, Little Mermaid and Cobra 11 were all given a beaver make over. Do people enjoy this?
On the fourth and hopefully last visit by the beaver, he celebrated Valentine's day by giving a lucky female in the audience, his autograph and then danced to Coldplay's Fix You. The audience squirmed. Huge relief when screen went blank and showed a photograph of outer space.
The results
The public were allowed to vote for their favourite songs. The scoreboard appeared with the number to call for your favourite. Four acts qualified for the semi-finals. Two from jury and two from televoting.
MyRadiantU and Markus Riva were the public's choices.
Drummer Kaspars Roga, vocal coach Ieva Kerēvica, singer Intars Busulis and musician Guntars Račs selected Marta Ritova  and Samanta Tīna to return for another chance.
Latvia in the Eurovision Song Contest
Latvia have participated in the Eurovision Song Contest sixteen times. Debuting in 2000 with Brainstorm with My Star, they placed 3rd and only two years later Marie N took the gold with I Wanna. Their other two good results were Walters and Kazha in 2005 placing 5th with The War Is Not Over and Aminata with Love Injected in 2015 which took 6th place.
However between 2009 and 2014 Latvia must have been wondering what they were doing wrong.
Intars Busulis started the unlucky streak rolling with the Russian sung Probka in 2009 finishing last in his semi final and poor Aisha suffered the same fate in 2010 with What For?. Only Mister God knows why.
Musiqq, Anmary, Per and Aarzemnieki all failed to qualify in the following years, and just before you could say "Well it's because the acts only have one name", Aminata broke the rule and stormed up the left hand side of the scoreboard.
Below you can watch a montage of highlights of Latvia from the last five years, hopefully seeing some new content.