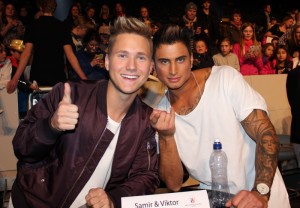 Tonight Sweden held its Second chance heat in the town of Halmstad. Here the viewers picked out the last four songs for the big final next week. Along with the results the full starting order was also announced.
Tonight was the the fifth and last heat before the final in Friends Arena on the 12th of March. Since 2002 Sweden has picked the last finalists through a "Second chance" heat. Here the 3rd and 4th placed songs from the four previous heats has a second chance to qualify to the final by competing in four on beforehand picked "duels" by SVT where the winners of each duel gets a place in the final.
The finalists picked so far:
– Ace Wilder and Robin Bengtsson qualified from the first heat in Gothenburg – read more in this article.
– David Lindgren and Wiktoria qualified from the second heat in Malmö – read more in this article.
– Oscar Zia and Lisa Ajax qualified from the third heat in Norrköping – read more in this article.
– Molly Sandén and Frans qualified from the fourth heat in Gävle – read more in this article.
The songs
Duel 1:
Panetoz – Håll om mig hårt
versus
Molly Pettersson Hammar – Hunger
The first two combatants both took part in Melodifetivalen 2015 where Panetoz made it to the final and came 9th in the final while Molly ended on a very disappointing 7th place in her heat.
The five guys in Panetoz performs their energetic and jumpy Håll om mig hårt doing their best to charm the viewers, singing, dancing and running out to the audience to perform at the smaller stage and then running back again. Molly stands on a small podium surrounded by fire and fireworks and gets to use her powerful voice in her mid-tempo song which reminds slightly in style of Andreas Weise's song Bring Out The Fire, who was knocked out in the second chance heat 2015. Will Molly face a similar fate?
Duel 2:
Albin & Mattias – Rik
versus
Boris René – Put Your Love on Me
In this duel we see the duo Albin & Mattias (Mattias is a two times participant in Melodifestivalen) against the newcomer Boris René. Albin & Mattias has changed their outfits from the heat and are now dressed in white clothes with black pritings. They perform their mix of pop (Mattias does the singing) and rap (Albin does the rap) and seem to have fun at the stage. Boris also seems to enjoy being on the stage together with his dancers and performing his rythmic Put Your Love On Me. This duel is quite tricky to figure out the outcome of as both songs sends a happy and positive vibe.
Duel 3:
Isa – I Will Wait
versus
SaRaha – Kizunguzungu
Last year came to be the now 17-year old Isa's breakthrough with her song Don't Stop. She was one of the favourites to advance from heat 2 but had to watch David Lindgren and Wiktoria take the direct places to the final. Is has made some slight changes in the number, most notably the one where she seems to touch a dancers shadow who is seen behind her on a big piece of cloth. There is also more lights on Isa now. She performs her ballad I Still Wait with great emotion, swaying along to the music with her body as she sings. Isa is up for a tough challenge though, the blonde short-haired SaRaha has a song with african rythms and together with her dancers they really seem to get the arena up and jumping. This is another duel where the outcome is hard to tell of and there are two very different song styles that faces each other.
Duel 4:
Dolly Style – Rollercoaster
versus
Samir & Viktor – Bada nakna
Just like with the first duel we are having another two combatants who took part in 2015. And just like then they both reached the second chance round and last year Samir & Viktor made it to the final by defeating Behrang Miri feat. Victor Crone while Dolly Style lost their duel against Dinah Nah. The three girl strong group Dolly Style has a happy and bouncy number and their looks and outfits makes them look like taken out of a Manga series. Samir & Viktor sings their happy singalong song about bathing nude in the middle of Stockholm (which they have promised to do if they win Melodifestivalen) and sings the last part of the song with removed T-shirts. There is little doubt that the guys are the big favourites to prevail from this duel, their performance from the first heat have over 2 million views in a month.
The show
After a quick recap of the fourth heat the show opens with tonights host Gina Dirawi and the two co-hosts and musical stars Ola Salo (former singer in The Ark who represented Sweden at Eurovision 2007) and Peter Jöback (Melodifetivalen 1990 & 2010) singing Adeles Bond theme Skyfall while tonights participants lines up in their respective duels and gives each other a mean looks.
Between duel 2 and 3 there is time for the last chapter of Jonas Gardell's schlager school that we have been following the past Saturdays. This time he takes a look at the interval acts through the years and reactions from the past in the Green room.
After the fourth and last duel the hosts Ola Salo & Peter Jöback performs their new song Sing Me Out together, a song which has a lot "The Ark" sound over it.
Last to perform tonight is Hasse Andersson who performs his fourth-placed song from last years Melodifestivalen Guld och gröna skogar. Hasse has reached somewhat of a cult status in Sweden after performing in Melodifestivalen 2015.
Before the results of tonights duels are presented the running order of the final is announced (with blanks in four places as we are still waiting for the reuslts of the duels).
The results
Four winners of the four duels are:
Duel 1: Håll om mig hårt by Panetoz
Duel 2: Put Your Love One Me by Boris René
Duel 3: Kizunguzungu by SaRaha
Duel 4: Bada nakna by Samir & Viktor
The running order in the final will be:
1. Panetoz – Håll om mig hårt
2. Lisa Ajax – My Heat Wants Me Dead
3. David Lindgren – We Are Your Tomorrow
4. SaRaha – Kizunguzungu
5. Oscar Zia – Human
6. Ace Wilder – Don't Worry
7. Robin Bengtsson – Constellation Prize
8. Molly Sandén – Youniverse
9. Boris Réne – Put Your Love On Me
10. Frans – If I Were Sorry
11. Wiktoria – If I Were Sorry
12. Samir & Viktor – Bada nakna
Sweden in the Eurovision Song Contest
With six wins, Sweden is now pushing Ireland's position as most winning Eurovision country only being one behind. Sweden joined the contest in 1958 where Alice Babs finished fourth with the song Lilla Stjärna, which translates to Little Star, and that is what Sweden has been to many fans since, a star. With many up tempo song in the classic Nordic schlager style, they have established themselves as the fan favourite number one.
Sweden has only failed to make it to the final of the Eurovision Song Contest once, in 2010 with Anna Bergendahl'sThis Is My Life which ended just outside top10 on an 11th place. To many it came as a chock that Sweden could miss the final, but since then, they have certainly gotten back on track with two victories and two third places in just five years!
Please do take a look at our highlights of Sweden in the Eurovision Song Contest in recent years starting with Anna's loss to the past five years with one big success after the other.