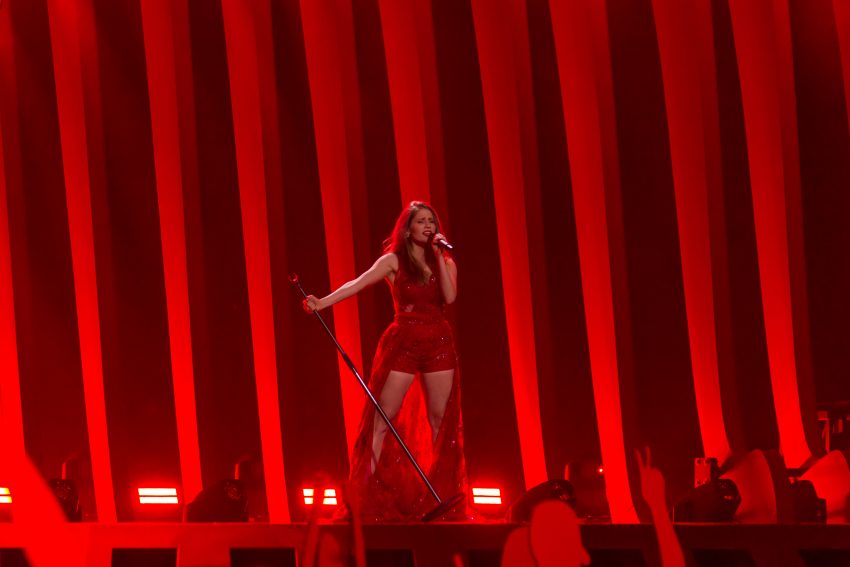 There can be no doubt that Laura Rizzotto's favourite colour is red – watch our interview from Lisbon with the lady in red. Or go to the gallery.
Funny Girl
, which is written by Laura herself.
Gallery
Second Rehearsal
Opinions expressed during our second rehearsal coverage are personal from the mentioned writers.
Michael, UK (in the arena) – Well anyone thinking this funny girl is going to back down is sorely mistaken. Mess with her and you're going to get a good hair lashing. A zillion times better than the similar Belgian song and a phrase I hate but in this case, this is way too good for Eurovision. It should be in a big movie Soundtrack. Nothing more to see here than Laura.. move on.
Josef, Czech Republic (in the press centre) – Laura is a sweetheart. I think that she is one of the most beautiful female participants this year… well most of them look pretty good, which is definitely a good sign. Laura obviously likes red colour and I can't complain about that, because she is really hot actually. Maybe they had some girl talk with Eleni because Laura also does some hairography during her performance, but in a softer version than the one by Eleni. Also, this song could very easily be used as a movie soundtrack, it has those vibes. But what about qualifying to the final? I am not 100% sure, but I predict somewhat from 8th to 12th place for Latvia and Laura this year.
Complete the sentence
First Rehearsal
The first thing you notice about Laura, apart from the eye-catching dress, is that whenever she performs, she is always so in tune. So good in fact that even with a slight microphone issue, the notes were still perfect.
Laura has her stage adorned with red and yellow lights, a trick that did well for Aminata in 2015, and won, for Laura herself, the Latvian Supernova earlier this year. Laura stands at the microphone, with the same choreography she has previously used, knowing full well all she needs to sell the song is a good vocal performance.
Not only that, though she also sells the song with very subtle body movements, teasing the man she wants to impress but inevitably giving up, knowing it may be useless trying.
At the end of the first rehearsal you could hear Laura telling the technicians she was having some issues. Such a perfectionist, and such a classy performance. With the issues fixed for round two, the vocals were even more powerful.
How Laura Rizzotto was selected
For the fourth time, Latvia used Supernova as their way of selecting a Eurovision participant. Three heats with seven participants in each, and finally a final where 8 took part. Two from each of the three heats, one wildcard and one selected due to technical errors in the results in heat two.
The winner of the final, held on the 24th of February, were selected via a combination of public voting and a jury consisting of music professionals. In a tight national final, Laura won with Sudden Lights as runner up.
Latvia at the 2018 Eurovision Song Contest
Back in 2000, Latvia joined the Eurovision family – and they did so with a song many fans still remember. Brainstorm came third with the song My Star, and the country was off with a very good start. Two years after that good start, Marie N took home a very surprising victory.
In 2004, the country failed to reach the final, but a fifth place to Walters and Kazha's The War Is Not Over, brought Latvia back to the top.
A few years later, in 2009 things started going really wrong for Latvia. Intars Busulis represented the country with a song performed in Russian. It failed to qualify for the final, and for the next five years, the same thing happened. It wasn't until Aminata and her 6th placed Love Injected in 2015, they were back into the final. In 2017, the country once again had to leave the contest after the semi-final.