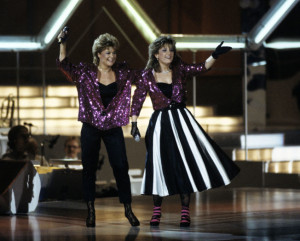 30 years ago tonight on the 4th of May 1985 at the 30th edition of the Eurovision held in Gothenburg Sweden, Norway scooped their very first win as Bobbysocks secured victory with the very catchy La Det Swinge.
Elisabeth Andreassen and Hanne Krogh went to Gothenburg with a song written by Rolf Løvland at a time when Norwegian efforts at the contest had been mixed to say the least.
Bobbysocks! were formed in 1983 and at that point both Hanne and Bettan were frequent Eurovision contestants. Krogh has appeared three times, all for Norway. Firstly in Dublin 1971 as a soloist, then with Bobbysocks! in 1985 and lastly as part of the act Just 4 Fun in Rome 1991. Betten sang for Sweden as one half of Chips n 1982 and after the win with Bobbysocks! she teamed up with Jan Werner Danielsen in Dublin 1994 and lastly sang solo in Oslo 1996.
After giving a high energy performance on the night they didn't emerge initially as runaway winners when the votes started to come in. Germany took an initial lead and with Sweden scoring well it wasn't until the last countries cast their votes that the win was confirmed.
The rest as they say is history.
No strangers to Eurovision fan events and concerts ever since Bettan and Hanne reunited at this years Norwegian Melodi Grand Prix Final to celebrate the anniversary of their win as well as performing on the stage at the Eventim Apollo London as part of Eurovision's Greatest Hits – the official 60th anniversary programme.
The 1985 performance of La det Swinge!

To see them raise the roof in Eurovision's Greatest Hit's watch here: