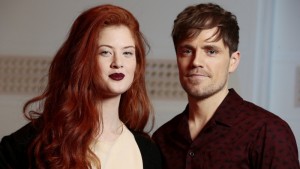 Norway has decided and Mørland & Debrah Scarlett are heading to Vienna with the song A Monster Like Me. In a spectacular National Final live and direct from the Oslo Spektrum a live orchestra added to the status of the occasion and was used in the performance of many of the acts including the winners.
The annual Melodi Grand Prix has once again showcased some fantastic acts in Norway with eleven entrants of various calibres of performance backgrounds taking to the large stage in the Oslo Skektrum. The programme kicked off at 20.25 CET going head to head with their neighbours Sweden's National Final. 
All with acts had come to the stage with one thing in mind, to represent their country at the 2015 Eurovision Song Contest.
The Songs
01. Erlend Bratland – Thunderstruck – (Music and Lyrics: Erlend Bratland, Linnea Deb, Joy Deb, Linnea Deb)
Singing Thunderstruck Erlend is dressed in a leather jacket with skinny jeans with thin decorative chains hanging from his waist. Behind him is a line up of six male and female backing vocalists and dancers in a strong and defiant stance with legs apart and they are pulsing their legs in time with the beats. The track is decent and sounds similar to the Swedish entrant of 2013. There are pyro sparks used during the song as it goes towards it's end. Not enough going on for me in this entry but he gets a good cheer from the audience. He reminds me of American Idol alumni Adam Lambert, in look alone.

02. Raylee – Louder – (Music and Lyrics: Andreas Stone Johansson & Ricky Hanley)
No orchestra on this Rhianna's SOS-alike Louder. Front of stage Raylee is joined by a backing dance troop of five who become ten who give their all to liven up what is a bit of a mess on stage. Black and Gold are the colours of choice and while she does her very best I'm not convinced this is our winner tonight. A large banner with her name on it is seen in the audience after the performance.
03. Tor & Bettan – All Over The World – (Music and Lyrics: Are Selheim, Tor Endresen)
The Legends return. Between them they hold many years of Euro history both nationally and on the main Eurovision stage. Tonight they team up to give it another shot. Storming forward with purpose Tor opens the song as they wear co-ordinating grey outfits, him in a shiny finished suit and her in a body-contoured jumpsuit. The song is quite the anthem, talking of thousands of miles, children and making sad faces smile. Singing for humanity is what they claim they are doing. It's all very noble in its production idea and concept but the lyric and the production is too much for me. There are 50 children on stage in a choir form by the end and they add to what I believe was an overblown attempt at a global song of humanity.

04. Jenny Langlo – Next To You – (Music and Lyrics: Jenny Langlo, Robin Mortensen Lynch, Niklas Olovson)
Glowing microphone stands are back, as are electro drums and padded leather/ pleather tops slashed at the front. Jenny is well rehearsed but seems to walk off shot during the second verse. She connects well with the camera but the tone of the track is very monotone. It doesn't sound too dissimilar to I Feed You My Love in part. Not likely to be tonight's winner. Not a light ballad but not an instant hit.
05. Ira Konstantinidis – We Don't Worry – (Music and Lyrics: Ali Pirzad, Julie Bergan, Øyvind Blikstad, Bjarte Giske)
Breakdancing features at the top with Ira and her four girl dancers on a stoop before they take the stage by storm. I would liken this to a brunette Britney Spears circa 1998. She seems a bit nervous and her vocals let her down. It does sounds like she might have laryngitis at times or it could be that she is just overwhelmed by the stage and audience. I'm reminded of a lip synced Disney High School Musical performance or something from Glee here, sadly the high energy dancing only aided in the weakening of her vocals. Not their entrant for this year.
06. Contrazt – Heaven – (Music and Lyrics: Jan Lysdahl, Jacob Collin Launbjerg)
It's like the 1990's or early 2000's are back. The backing track and the group are so dated. The vocals are decent but it's very flat as a production goes. I have to say it's great to see saxophone on the stage, but this is not strong enough for Norway this year or any year in the past 20 gone by. Heaven it simply isn't.

07. Marie Klåpbakken – Ta meg tilbake – (Music and Lyrics: Marie Klåpbakken, Linn Hege Sagen, Olav Tronsmoen)
With hair that's tussled and big in a form fitting black gown Marie is on stage alone with a smoked stage floor. Lights are used to great effect to create a thunder around her. She exudes confidence as she is supported by two violinists behind her and then all of sudden she has a violin and playing too. Certainly the strongest entrant at this point of the show in my opinion.

08. Staysman & Lazz – En godt stekt pizza – (Music and Lyrics: Stian Thorbjørnsen, Petter Kristiansen, Lars-Erik Blokkhus, Jesper Borgen, Magnus Clausen)
This is the novelty song and performance of the night by these two men who prove very popular in the hall. A massive number of dancers and extras are included in this performance. Hot pants wearing cow girls and plenty of plaid shirts corralled behind a pin with bales of hay to the sides. Those in the pen are holding pizza shaped boards. The cheering during the entire catastrophe is loud and Staysman's t-shirt is ripped open. The entire orchestra rise to their feet and hold their hands aloft to chant En godt skejt pizza with the duo. The public could go for this in a big way.

09. Mørland & Debrah Scarlett – A Monster Like Me – (Music and Lyrics: Kjetil Mørland)
From the ridiculous to the sublime; A Monster Like Me is a pure and vocally accomplished song by a very talented duo. Wearing a rust coloured suit Mørland opens the song and is very commanding with his delivery. Debrah joins him as if from nowhere as she wears a cobweb effect embroidered dress. The songs excels when the pair face one another and sing to each other. In the break of the track they reposition and join one another back to back. The audience goes wild and they give it their absolute all. Apart from the pizza song the strongest cheer of the night and a worthy entrant for Norway.
10. Alexandra Joner – Cinderella – (Music and Lyrics: Erik Smaaland, Kristoffer Tømmerbakke (GoToGuy))
Pink hair isn't just for Nicki Minaj. Coming down on her swing like a true princess who then sheds her underdress to reveal a sparkly two-piece bottoms and fitted top set. She sells the track well assisted by 7-multi-colour tutu wearing backing dancers. If a pop track were going to Vienna from Norway than this would be it. Alexandra's vocals are strong but there is a slightly underwhelming feeling at the end.
11. Karin Park – Human Beings – (Music and Lyrics: Karin Park, Guy Chambers)
Karin has a unique vocal; it's breathy and true. In a large overcoat with oversized sleeves and a fringed top and hot pants Karin is assured and confident as she delivers her song, co-written with Guy Chambers who penned many of Robbie William's biggest tracks. The electro sound and the backing track is strong. The song has its good parts but at times it lost my concentration.
The Show
In an opening showing the entrants being put through a military boot-camp ahead of their getting to the final we are rapidly moved through as the opening then bursts onto the stage at the Spektrum as the Melodi Grand Prix flag is at full mast and we're treated to a full performance of the 1979 German entry Genghis Khan with suitable costume for the hosts and the entrants alike.
To introduce the KORK Kringkastingsorkesteret, NRK's own orchestra accompanied almost all of tonights entries the hosts Silya Nymoen and Kåre Magnus Bergh take special care and attention to welcome the players and their leader, with a flashback to yester-years at the Melodi Grand Prix finals when the live instrumental was the standard. Following Melodi 1 Käre Magnus and Silya have changed into their formal wear, she is in a glittering full sleeve ruby dress while he wears a very smart white bow tie and suit ensemble.
A brief introduction video names all the artists in tonight's show and the backstage hosts. Once all songs are heard once, a quick recap is shown and voting has been opened since the beginning. 
In a look back two time winning composer Rolf Lovland is given a litte tribute and he joins the hosts to have his say on this years show. Before the announcement of the first act through to the next stage of the final a live orchestral performance of the 2014 entry Silent Storm with live vocals by Carl Espen and his cousin and songwriter Josefin Winther. It's haunting and delivered to vocal perfection. Showing that this track, as well produced as it was at last years Final could be enhanced by the live orchestra.  
As the votes are being counted we are treated to a slowed down piano version of La det Swinge by the hosts and the audience sing alone which bursts into a full on reunion of the actual Bobbysocks with their hit from 1985. Bettan of course being in the final four of the show making this her third performance on the stage.
The Results
There are only four acts that could go through to the super-final – they were:

Tor and Bettan,
Staysman and Lazz,
Mørland & Debrah Scarlett
Erlend Bratland
The vote remained open as the viewers decided the winner of MGP.
The results come in from the regions and are delivered in assending order.
Following the results from the country the winners were Mørland & Debrah Scarlett.
See their performance below
Norway at the Eurovision Song Contest
Like many countries at Eurovision Norway have not always had the best of finishes. Their very first win came in Gothenberg 1985 with the duo Bobbysocks and the catchy Rock n Roll ditty La Det Swinge. Throughout the rest of the 80's and into the 90's they achieved decent scores for the most part but it wasn't until Dublin 1995 when the group Secret Garden would scoop Norway's second victory with the haunting melody of Nocturne. The total wins to Norway is currently 3. Alexander Rybak won the hearts and votes of Europe in Moscow 2009 romping home with the highest score of all time, 387 points, for Fairytale.
Where they are up's there are also downs and for that Norway has the statistic of a total of eleven last places and also the record of a dreaded 'nul points' on four occasions.
Since the semi finals were introduced Norway has advanced to the final all but twice with their finalist sent home ahead of the Istanbul contest 2004 and the Athens contest 2006.
In 2013 Margaret Berger who performed I Feed You My Love finished a very respectable 4th place in Malmö with a total of 191 points. While last year in Copenhagen Carl Espen's Silent Storm secured 88 points and finished 8th. 2015 will see Norway perform in their 54th Eurovision.