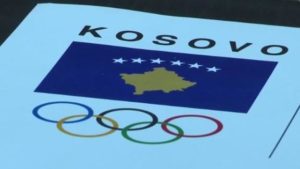 Kosovo debutes in the Olympic Games currently taking place in Rio. Yesterday they even won their first medal at the Olympics as Melinda Kelmendi competing in judo in the category of 52 kg won the gold medal. Is the country also on its way to Eurovision?
Kosovo at the Olympics
Kosovo has had a National Olympic Committee since 1992, after the unilateral declaration of independence from Serbia in 2008, Kosovo submitted an application for participating at the London Olympics in 2012, which however was not accepted by the International Olympic Committee. In December 2014 however, the Olympic Committee of Kosovo became a full member of the International Olympic Committee and such unable to take part, despite the fact that until today the country has not even received the observer status at UN.  The de facto recognition of Kosovo as an independent state by 108 member states of the UN (from total 193) led the Immortals of IOC to accept Kosovo at the Olympic Family.
Serbia's reaction was strong, and pointed in every direction that Kosovo is internationally recognised as an autonomous province of Serbia and without the status as a Member of the UN they should not be able to participate in international competitions. Serbia threatened to boycott the Olympic Games, but ended up still taking part.
Kosovo and Eurovision Song Contest
Kosovo's participation in such an important international event makes many think that we will also see Kosovo at Eurovision's stage very soon . Already Kosovo broadcasts all three nights of the competition and the public broadcaster RTV openly speaks about its desire to participate in the Eurovision Song Contest. In 2011 and for yet unknown reasons, Kosovo got the green light and participated in the Eurovision Young Dancers contest. This was the only Kosovo participation to date in Eurovision contests.
Any future Eurovision participation, however, will depend on the time when Kosovo's public broadcaster will become a full member of the International Telecommunications Union, which is required by the EBU rules for participation of any country in the Eurovision Song Contest. The difficulty in this is that the International Telecommunications Union accepts public televisions of countries that have become full members of the UN, which is currently not possible due to the strong opposition of Serbia and the Russian veto in such a case. Even so indirectly, the status of UN membership is currently at least, necessary to participate in Eurovision, unless dispensation is given by the European Broadcasting Union.
Kosovar artist Rona Nishliu represented Albania at the 2012 Eurovision Song Contest and came 5th with the song Suus. In the video below, you can see her performance from the preview party Eurovision In Concert held in Amsterdam shortly before the Eurovision Song Contest.